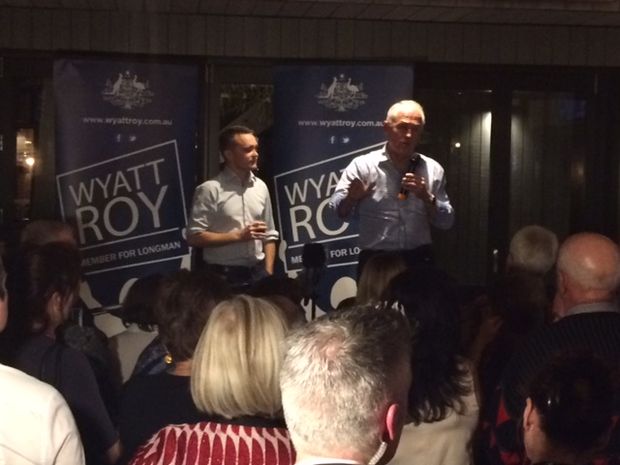 Federal Election 2016: Malcolm Turnbull sinks schooner, knocks back questions at Sandstone Point Hotel function
Prime Minister Malcolm Turnbull was greeted by a lone protester tonight as he went for a beer at Sandstone Point Hotel, on Bribie Island, north of Brisbane. 
Shouts of "no ifs, no buts, no healthcare cuts" rang over the otherwise friendly crowd.
Today was day 34 of the Federal Election campaign Prime Minister Malcolm Turnbull pulled the campaign bus over for a quick beer at the pub - as he visited Wyatt Roy's electorate of Longman.
After sidestepping the lone protester, Australia's 29th Prime Minister bought a raffle ticket for the Friday night meat tray and surprised the 150 people inside, posing for photos with children and enjoying a schooner at the bar.
Flanked by wife Lucy and Mr Roy, Turnbull declined to answer if he was visiting Longman after recent polls revealed the electorate is currently sitting at a 50/50 split with the Australian Labor Party.
Instead, Mr Turnbull voiced his commitment to regional Australia.
"Our MPs represent most of the seats in regional Australia so we are absolutely committed to regional Australia," Mr Turnbull said.
Addressing the crowd, the Prime Minister reiterated the meaning behind the elections most heard three-word-slogan 'jobs and growth'.
"We support business and enterprise to ensure economic growth and for the future of our children," Mr Turnbull said.
"Enterprise will determine whether there are jobs tomorrow, whether there are good jobs.
"Now, as you know, Labor is waging a war against business at the moment. You've heard their rhetoric against tax cuts against anything but the very smallest businesses - Well we're not."
"People often forget, and I regret to say this is what Mr Shorten has absolutely forgotten, that the prosperity of our country depends on business. They depend on people taking risks on small business, large business, and investing."
Source: Caboolture News