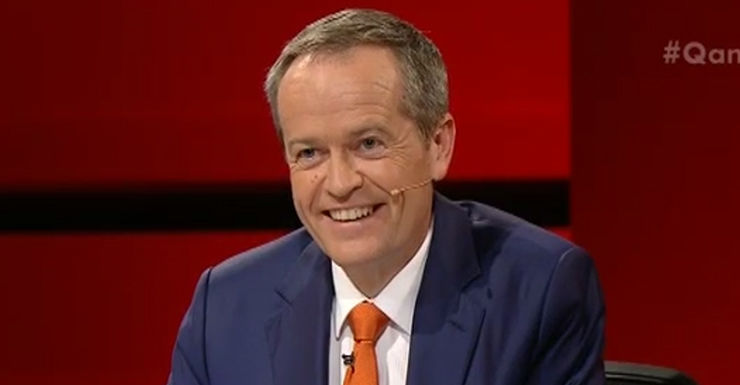 Federal Election 2016: 'He's killin' it' – Bill Shorten nails Q&A appearance
The leader could have gone down in flames with a solo appearance, but he didn't.
Opposition Leader Bill Shorten impressed one of the nation's toughest audiences on Monday evening by fielding questions on housing prices, Aboriginal rights and rising university prices.
Social media love flowed in for the Labor leader's performance, which was described on Twitter as "genuinely impressive" and "a game changer".
Host Tony Jones was tough on Mr Shorten from the get-go, asking him to speed up long-winded answers and bringing him back to the crux of audience questions a number of times.
But as the show wore on it was clear the Labor leader would have no "gotcha" moment, as Twitter users praised Mr Shorten for at times speaking with a transparency often missing in the current election campaign.
'I've done all the things asked of me'
If the Opposition Leader ever looked like being skewered, it was by an impassioned young business owner who demanded to know what he planned to do about mammoth house prices in major cities.
"I've done all the things that were asked of me," he told Mr Shorten.
"I started working at 14 years and nine months old, I earned money, I paid my taxes … I started a business and I employ 20 people.
"Why is it yourself nor the other side seem to hear one of the biggest concerns at the moment which is it has become impossible for people of my age to afford a house in the city we live in?"
But Mr Shorten seemed to win the audience over with his spiel on Labor's plan to limit negative gearing.
"There are actually no losers," he said.
"You will be able to negatively gear if we get elected but for new housing not existing housing. If you want that form of investment it is there for you. If you've currently invested under the current rules, no change.
"Prices, if they grow more slowly, give you a better chance," he said to applause.
'I don't want to mortgage myself'
Tessa Hitchens, a year 10 Sydney high school student, asked the Labor leader to "assure" her a massive HECS debt would not ruin her financial future.
"My friends and I want to be a big part of Australia's success and we're willing to put in the work but we're worried about university fees," she said. 
"Can you assure us university will be more accessible affordability than it is now and will not require young people to mortgage themselves to keep this country going?"
While Mr Shorten would not guarantee a cap on university fees, he argued providing guaranteed funding to every university would act as a cap by preventing a "race to the bottom" in escalating uni fees.
"It shouldn't be how rich your parents are which determines your ability to get a higher education, it should be how hard you work. It's as simple as that," he said, again to applause.
Whistleblowers
Mr Shorten further impressed the audience with a surprise pledge to stop the secrecy surrounding offshore detention centres and allow journalists onto Manus and Christmas Island.
"We'd like to know what's going on," said an audience member, who quoted a 1972 Gough Whitlam speech on the importance of whistleblowers.  
"Whether it be on Manus Island, Christmas Island or anywhere else, our government seeks to take action on people smugglers," Mr Shorten answered, before being prompted by host Tony Jones to be more specific.
"You'd allow journalists into any offshore detention centre?" 
"Yeah," replied Mr Shorten.
Source: TND