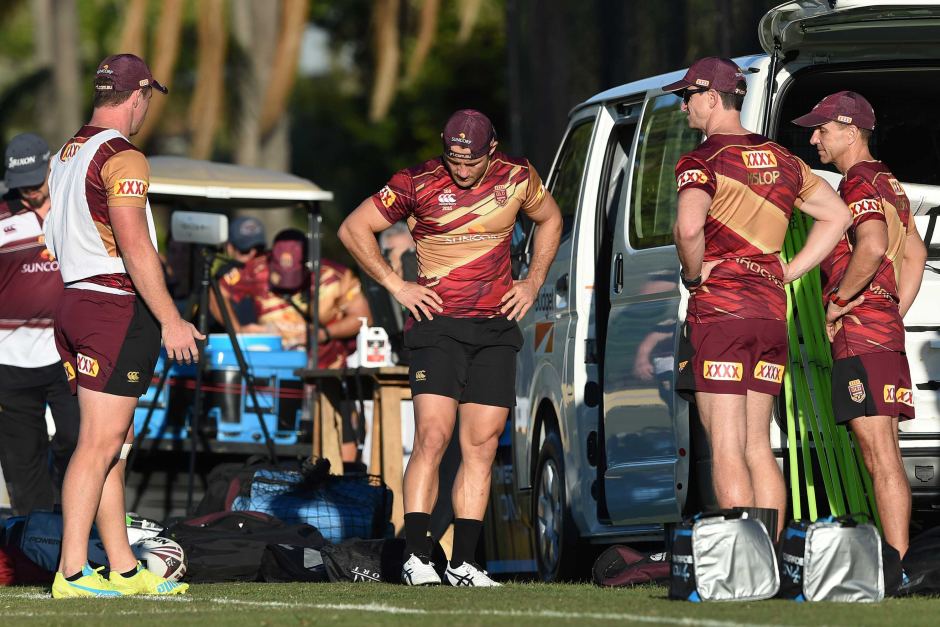 State of Origin: Queensland to give Cooper Cronk until last minute to recover for series opener
Injured Queensland half-back Cooper Cronk will be given until the last minute to prove his fitness for the opening State of Origin match against New South Wales on Wednesday night.
Cronk rolled his ankle on Friday and may not run on it until the day of the match.
It is hoped Cronk will be ready to resume training on Tuesday but captain Cameron Smith said his Storm team-mate will not be rushed.
"The medical staff are fairly confident that he's a good chance of playing in the match on Wednesday," Smith said.
"I think Kevie's sort of thinking that he'll give him a run tomorrow ... but if he's not quite right for that I don't think we'd risk him and then hopefully he'll be able to get up for Wednesday night."
Cronk has been icing his ankle since the mishap on Friday and this morning was able to walk from his room unassisted to the Maroons' team meeting
If Cronk does not recover in time Johnathan Thurston will move to half-back and North Queensland's Michael Morgan will move into the starting side at five-eighth, a position he has been training in for the past few days.
"Michael's trained extremely well over the last two sessions that we've had him in the halves with us," Smith said.
"The club form that he has with the Cowboys and that he shares with Johnathan Thurston, I think that could be very vital with our performance but at this stage we're not planning to not have Cooper.
"Cooper's been an integral part of this group for a long time now and he orchestrates a fair bit of our game plan. There's no issue at all with him not training this week then slotting in for the game."
Smith said due to Cronk's experience the decision to play or not would probably be left up to him.
"I haven't seen him for three days so that's a good sign of how particular he has been with his rehabilitation of his ankle," Smith said.
"I think he's spent the majority of his time in the physio room obviously icing and doing all his compression just to try and get that swelling out, so we're fairly optimistic that he'll be there."
Source: ABC News