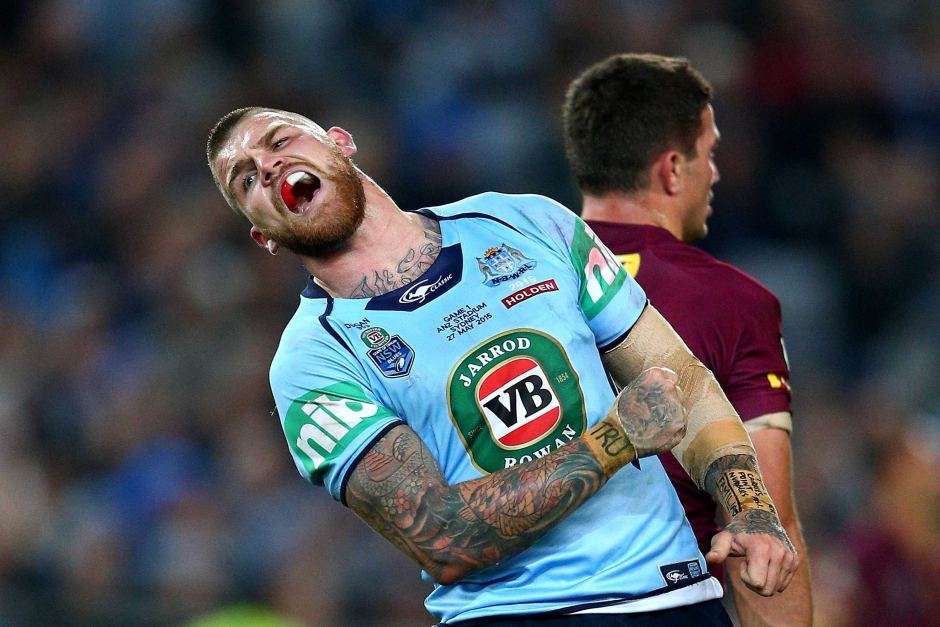 State Of Origin: NSW's Josh Dugan out of State of Origin opener with elbow injury, Josh Morris called in
New South Wales will be without the services of one its stars after Josh Dugan was ruled out of the State of Origin opener with an elbow injury.
NSW released a statement on Sunday morning that confirmed the St George Illawarra centre's withdrawal from the June 1 clash at Sydney's Olympic stadium.
It is a major snag in the Blues' quest to reclaim Origin bragging rights, who have recalled Josh Morris after the Bulldogs back was initially left out of NSW's 17-man squad.
Morris will rejoin the Blues team in Sydney this afternoon.
"It's one of the hardest decisions I've had to make," Dugan said.
"I aggravated it at training yesterday. It's very disappointing but I had to do what was best for the team."
Blues coach Laurie Daley said Dugan's injury looked fine in training, but "blew up" overnight.
"He woke up this morning and he lost a little bit of range of movement. And then he's just said he wasn't confident that he would be right to go on Wednesday," Daley told a media gathering.
"So we made the decision. He doesn't feel confident. We've said 'no worries' and we'll go a different direction."
Daley said he is confident Morris's defensive qualities will shine through for the Blues.
"It's a setback, but we're lucky that we have a guy like Josh Morris who was with us for a couple of days early in the camp and has been with us for four or five years, and he's an experienced player," Daley said.
"He'll handle it well. There can be issues ... he's pretty experienced and I'm sure he'll deal with that and have an opportunity to sort that out.
"He's been there before. You can rely on him, can't you? We all remember that tackle in 2014.
"He's a great player. Unlucky to miss [the initial Origin I squad] but now that he's got another chance, I'm sure he'll be ready to go.
"He's a great defensive centre. He's a big boy. I'm sure he'll look forward to getting out there on Wednesday."
Morris will have to shut down Inglis
A regular with the Blues since 2012, Morris will now be tasked with the unenviable job of stopping Queensland's Greg Inglis.
"I was 18th man and Craig Wing got ruled out on the Sunday and I had to come into camp and played my first Origin off the bench," Morris told the Bulldogs website.
"It's lucky that that's happened I've been able to deal with that before. I'll get into camp today, meet up with the boys and obviously do a bit of video prep for Wednesday night's game."
Morris said he was relishing having to mark Inglis.
"I always enjoy those challenges. I was really disappointed to miss out playing in front of a home crowd. Now I get my chance, it's about making the most of it," he said.
Source: ABC News