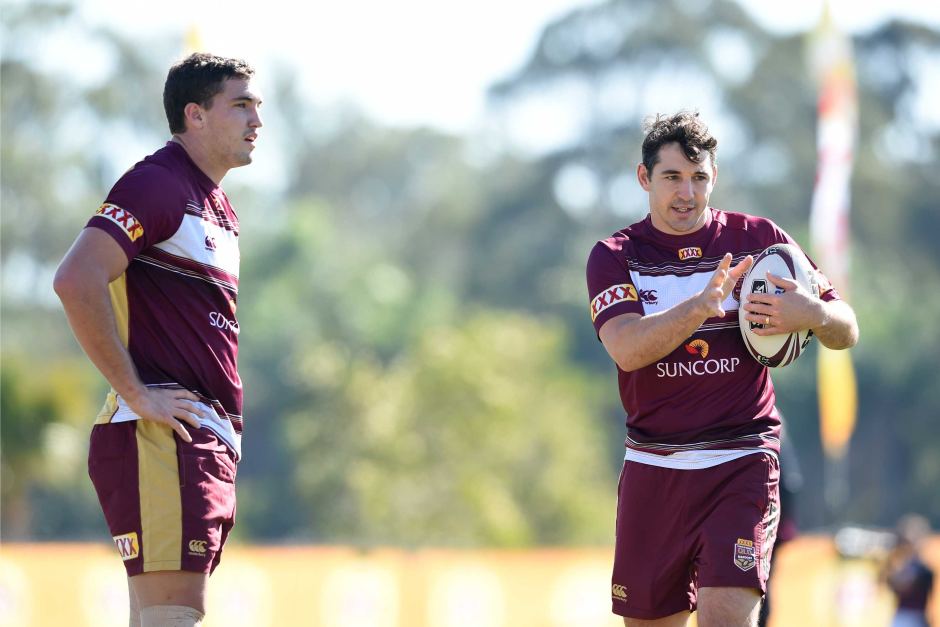 State Of Origin: Billy Slater in camp with Queensland Maroons as coach, hints at possible post-playing career
Life after footy is not something Billy Slater wants to contemplate just yet, but the recovering full-back might have provided a glimpse of it on Thursday at the Queensland State of Origin camp on the Gold Coast.
Slater has not ruled out one day holding the Queensland coaching reins as he mulls over his playing future after surprising onlookers at Maroons training.
For a moment, Queensland appeared to have produced their biggest wildcard since announcing Allan Langer's 2001 comeback.
Sidelined for the NRL season with a shoulder injury, Slater was front and centre leading the players on to the training field.
But officials confirmed he had been recruited as a consultant under first-year head coach Kevin Walters.
Slater ran through backline plays and gave tips to Darius Boyd who will wear the Maroons' number-one jersey with which the Storm star had become synonymous.
Slater admitted his Queensland coaching stint might be a sign of things to come.
"I do enjoy it [coaching]. And I am a very passionate Queenslander," he said.
"Hopefully, I can learn a bit now. Who knows what will happen in the future?"
No guarantees for 32-year-old Slater
Slater, 33 next month, admitted it might be the closest he would get to the Queensland team.
The veteran of 27 Origins confirmed there were no guarantees over his playing future despite Melbourne providing the best medical expertise.
False start ... Slater was injured in his first game back from shoulder surgery.
(AAP: Tracey Nearmy)
He underwent a second major shoulder operation barely two months ago.
A successful comeback season from 2015 shoulder surgery appeared to be on the cards after he impressed in round one this year, but "further issues" with his shoulder forced another season-ending operation.
"It's really tough watching footy. I feel like I can still play," Slater said.
"But I am very grateful for the opportunity to get back into camp."
Asked if he believed he could play again, Slater said: "I really hope so. I can't guarantee anything at the moment.
"I probably won't be able to guarantee anything until next year, but if all goes well and the risks aren't high, I certainly want to play football again."
Source: AAP