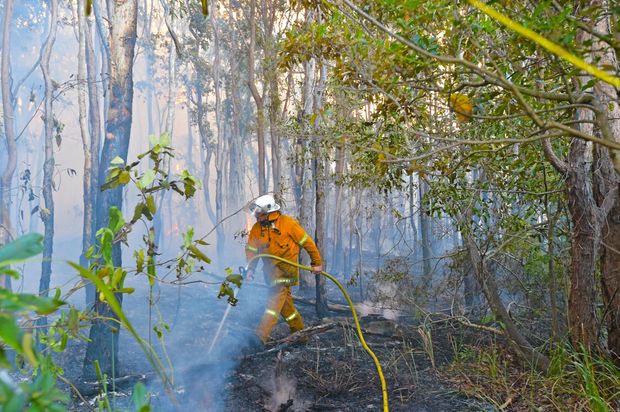 Smoke in the air? Now is the time to get bushfire prepared
Moreton Bay Region residents will see smoke in the air in coming weeks as firefighters get ready for bushfire season and are urging the community to start their preparation too.  
Rural Fire Service Queensland (RFSQ) Brisbane Regional Manager Wayne Waltisbuhl said firefighters and land management agencies had commenced Operation Cool Burn activities which were aimed at preparing fire-prone areas before the 2016 bushfire season.
"As part of Operation Cool Burn, the fire service works with councils and land management agencies to identify areas which may be bushfire prone across Moreton Bay Region and engage with local landholders to assist them with mitigation activities," Mr Waltisbuhl said.
"Due to Operation Cool Burn activities such as hazard reduction burns, residents will probably notice increased smoke in their area during the next few months.
"It's important to point out that QFES is not a landholder but is an agency that assists landholders, such as the Department of National Parks, Recreation, Sport and Racing, local councils, and private landowners to manage fire risks on their land."
Mr Waltisbuhl said that Moreton Bay Region residents could also help with Operation Cool Burn in preparation for the 2016 bushfire season.
"Hazard reduction burns aren't the only form of mitigation. Residents can prepare now by cleaning up their properties and start talking to their families about preparing a Bushfire Survival Plan," he said.
"Landowners should remove excess vegetation such as dry grass, dead leaves and branches from their yard and gutters, and ensure their house number is clearly displayed for emergency services crews.
"It is essential for everyone who lives in bushland or semi-rural areas to have a Bushfire Survival Plan to know what actions should be taken in the lead up to the bushfire season and what to do if a bushfire approaches.
"Whether residents live in the city, urban fringe or regional parts of greater Brisbane and Moreton Bay Region, survival during a bushfire is dependent on how well prepared they are before the event.
"For further information on preparing for the 2016 bushfire season, learning what to do when a bushfire approaches, and downloading a Bushfire Survival Plan, visit www.ruralfire.qld.gov.au".
More helpful information is available on our Fire Season Pages.
During or Approaching Fires what should you do ?
Properties are not under direct threat at this time. Call Triple Zero (000) immediately if you believe you or your property is under threat.
WHAT YOU SHOULD DO:
•  Listen to your local radio station or visit the Rural Fire Service (RFS) website for regular updates.
•  If you have a bushfire survival plan, refer to it now and be ready to follow it.
•  If you do not have a bushfire survival plan, or if your plan is to leave, identify where you will go if the situation changes.
•  Close windows and doors to minimise smoke exposure.
•  If you suffer from a respiratory condition, keep your medication close by.
•  Drive with caution in low visibility conditions.
•  Contact your neighbours to see if they need help preparing for the bushfire.
•  Consider finding your essential items (e.g., identification documents, prescription medication, food and water, and protective clothing such as a long-sleeved cotton shirt and trousers, and boots) in case you need to leave.
•  Consider what you will do to protect your pets and livestock.
•  Drink plenty of water to stay hydrated.
•  Advise family and friends of your intended actions if the situation changes.
KEEP UP TO DATE BY:
•  Following QFES on Facebook (@QldFireandRescueService) and Twitter (@QldFES)
FURTHER INFORMATION: