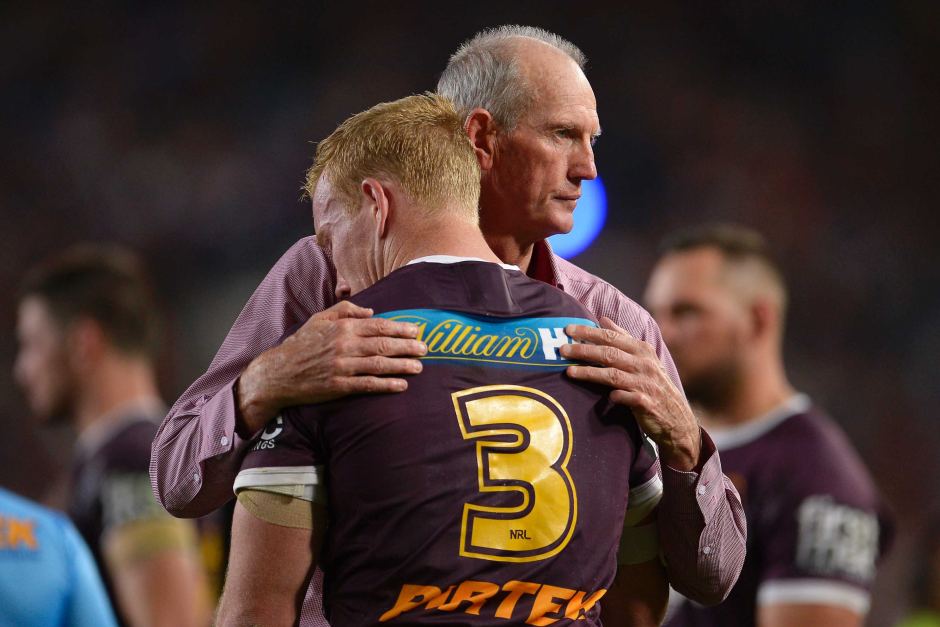 NRL to consider changing from golden point in finals games after meeting with coaches
The NRL will consider changing the way extra time is applied in finals games to avoid going straight to golden point in the event of a draw.
The new system, which was proposed at a meeting of the game's coaches on Wednesday, would see teams play two five-minute periods of standard added time if scores are level after 80 minutes.
Only if the teams cannot be separated after 10 minutes of extra time would the game go to golden point.
The recommendation will now be put to the competition committee for consideration.
The golden-point system is no stranger to criticism but its deficiencies were highlighted even more so after last year's grand final and this year's rematch between the North Queensland Cowboys and Brisbane Broncos.
Both games went to golden point, with Johnathan Thurston booting the Cowboys to the 2015 premiership and Anthony Milford's field goal salvaging a victory for Brisbane in the replay.
Bennett took aim at golden point after the grand final and echoed those sentiments after the Broncos' 21-20 win in March.
"It's terribly unfair that we all give so much out there and after 80 minutes of a great game of football we can't all walk off, through the season, [and] we all get a point each," he told the ABC.
"The tragedy tonight is the Cowboys got no points and that's just ... down to the lottery.
"Last year, we played 24 games, three play-off games and our season was determined on a dropped ball and then a field goal. That's horrific."
"This is something that's as much about the people that play the game [and] live the game as it is about anything else and it was just so unfair," he added.
The extra-time proposal was one of a number of suggestions put to the league by the coaches, with a number of changes to the match review committee set to be implemented immediately after garnering the full support of the coaches.
From round 10, the committee will charge players within 24 hours of the incident in question, while a second match review committee member will be added to keep an eye on each game.
Source: ABC News