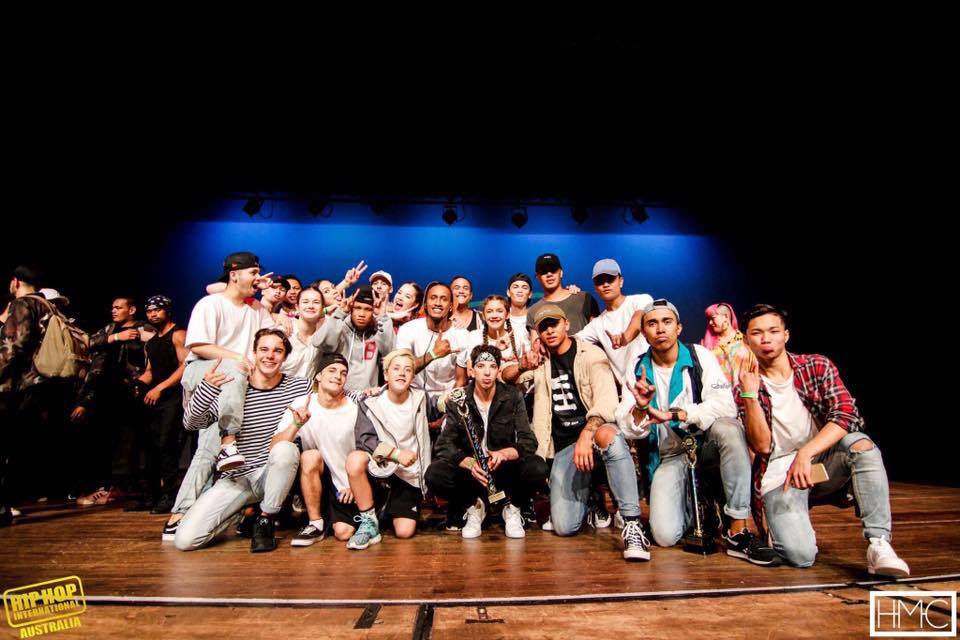 Morayfield Dance group shock win launches inclusion in World Hip Hop Dance Championship in Las Vegas
From humble beginnings The Hood Dance Academy was first formed at the start of 2015 by a dedicated group of young people passionate about their dance style and wanting to make a difference from a local perspective
For the first 12 months of operation they rented a space within a Cheerleading Studio on Morayfield Road starting small but found they grew at a very rapid pace, which then led them to rent their own space to dance and train in January 2016.  
Their new studio is now located at Unit 11, 30 - 36 Dickson Road, Morayfield.  Originally the space that was rented was just a bare empty space, however the students painted it and decked it out the best they could on a very limited budget  adding a lot of their own personal touches to the place. 
The students all worked hard to get it to where it is now and the they often refer to it as their second home.  The atmosphere at the studio is that of a large loving family. You could not ask for more well mannered group of young people that really care and support each other. 
The studio provides classes for people from the age of 3 to adult and its where anyone can go to learn something new.  There are no expensive uniforms or shoes required, and classes are extremely cheap.  This allows more young people to attend as it is affordable.  The money that is raised from classes held only pays for the basic overheads (rent and electricity).
The Crew is as close as family and passionate
Hood Nation is classed as a mega crew (over 15 members), we currently have 20 crew members.  The ages range from 13 to 20.  The Hooligans is classed as a varsity crew (under 18s), there are 7 crew members and these crew members are also in Hood Nation. The majority of our crew members currently attend school, university or have part-time jobs.  Most crew members train for at least 10 to 15 hours per week.  Leading up to competitions these hours can increase quite considerably.
Their first competition in Sydney and their amazing wins
On April 2nd and 3rd, Hood Nation and The Hooligans competed at the National Hip Hop Competition which was held in Sydney.
Day one saw The Hooligans compete in the first round where they placed sixth.  You had to place in the top 9 to progress onto the final round.  The Hooligans are a determined group of you people, not afraid of hard work.  
On that same day, they trained tirelessly for a further 8 hours, changed their choreography in a park in the middle of Bankstown as they knew they had it in them to improve.  T

hey were really hungry as they wanted to qualify for the World Championship, which meant they needed to finish in the top three in the final round. 

At the nationals in 2015, they came close they finished 5th. This in itself was an outstanding achievement as the crew at that stage had only been together for 4 months.  For members of this crew, they felt like this was there time and they had to seize the opportunity that they had in front of them.  They didn't want to go home without qualifying for the world championship this time. 
On Day two, when it came to game time, performing in the finals, they gave it their all, everything they had in them was put up on stage for everyone in Australia to see.  Running low on energy but mentally wired, the crew the blew the judges away to finish third and earn their place in the world competition.
Hood Nations first round of competition happened on the morning of the second day of the competition.  This routine was about a boy who was bullied at school, his home life was that of parents that didn't get along, but learning how to dance gave him a place were he could belong and feel happy.  
Many of our dancers could relate to this on a personal level which enabled them to display raw emotion and feelings as they danced.  In all of my years of watching dance competitions, I have never seen a performance that has been able to move a audience the way they did.  At least half of the audience were in tears by the end of the routine. In the first round Hood Nation received second place which was followed with a second place in the finals.  Every member in this crew worked so incredible hard to achieve this amazing result of second at the Nationals in Australia.  This was the first time this crew had performed at this level. 
Once the competition was over on the Sunday night, it was quite unbelievable to stand back and see that we had two crews that had just qualified for the World Championship in Las Vegas.  For many of our dancers this was a dream come true.  Some of them have been training to get this opportunity for over two years.
Our crews didn't have fancy outfits and expensive shoes like the majority of crews. We would have loved to had them for our dancers but unfortunately our dancers on a whole could not afford them.  To be competitive at the World Championship we need to have them fitted out with all the accessories of fancy outfits and shoes.
The passionate director Jason Weiland
The Director
Jason Weiland had never danced professionally.  In August this year, he will embark on his fourth World Hip Hop Dance Championship in Las Vegas, this time with his own crews, Hood Nation and The Hooligans.  Jason is only 20 years of age and he is the owner and choreographer of The Hood Dance Academy.  A lot of his brilliant choreography work tells a story which is very relevant to every day life and is emotionally moving.  He is the most dedicated teacher out there and he really cares and understand his students.  He himself is a fantastic role model to our young youth in our community.
To boldly go carrying the flag of Caboolture - Morayfield to the USA
Now with their successes so far they are off to Las Vegas to compete t
o be held from 8th to 13th August 2016.  The will be approximately 90 teams from 50 nations world wide at the event.  This is a link with all of the competition details  http://www.hiphopinternational.com/
Total cost for each dancer to attend is approximately $4000 each.
At this stage our flights have been booked and deposits have been paid.  Balance of our flights need to be paid by 1st June.  We leave for Las Vegas on the 1st August.
We are unable to book accommodation yet as our dancers just simply cant afford to pay for it in full at the moment.  Through our fundraising we are hoping to be able to cover this expense for them.  The problem that we are concerned about as time ticks by, more and more accommodations places are becoming fully booked due to the amount of additional people that will be in the area at the time.
Fundraising events will be held and  you can see first hand these very talented passionate young dancers make the Caboolture-Morayfield very proud
Go Fund Me Page
This is the link for anyone that would like to make a donation to our cause.  It does have a little story and a photo attached. 
Events up coming: