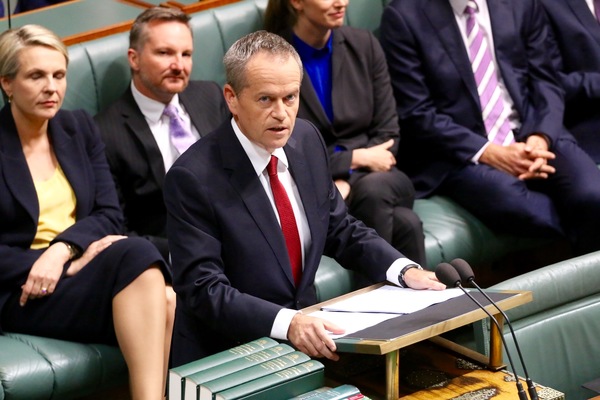 A massive $71 billion in budget savings has been identified by Bill Shorten as the Labor leader carved out an alternative budget position ahead of the federal election to be called on the weekend
In a bold move aimed at burnishing Labor's economic management credentials, politically wedging the government against its own base, and retaining the revenue needed to propose higher spending in health and education, Mr Shorten has used his official budget reply speech to:
reject the centrepiece of Scott Morrison's budget, the so-called enterprise tax cuts
reject the retrospective elements of Mr Morrison's superannuation reforms
propose keeping the 2 per cent temporary deficit repair levy on people earning more than $180,000
unveil a $6 billion, 10 year spending cut - Labor's single biggest to date - in the form of an $8000 per year cap on loans for students to study at private colleges.
Claiming that "three quarters of Australian workers won't receive any tax relief" under the government's formula, Mr Shorten said Labor would stand up for these people while rejecting outright the suggestion he was engaging in "class war".
"It is not 'class war' to disagree with cutting money from families on fifty and sixty thousand dollars in order to give millionaires a tax break," he told Parliament.
"Now is not the time to reduce the marginal rate for individuals who earn greater than $180,000.
"According to the independent Parliamentary Budget Office, this decision is estimated to improve the budget by $16 billion over the decade."
Also in Mr Shorten's sights are the business tax cuts which became the subject of a furious political row on the final day of Parliament.
Under sustained pressure on Thursday, Prime Minister Malcolm Turnbull refused to be drawn on the 10-year budget impact on his staged cuts, which will drop the company tax rate for companies to 27.5 per cent in the coming financial year.
He said he would only provide four-year forward estimates consistent with the budget convention, despite the government itself marketing its tax policy as a ten-year plan, and announcing that the staged reduction to 25 per cent by 2026-27 would be enshrined in legislation.
However Fairfax Media understands the 10-year figure will be released on Friday when Treasury Secretary John Fraser fronts a parliamentary committee - an admission timed to deny Mr Shorten the certainty needed to clarify his own budget reply figures.
But Mr Shorten said Labor in office would not grant the tax cuts in a move that will see its election war chest boosted by an estimated $45 billion even after allowing for a cut to 27.5 per cent for small enterprises with turnover of less than $2 million a year.
"Because that's what a small business is," he said.
"We will deliver tax relief for the small businesses representing 83 per cent of Australian companies, but billion-dollar operations are not small businesses.
"Coles is not a small business. The Commonwealth Bank is not a small business. Goldman Sachs is not a small business."
Modelling of the government's policy by the left-leaning Australian Institute calculated that the boost to the big four banks would be as high as $7.4 billion assuming profits continued unabated on their current path over the next decade.
"Cutting company tax rates delivers a massive windfall to an already highly profitable banking sector," said the group's executive director, Ben Oquist.
"It makes no economic or budget sense to deliver the big four banks a multi-billion dollar tax break when Australia already has a revenue problem."
On superannuation, Labor plans to accept a number of the changes but described the elements that affect the retirement phase as "chaotic and unprecedented, and as having been ordered "with zero consultation". He said Labor would block them "on principle".
"The Treasurer claims only a small number of superannuation account holders will be affected," he said.
"When the system is undermined, everyone is affected, everyone is at risk.
"Every single superannuation holder can now only guess what Malcolm Turnbull and Scott Morrison will do next.
Labor's private college measures are designed to be part of an integrity package aimed at reducing wasted taxpayer dollars in the sector.
The move to cap loans comes after the federal government last week announced a review of the scandal-plagued vocational education sector.
Labor believes that with the cost of the so-called VET-FEE HELP loans scheme blowing out from $699 million in 2013 to $3 billion in 2015, the loan cap will tackle head on the issue of overpriced courses, dodgy providers and unscrupulous colleges.
Source: Sydney Morning Herald