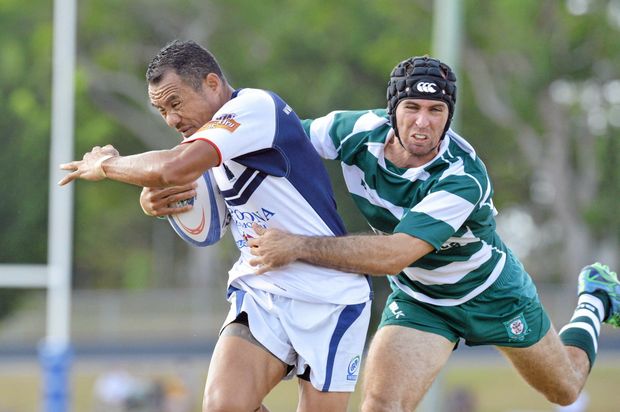 Injury-ravaged Rangers prepare for home ground grudge match
With just one win so far this season, the Ipswich Rangers have a golden chance to re-emerge from the wilderness of the Barber Cup this weekend.
Ipswich have averaged 20 points per game in attack this year, but it is defence which has proved a problem, with an average of 40 points conceded. Tomorrow the ninth-placed Rangers host the Riverside Rebels who are also chasing their second win of the year.
With a big crowd expected for the club's annual Ladies Day, Ipswich Rangers head coach Mark Hamling hopes the stage is set for a Woodend Park win.
"It's a big day for the club and we'll even have our Under 6's running out at halftime (for the Barber Cup)," Hamling said.
"We are both evenly matched so hopefully we can get lift (on Saturday) and get a big win."
The Rangers have a host of injuries to contend with, as well as a number of players backing up after playing with the Queensland Suburban Rugby Union representative side.
"We had six of our players who had to play against Redlands this week," he said. "It was mainly our forwards who played so we will have to see how those blokes pull up first. We can't even name a side yet."
Injuries to Jake Seage and Jarrod Lacey have also hurt the Rangers, with younger brother Connor Lacey to play his second game in the top side.
"Jarrod was really proud to see (Connor) there," Hamling said. "He's only 17 years old but he's doing really well at the moment."
In other games, the high-flying Springfield Hawks play away against Everton Park, while Goodna face fellow top-four contenders, the Caboolture Snakes in the Gladiators first of two away games.
Ladies day
THE Ipswich Rangers will run out wearing pink socks tomorrow to recognise the contribution women make to rugby union with their annual Ladies day.
Under the theme 'High Tea under the Marque', the day event gives players and supporters an opportunity to say thanks and raise money for local charity Hannah's House, and for the McGrath Foundation.
Catered by FIGJAM & Co, tickets cost $45 and include afternoon tea, drinks, goodie bag and a lucky door prize ticket.
A raffle will also be running on the day, with prizes donates from local businesses such as Unites Sports Club, Pumpyard Bar & Brewery, Ipswich Discount Drug Store, Fearless Boudoir Photography, Active Care Remedial Therapies, Caffeine Ali, Plume Hair and Beauty on Belle.
Game day
Everton Park v Springfield at Horse Blake Oval, Everton Park.
Ipswich v Riverside at Woodend Park, Ipswich.
Caboolture v Goodna at Kevin Kaeser Oval, Caboolture.
All Pegg Cup games are played from 1.40pm, followed by Barber Cup from 3pm tomorrow.
Source: Queensland Times