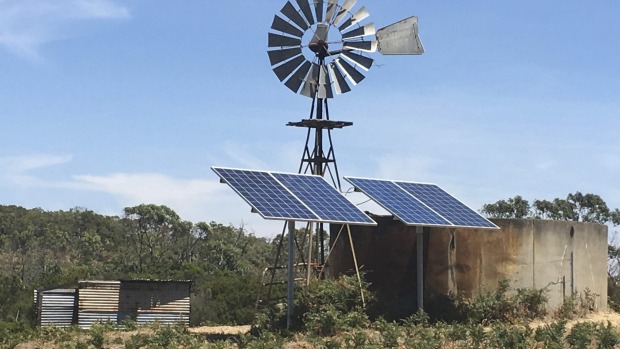 Federal Election 2016: Where the parties stand on the big issues - Rural & regional Affairs
Rural and regional affairs
Traditionally a stronghold for the Coalition, regional Australia has seen the rise of a movement that aligns farmers with environmental concerns on issues such as coal seam gas and mining.
The major parties remain divided on issues such as how to fix mobile phone and internet black spots, whether to publish a foreign-owned farmland register, and how best to manage drought relief funding.
The Coalition has allocated $160 million to fix mobile phone black spots but is under pressure to spend more on the scheme. Labor maintains it will fix black spots through deals made with the telcos in the National Broadband Network rollout.
Despite intense lobbying from farmers and the tourism sector, neither major party has indicated any willingness to scrap the Government's controversial proposal to increase taxes on backpackers. There are strong indications the Coalition may delay the July 1 start date for the higher taxes, while Labor has said it will consult with the agriculture sector on the issue if it is elected.
Labor pushed the land management debate from the state level into the federal arena by announcing it would use Commonwealth power to restrict broad-scale land clearing. Land clearing laws are currently a state responsibility, and the Coalition says it will stay that way if it is re-elected.
Both parties have copped criticism from farmers for their lack of a comprehensive national drought plan. The Coalition has relied on income support payments, concessional loans, and various tax incentives designed to "help farmers help themselves". Labor has attacked the Coalition's loans scheme but has not offered an alternative policy. It would prefer to see water savings achieved through innovation and more research on soil.
Both major parties agree that better infrastructure leads to more jobs in regional areas. There is bipartisan support for a 1,700-kilometre direct rail freight line to move goods from Melbourne to Brisbane in less than 24 hours.
Both major parties have had to tread carefully when balancing their support for mining projects with managing the fierce opposition to them in some farming communities.
Black spots
Mobile phone black spots and slow internet are a huge problem for regional communities, who have warned poor coverage is a serious safety issue and hurts local businesses.
Stories of frustration include everything from people not being able to receive PINs when they are doing online banking, to farm accidents where injury or death might have been avoided had there been phone reception.
There are 6,000 identified black spots across the country, and the Government's Black Spot program aims to fix 499 of them.
Drought
Successive generations of drought policy have been tried, reviewed, found wanting and replaced, in a process that is depressingly circular.
The same questions have been asked for decades: is drought a natural disaster, just part of life in Australia, or both? To what extent should governments step in to help drought-stricken farmers?
In 2013, the former Labor government introduced concessional loans for farmers and the Coalition went on to tweak and expand those, saying as much as $250 million would be made available annually for drought-affected farmers over the next 11 years.
Currently, farmers in parts of Queensland, New South Wales, Victoria, South Australia and Tasmania are battling drought, with some enduring their fifth year of it.
Despite almost $1 billion in loans having been allocated as part of the Government's drought policy, farmers have been slow to take that up. They argue the eligibility criteria are too strict, and the process too bureaucratic.
Farmer complaints were recently backed up by the National Audit Office, which issued a scathing report that declared both the Labor and Coalition concessional loans schemes were rushed through, poorly planned and inconsistently implemented.
Infrastructure
The Coalition's three Free Trade Agreements have opened up and increased market access to China, Japan and Korea, but farmers say a lack of infrastructure (rail, roads and water) increases the cost of production, particularly in northern Australia, and makes it harder for them to compete internationally.
The farm sector has lobbied for decades for an inland rail network to make it cheaper and faster to get goods from farms to ports. There is bipartisan support for a 1,700-kilometre direct rail freight line to move goods from Melbourne to Brisbane in less than 24 hours.
Farmers argue that the costs of production in Australia are among the highest in the world and that they cannot compete with cheaper overseas competitors unless infrastructure improves.
Foreign Ownership
Foreign investment in farmland has been the subject of heated and widespread community debate since it rose to prominence in the last federal election campaign.
The Coalition has refused to publish its long-awaited register of foreign-owned farmland, despite pledging greater transparency before the last election. Instead, the Australian Tax Office will release occasional summaries of information in order to protect the privacy of investors. This move angered the national farm lobby, which supports foreign investment and wants the register made public in order to "inform debate" about the issue.
The Coalition has already lowered the threshold for Foreign Investment Review Board scrutiny of farmland sales to Japan, South Korea and China from $242 million to a cumulative $15 million, and $50 million for all other countries. It also lowered the trigger for scrutiny of agribusiness sales to $53 million. Labor wants to increase the threshold for farmland sales to China, Japan and South Korea to $50 million, and remove screening of agribusiness sales worth more than $55 million.
Mining versus agriculture
Political tensions have frayed where mining projects have been pursued on prime agricultural land. One of the most controversial examples is the Chinese-owned Shenhua Watermark coal mine planned for the NSW Liverpool Plains, in the Federal Agriculture Minister Barnaby Joyce's electorate.
Mr Joyce, and indeed the Nationals, strongly support mining, but not on fertile farmland like the Liverpool Plains.
Mr Joyce has publicly criticised the project and famously declared "the world's gone mad" when Federal Environment Minister Greg Hunt conditionally approved the mine. Mines like Shenhua's are largely a state issue, making it difficult for Federal Ministers to intervene.
Water reform in the Murray-Darling
The Murray-Darling Basin Plan remains a heated issue in river communities, particularly in northern Victoria. It is likely to be an election issue in the seat of Murray, where the popular Liberal MP Sharman Stone, an outspoken critic of the plan, is retiring.
The Coalition and Labor, and the Basin states, remain committed to implementing the controversial plan, which removes water from irrigated farming in favour of the environment.
But Senate crossbenchers have called for the plan to be paused, or even scrapped, after hearing testimony from river communities that it has created a "man-made drought". It is likely to be a significant issue in the campaign for the communities directly affected, but is not likely to be an issue that will see seats change hands.
Land clearing
While it has long been a hot political issue for Australian farmers, land clearing regulation has been a battle fought at the state level until now.
It has been an issue in Queensland and NSW state elections, and Queensland in particular has seen huge changes in regulation as it switched between LNP and Labor state governments.
Incidents of anger and even violence in Victoria and NSW have been blamed on tensions over land clearing laws. Farmers say overzealous regulations preventing land clearing harm their profitability, and their ability to make decisions about how best to farm their property.
Labor says it wants to create a "climate trigger" under Commonwealth environmental law, which would allow the Federal Government to intervene to investigate "broad-scale" land clearing activity, and "ensure proper and rigorous investigation" of its impact on Australia's ability to meet its international climate commitments.
The Coalition says that would be Commonwealth overreach. Deputy Prime Minister Barnaby Joyce says the states have responsibility for land clearing regulations, and that is the way it should stay.
Backpacker Tax
Backpackers make up one quarter of the national farm workforce, according to the National Farmers' Federation. Farmers say the Government's plan to scrap the tax-free threshold for backpackers, and tax them at 32.5 per cent from the first dollar they earn, will force backpackers to go elsewhere, and make it impossible for farmers to find the workers they need.
The Government has budgeted to recoup $540 million over four years through the changes, which are due to take effect from July 1. Farmers challenge that figure, saying it relies on backpackers continuing to come to Australia in spite of the new, higher taxes.
The agriculture and tourism sectors presented an alternative proposal, which they claim would have made the Government even more than the budgeted $540 million, but that has not been adopted by either party so far. There are indications the Coalition will delay the introduction of the new tax, but that is unlikely to be enough for farmers, who are angry, dismayed, and calling for certainty. Labor will commit only to sit down and talk to the industry about the issue if it is elected.