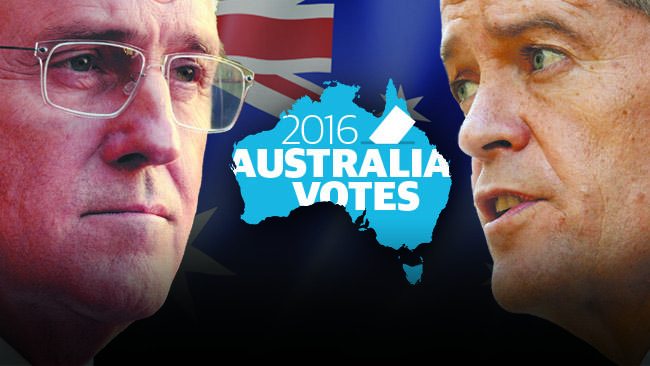 Federal Election 2016 : Tasmanian battle grounds
Tasmanian voters will be closely watching jobs, health and education commitments from the major parties during the federal election campaign.
Key points:
Tasmania's population is particularly dependent on public health and education
Both major parties non-committal about second Basslink cable
Liberals hold three marginal seats - Bass, Braddon and Lyons
This will be particularly so in Bass, Braddon and Lyons - the three seats won by Liberals in the 2013 poll.
Australia will go to the polls on July 2 after Prime Minister Malcolm Turnbull used the constitution's deadlock provisions to call a double dissolution election.
After the federal budget failed to deliver any big ticket items for Tasmania, Tasmania's Chamber of Commerce described the state as the "infrastructure loser".
Labor has already promised $150 million towards the University of Tasmania's proposal to move its Launceston and Burnie campuses into the city centres, but there was nothing in the Coalition's budget to that effect.
One of Tasmania's major industries, tourism, is seeking funding for projects including the completion of the Three Capes Track and a proposed Cradle Mountain cable car.
While headline-grabbing projects may be in the sights of interest groups, voters will also be focusing on jobs, education and health.
Tasmania's 6.8 per cent unemployment rate sits above the national average, as does its 15.3 per cent youth unemployment.
The state also has some of the worst literacy rates in the country.
Political analyst Richard Ecclestone said Tasmanian voters had not followed national trends in recent elections.
"Here [in Tasmania], we're relatively more dependent on welfare payments and social security and we're relatively more dependent on public hospitals and public education," he said.
The battle of the 'Three Amigos'
"So you would think some of the themes which seem to be central to the Labor platform would perhaps resonate more here in Tasmania than in some of the wealthier mainland cities."
As the state's power crisis continues, long-term energy security remains a hot topic.
Prime Minister Malcolm Turnbull announced a feasibility study into a second Basslink interconnector, saying he believed the project would be commercially viable.
Federal Opposition Leader Bill Shorten also committed to a study, but believed it was too early to say if there was enough demand for renewable energy to warrant a second power cable.
Liberal Eric Hutchinson won the Tasmanian rural seat of Lyons from Labor's Dick Adams in 2013.
(ABC: Emily Bryan)
Mr Ecclestone said the marginal Tasmanian seats of Bass, Braddon and Lyons were all in play for the federal election.
"Labor could win all three if there's a uniform swing of about 5 per cent," he said.
"I suspect Bass is perhaps the seat worth watching."
Bass, which extends from urban Launceston and its surrounds to Flinders Island in the north, is held by Liberal Andrew Nikolic by just 4 per cent.
Mr Nikolic, Eric Hutchinson and Brett Whiteley - the Tasmanian Liberals' Lower House trio known as the "three amigos" - backed Tony Abbott in the 2014 Liberal leadership spill.
The Member for Bass lost his position as government whip in the cabinet reshuffle.
Mr Ecclestone said Labor's Bass candidate Ross Hart was a chance to take the seat.
"Andrew Nikolic has got a very high profile, he's a high-profile supporter of the former prime minister Tony Abbott, but also the Labor candidate Ross Hart has got a high profile in the community," he said.
The other two marginal seats in Tasmania also moved into Liberal hands in 2013.
Mr Hutchinson holds Lyons by 1.2 per cent, and Labor believes it has a good chance to take the seat with former party staffer Brian Mitchell, who was preselected two years ago.
Mr Whiteley holds the north-west Tasmanian seat of Braddon by 2.6 per cent, and will face off with Labor's Justine Keay, a Devonport City Council alderman.
Source: ABC News