Federal Election 2016: Sunday rumblings as both sides play the game as PM calls the Election is on for July 2
And that's it from the Prime Minister
Malcolm Turnbull
has wrapped up at Parliament House, ending with an emphasis on economic plans.
He said:
Every measure we have laid out, every single one, will deliver stronger economic growth and more jobs. Economists may debate how much growth, how many jobs. Time will tell, but every single one is pulling in that direction.
Prime Minister
Malcolm Turnbull
is taking questions.
On debates: We haven't discussed debates but I look forward to having a number of them.
On economics: We have set out a clear economic plan and we've laid it out. It is working.
On company tax cuts: As you reduce business taxes... what you do is promote incentivise investment.
The election date has been set for July 2 and both houses of parliament will be dissolved on Monday
Turnbull: We will maintain our border protection policies. We are committed to keeping our borders safe.
The Prime Minister is now taking aim at Labor policies, in particular its plans for tax and negative gearing.
Malcolm Turnbull
says the Opposition's proposed changes to negative gearing "
will deliver a massive shock 
to the property market". 
Labor clearly wants to have less investment.
Turnbull : The choice cannot be clearer at this election we have an economic plan for growth and jobs
 Turnbull: The choice cannot be clearer. Our opponents are promising to increase income tax and oppose tax cuts for businesses & Mr Shorten will make big promises of higher spending. Remember, Labor has no credible or coherent way to pay for them
 How we got here
The Prime Minister is now speaking on why he has called a double dissolution election - the reestablishment of a construction watchdog. 
Malcolm Turnbull
says that the reestablishment of the Australian Building and Construction Commission will "
restore the 
rule of law to the construction 
sector".
It is a vital economic reform and critical to our continued success.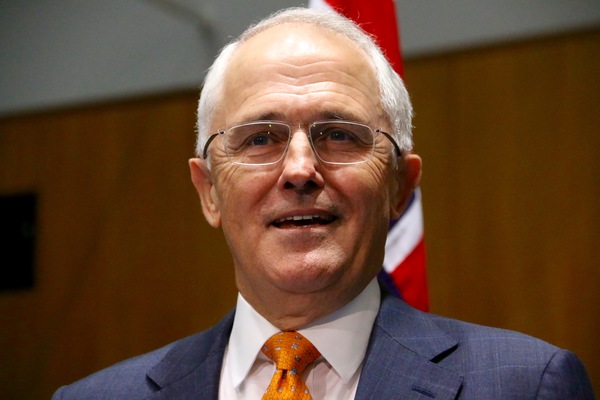 Turnbull is now talking on tax:
We are reforming our tax system to make it more sustainable and fit for purpose in the 21st century. We have established and are establishing the toughest anti-avoidance laws in the developed world. We believe in lower taxes. We do. But it is not optional to pay them.
Turnbull: Our economic plan for jobs and growth is as clear as it is critical - to support this transition to the new economy  &  Labor will stop our nations' transition to the new economy dead in its tracks
Australians will have a 
very clear choice: PM lays out election pitch
The Prime Minister is highlighting his government's plans for the 45th Parliament as he officially announces that we're heading to the polls in July.
Malcolm Turnbull
is emphasising the Coalition's plans for science and technology.
We have set 

up an Innovation and Science agenda 

which will ensure that right across 

our nation we are more innovative 

in business, in academia, in 

government, ensuring that we are 

able in these times of rapid change 

to meet them with the agility.
At 2:30 pm Prime Minister
Malcolm Turnbull
is addressing media in Canberra, saying the 
Governor-General has 
accepted his advice to dissolve both 
houses of Parliament, "effective tomorrow".
Mr Turnbull also confirmed that we're heading to the polls on July 2.
He says it is the "most exciting time to be an Australian". 
Prime Minister
Malcolm Turnbull
has now posted his intentions on Facebook.
Mr Turnbull posted:
A few moments ago, I visited the Governor General and asked him to dissolve the Parliament in preparation for an election. At 2.30pm, I will be addressing the nation to outline our plan for jobs and growth - watch it live on this page.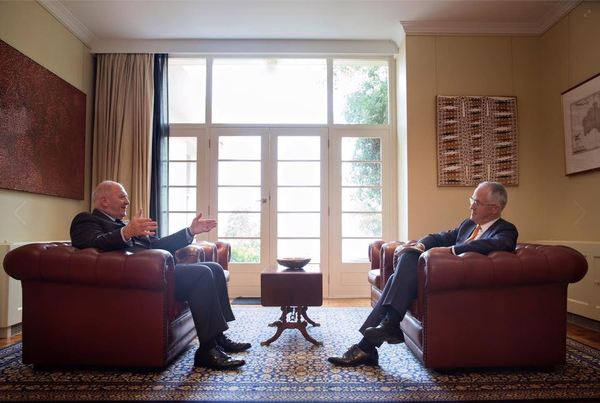 The Greens are also gearing up for an election
While all the action has been 
happening in Canberra, Greens leader
Richard Di Natale
has issued an electoral 
challenge on climate change action.
In a statement, Senator Di Natale said 
that the budget handed down by Treasurer
Scott Morrison
"
is a four year 
plan to do nothing on global warming".
He also took 
aim at the Opposition.
Labor has also budgeted for a $1 billion cut to the Australian Renewable Energy Agency, for the continuation of offshore detention and for the destruction of precious places like the Great Barrier Reef in favour of propping up the dying coal industry.
Prime Minister
Malcolm Turnbull
  arrived 1 pm at the 
Governor General's residence in Canberra.
Mr Turnbull has to asked the Governor General Sir 
Peter Cosgrove
to call a double dissolution election for July 2.
Mr Turnbull drove to Government House in 
Yarralumla, the Governor General's official residence, preparing to fire the 
starters pistol on the longest election campaign in nearly 50 years.
The Prime Minister arrived in Canberra on Sunday morning in 
rainy weather, spending time at The Lodge, his official residence, before 
heading to Yarralumla.
Mr Turnbull is expected to hold a press conference at 
Parliament House later this afternoon.
The Federal Government, which handed down the budget on 
Tuesday last week, says the election will focus on its economic plan for jobs 
and growth.
The Federal Opposition says the poll will be a referendum on 
schools, jobs and the future of Medicare.
A bit more from Bowen
A freshly-shaven Shadow Treasurer Chris Bowen has told Sky News the Government deserves to be thrown out of office after just one term.
As my colleague Dan Conifer reports, Mr Bowen said that Prime Minister Malcolm Turnbull and Treasurer Scott Morrison were "simply not up to the job"
We've had thought bubble after thought bubble, we've had policies that are floated and walked away from.
Mr Bowen denied Labor was attacking Mr Turnbull's wealth and said it was legitimate to point out on climate change Mr Turnbull has "walked away from all of those beliefs".
He also defended the Opposition's policy to retain the deficit levy, saying the budget 'can't afford' not to keep it.
If it was justified three years ago it's certainly still justified now.
Has Labor rebirthed its paid parental leave policy?
Labor has used Mothers' Day to reaffirm its commitment to 18-weeks of taxpayer-funded paid parental leave. 
As my colleague Dan Conifer reports, the Coalition's policy is to ensure parents get a minimum of 18-weeks paid leave by topping up employer schemes where necessary.
The Opposition has rejected the Coalition's approach for some time, saying it would push 80,000 mothers off the Commonwealth scheme.
Labor would give eligible parents 18-weeks pay at the minimum wage with businesses able to add to this amount.
In a media release this morning, Labor says it would 'reverse Malcolm Turnbull's unfair cuts to paid parental leave.'
But the Government has not been able to get the change through the Senate, meaning that at the moment there is no legislation to repeal.
The ALP says this is a policy announcement – but the only new aspect appears to be that Labor has put a price-tag on it.  The Parliamentary Budget Office has estimated its policy would cost $1.4 billion over four years.
The Treasurer has his problems
The issue has dogged the Federal Government for several days, fuelled by an interview by the Prime Minister on Sky News on Thursday who refused to outline the full cost.
Mr Morrison has continued his attacks on Labor's negative gearing plans, telling Insiders it was a "big housing tax which will undermine consumer confidence".
He also defended the visit to a family in Sydney's South-west, which was lampooned by the Opposition after it was revealed the parents were planning to buy a property for their one year old child.
The Treasurer has also commented on a confidential settlement reached with workers of Save the Children, who were removed from Nauru in 2014 amid allegations they were coaching asylum seekers to self-harm.
Mr Morrison, who was Immigration Minister at the time, said the "appropriate course of action has been taken", following an apology to the workers.
He also defended his comments made while Immigration Minister, after an investigation found no evidence of the claims.