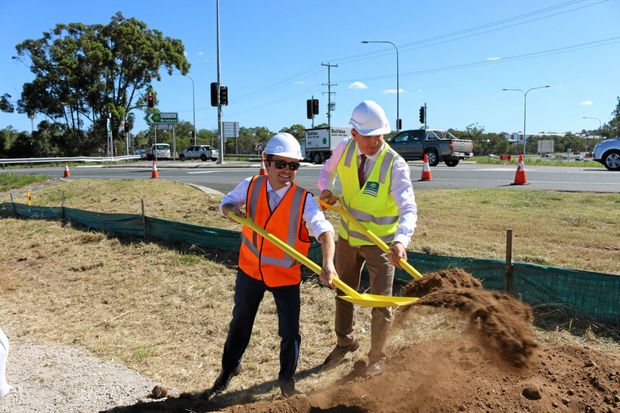 Federal Election 2016: Bruce Highway finally gets a boost
After a concerted local campaign, neighbouring federal MPs Wyatt Roy and Luke Howarth have marked the start of construction of a new congestion-busting, six-lane Boundary Road overpass across the Bruce Highway.
At a sod-turning ceremony, Mr Roy and Mr Howarth said the Federal Government had committed $80.3 million to the $100.4 million Narangba project.
But last year, the pair launched a "Just Build it" campaign after the newly-elected state Labor Government looked like withdrawing support to fund the remaining $20.1 million.
The six-lane overpass – expected to be finished in 2018 – will replace the existing two-lane bridge linking North Lakes with Narangba/Dakabin.
Mr Howarth said Boundary Road congestion, especially around Costco at North Lakes, caused huge commuter delays and frustration.
"There is a lot of congestion being experienced at peak times with so many motorists using the existing two-lane structure to cross, enter or exit the Bruce Highway," he said.
"I have been listening to locals and effectively campaigning for an upgrade to Boundary Road since my election.
"This is about efficiency and productivity – allowing locals to get to work faster and home sooner and making sure freight traffic delivering goods to and from our local businesses can travel smoothly.
"And more than 160 jobs will be supported during the life of this project in a welcome boost to the local economy."
The Boundary Road upgrade comes on top of a Boost the Bruce campaign led by Mr Roy, Mr Howarth, federal MP for Dickson Peter Dutton and Queensland Liberal Senator James McGrath.
The team is pushing for the Bruce Highway to be widened to at least six lanes between the Sunshine Coast and Brisbane.
An $8 million planning, design and cost assessment is under way – the Federal Government providing $6.4 million and the state, $1.6 million.
As well, construction has started on a six-lane expansion of the Gateway Motorway between Nudgee and Bracken Ridge as a part of the $914.18 million Gateway Upgrade North project.
Source: Caboolture News