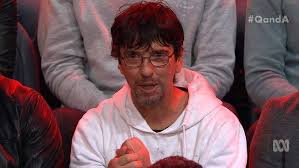 Federal Election 2016 : Australians raise over $50,000 for Q&A; battler Duncan Storrar
The disabled father of two became the stand-out star of Monday night's ABC Q&A program when he questioned Assistant Treasurer Kelly O'Dwyer about the fairness of raising the tax-free threshold from $80,000 to $87,000.
"If you lift my tax-free threshold, that changes my life," Mr Storrar said.
"That means that I get to say to my little girls, 'Daddy's not broke this weekend. We can go to the pictures'.
"Rich people don't even notice their tax-free threshold lift. Why don't I get it? Why do they get it?"
Ms O'Dwyer fumbled over her response, alluding to trickle-down economics that meant a cafe owner could now buy a $6000 toaster - and presumably do better business and employ more people.
Mr Storrar's story struck a chord with the public, with the #istandwithduncan hashtag trending on social media.
One of his fans, Samuel Slammer Faucet, set up a Gofundme campaign to "buy Duncan Storrar a toaster".
The campaign has already knocked its $6000 goal out of the ballpark, with 960 people donating $25,114 raised in just 20 hours (12.21pm Wednesday).
"Duncan seems like a good bloke and every little bit of cash goes a long way," Mr Faucet wrote.
"We reckon he deserves a bit of a helping hand so we've decided to buy him a new toaster.
"Six grand oughtta cover it. And if he has a little bit left over, maybe he can take his kids to the movies or something."
Not everyone was impressed.
One woman claiming to know Mr Storrar said he did not deserve any donations.
The vast majority disagreed.
"Enjoy a small tax break from me - I am a 20 year old uni student rather than a high income earner but you inspired me," wrote Georgia Grow, who donated $15.
Sean Hogarth gave $10 to the cause and told Duncan he could "buy the kids a couple of choc tops on me".
Some media commentators have been harsh on Mr Storrar, pointing out that he earned so little that he paid no income tax regardless of a threshold.
"He's paying no tax," 2UE Radio host Garry Linnell said.
"He's sucking on the public teet and he has been for years, so what's he complaining about?"
Source: ABC News & Caboolture News