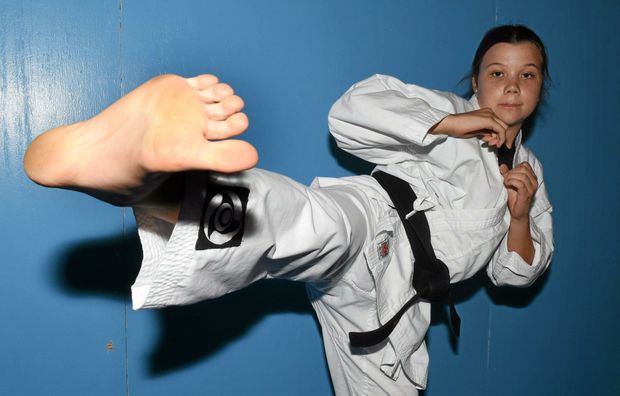 Beachmere karate kid hopes to retain title at Morayfield
Sensei Ray Gardiner has seen his fair share of talent come through the ranks after practicing karate for more than 40 years.
The most promising understudy in his Uechi Ryu style, originating in the Japanese island of Okinawa, is 12-year-old Beachmere student Charlotte Ruffell.
Ruffell is ranked number one in International Karate Association Queensland for continuous sparring for the last year.
Sensei Gardiner said Ruffell may have what it takes to hold her title at the end of the five rounds of ISKA Queensland's tournaments.
"It took her about six years I think," he said.
"It's usually a long haul for my guys to get black belts to get things right."
She will be competing along with more than 100 participants in round two of the ISKA Queensland tournament at Morayfield next weekend.
It will be a competitive field with the best martial artists coming from as far away as Gold Coast and Kingaroy to take part.
Sensei Gardiner said he has been a busy man leading up to the tournament, in between teaching at Landsborough and his school at Caboolture PCYC.
"It's mainly me pushing it to get kids along mainly to enjoy themselves because the sumo and the sword-fighting is fun for them," he said.
"We promote all martial arts to come to it and we've got a lot of different events.
"It's a big day, I think we've got 115 events."
It has been an important step for Sensei Gardiner to host the tournament. As well as teaching children and adults important self-defence skills, Gardiner said he enjoyed giving kids a constructive activity to focus their energy on.
"I concentrate mainly on getting the young ones involved, off the street and things like that," he said.
"A lot of them can't afford to go and sometimes I boost it up and put them in."
Gardiner said it was important to be flexible at his school as some families cannot afford to have their children participating in multiple sports.
"I've got a lot of guys that do soccer as well and they come every second week or whatever," he said.
"I'm not going to stop them from doing other sports... and when the summer time comes they're back again."
"I let them have their own choice because with me you don't have to buy a uniform until you've been there for about three months so the parents aren't forking out money for a child that's going to do it for a couple of weeks and then buzz off."
Children as young as three-years-old can register with mature age martial artists also encouraged to compete.