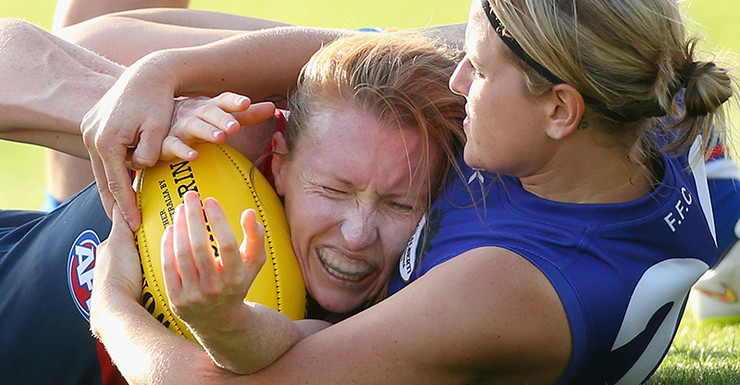 April fools 2016 : Women to play alongside men in AFL teams from season 2019
AFL set to become the first Australian sporting code to allow women to compete in its premier division.
Female footballers will soon play for AFL teams in home and away and finals matches after League bosses passed shock new rules requiring clubs to include at least two women on their senior lists within three years.
The controversial move could see women playing alongside men as early as the 2019 AFL season, when the inclusion of female players on senior lists will become mandatory.
While the AFL pulled back from forcing clubs to include women in 22-member sides, it will encourage them to do so through draft and salary cap concessions.
Club officials are bracing themselves for a backlash from members. Said one on Thursday night: "If they couldn't handle a female host of The Footy Show, they'll go nuts over this."
AFL headquarters was unapologetic.
"We make no apology for actively encouraging clubs to pick women players," a senior AFL figure said. "It's where the game is heading, it's where sport is heading."
Former Essendon and AFL director Beverly Knight welcomed the move.
"I've been a supporter of mixed-gender footy for more than 20 years," Ms Knight said. "I'm delighted it's finally here.
"I'm absolutely confident the girls can mix it with the boys."
Under the new rules, existing rookie and senior player categories will be combined into a 45-member group and a new category introduced for women: Associates.
Associates will be women who can be selected at any time to play in home and away or finals matches.
Clubs must have at least two "associates" on their lists by 2019, but can have as many as five.
Like their male counterparts, "associates" will play for VFL clubs while seeking selection in senior AFL sides.
The radical new plan will surely split the game's fan base when it is officially unveiled at a news conference later on Friday.
But despite this, the AFL official remained steadfast on Thursday night.
"Call it affirmative action, call it positive discrimination, call it what you like – we think it will be great for the game," the official said.
Club officials aren't so sure. Most reacted cautiously on Thursday night, preferring to avoid public comment. Privately, most were alarmed by the new unisex rules.
"By all means have a womens' footy league, but don't try to put them together," said an official from one of the clubs which played AFL finals last year.
He suggested that if women play the game with and against men they should do so under special rules that would prevent full body tackling.
"Otherwise you could kill someone," the official said.
Under the AFL's incentive plan, all associates will be paid by the League and any clubs who select a woman to play an AFL game will be given a salary cap rebate of $10,000 per player, per game played.
The dramatic move comes just weeks after the AFL green-lighted a new womens' league that will kick off with a two-month season in February and March next year.
AFL clubs have been invited to apply for a licence in the inaugural eight-team competition.
Each team will have a list of 25 players, with two designated marquee players and five pre-signed players. The rest will be selected from state-based drafts.
Senior list "associates" will be drafted at the beginning of the 2019 season when clubs will have had two full seasons to identify talent able to mix it with the game's biggest male stars.
The AFL will release further details of the plan on April 1, 2017.
Source: TND