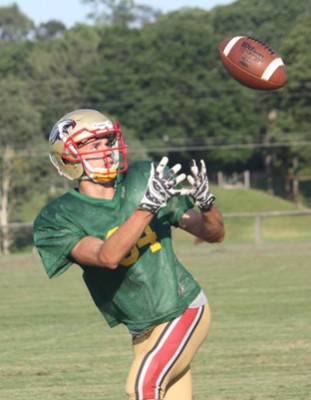 Tyler Ferdinands creates gridiron history
Specialist training in the birthplace of his favourite sport has helped Tyler Ferdinands to be selected to represent Australia.
The Dayboro teenager has been named to play for Australia at the 2016 Under-19 World Gridiron Championship to be held in China in July.
He is the first player from the Moreton Bay Raptors club selected to represent Australia.
"Being selected to represent Australia in the World Cup is such an amazing opportunity and for me there is no greater honour," he said.
"I'm not only ecstatic to play on the international stage, but to play side by side with teammates that have one goal and vision – to do our country proud."
In January, Ferdinands and his family travelled to the USA for a holiday, with the gridiron player taking some time away from being a tourist to receive specialised training, to help improve his skills as a wide receiver.
"I learnt and improved on many skills, overall heightening my game," Ferdinands said of training with Elite Sports Performance in Florida.
"The experience gave me confidence in my ability and training that I was doing back in Australia."
Ferdinands said his training in America was good preparation for the Australian team's selection camp held at Sunshine Coast in February, at which an 80-player squad was culled to 45 men.
"The selection camp involved four to five hours of training a day alongside team and positional meetings," he said.
"Training consisted of positional work and situational game play.
"I approached the camp as an opportunity to do everything I could and give everything I had.
"I didn't know what to expect, however I knew that if I played my best I would have a chance (of being selected)."
The 17-year-old "fell in love with the sport instantly" after being introduced to gridiron by a school friend two years ago.
He says two sports he used to play helped make him the gridiron player he is today.
"I played rugby league for Dayboro Cowboys and Samford Stags until I was 14, assisting greatly in open field running and choosing gaps," Ferdinands said.
"I played tennis not long after league, and this contributed the most to my success in gridiron.
"It built my footwork, speed and hand–eye coordination that proved to be vital in (American) football."
Ferdinands said one of the biggest misconceptions about gridiron is that it is 'soft', because players wear protective padding.
"The padding gives confidence to hit harder, and these hits aren't just directed at the player with the ball," he said.
"I personally believe gridiron is as hard hitting as rugby league, if not harder."
By representing Australia, Ferdinands will follow in the footsteps of Eddie Kocwa from Cashmere, who was the kicker for the Australian Outback team at the 2015 open world titles held in the USA.
Source: The Westerner