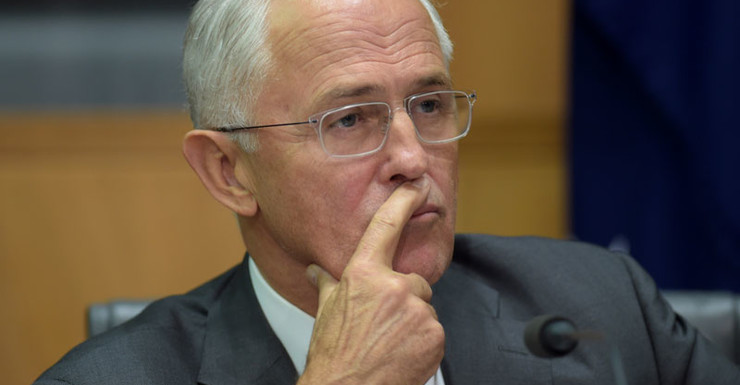 Turnbull budget to be 'prudent, responsible'
The Turnbull government's first federal budget will be prudent and responsible and won't hand out a 'fist full of dollars'.
The prime minister on Saturday began the task of managing public expectations ahead of the May budget, warning it would focus on living 'within our means'.
However, he confirmed his first budget would contain 'changes to our tax system' designed to promote investment, innovation and enterprise.
'This budget will not be about a fist full of dollars, it will be about prudence, fairness and responsibility to our future generations,' he told the Victorian Liberal Party conference in Melbourne on Saturday.
The warning came with a similar one for state governments, which recently shot down the prime minister's proposal to levy their own income tax to pay for schools and hospitals.
'The premiers don't want to raise taxes to pay for their spending, well neither do we,' Mr Turnbull said.
The decision of the states and territories was a 'revealing moment of clarity' for the prime minister and made it clear all governments had to live within their means.
The only way then to create revenue was economic growth, he said.
'Excessive taxes, excessive debt serve as a hand brake on economic growth.'
The prime minister also declared Australia's transition from a country experiencing a mining boom to a new economy the 'one central issue' of the upcoming federal election.
But that may not be how his Labor counterpart Bill Shorten sees it, with the opposition leader spending most of his time this week pushing the Liberal's cuts to education funding.
His deputy, Tanya Plibersek, repeated that message on Saturday, pointing to the coalition government's $80 billion cuts to hospitals and schools.
'In contrast, you've got an opposition that invests in health and education,' she said.
But Mr Turnbull accused Labor of having no plans to pay for spending announcements.
'That is a fundamental test for Mr Shorten, the numeracy test if you like that he can no longer shirk,' the prime minister told the Liberal conference.
'How is he going to pay? Higher taxes, more debt or both?'
A Labor party led by Mr Shorten was a risk to Australia's economic advancement, he said.
'His is basically the Gillard agenda, with a new coat of paint.'
Source: AAP