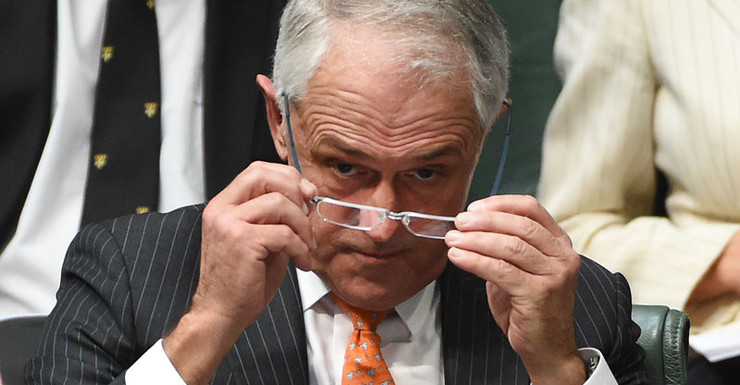 Trigger … for stunts, TV ads and rhetorical beat-ups
Nobody is safe after the PM gets his election wish – not even the Governor-General.
Crossbench senators have given the Turnbull government what it wants: a double dissolution trigger.
With it came a trigger for stunts, vice regal insult and Twitter storms as the Governor-General Sir Peter Cosgrove was accused of 'cutting' deputy Opposition Leader Tanya Plibersek in a pecking order kerfuffle.
His Excellency's minders explained no offence was meant. Formality required that Sir Peter shake only the hands of party leaders before his historic joint sitting and speech to re-open federal parliament.
Labor frontbencher Senator Stephen Conroy then politicised the G-G's role (under the constitution the Governor-General is required to accept the advice of the elected government) by blasting Sir Peter's action in proroguing parliament to allow Prime Minister Malcolm Turnbull to manoeuvre it into his double dissolution powerplay.
Crossbench senators then proceeded to give the government what it so earnestly wants, rejecting the Australian Building and Construction Commission Bill.
Now the 2016 federal election campaign is on in earnest with the Prime Minister expected to visit the Governor-General to advise a double dissolution election soon after Treasurer Scott Morrison's May 3 budget.
But also triggered this week was an emotive propaganda war. An attack ad run on commercial TV shows a bluff but decent Aussie worker bloke being denied his rights by a standover intimidating official. It was contrasted with a smug long-haired 'ice dealer' enjoying his presumption of innocence. By implication: the ABCC and other laws are anti-union and unfair.
Coming soon will be Coalition counterattack ads showing CFMEU and ugly unionists behaving like thugs to destroy the businesses of mums and dads.
Also coming are expected to be blunt TV reminders that it was the Coalition which 'stopped the boats', former PM Tony Abbott's most devastating king hit in Labor electorates.
In House of Representatives question time, Mr Turnbull was struggling to neutralise Opposition Leader Bill Shorten's cunningly devised promise of a royal commission into the banks.
The PM and the Treasurer offered only a 'capability review' of current consumer watchdog ASIC and sympathetic reassurances that bank consumers with complaints could be compensated by current protections. It is a politically inadequate response to a high level of justified anger at recent banking scams, gouges and scandals.
But it, with the recent global tax haven Panama Papers revelations, sets the scene for the coming winter election: Malcolm from the big end of town versus Bill from the battler suburbs. It's a beauty contest involving creative characterisations and inflammatory negative perceptions.
With the announcement that 12 new navy patrol boats would be built in South Australia, the Turnbull government is doing all it can to shore up its electoral stocks in that state. No one called it 'pork barrelling'.
The more substantive issue of the sustainable future of manufacturing in Australia, after the loss of domestic car making, and the insolvency of steel maker Arrium, will suffer from cheap shots with little education about innovative market, workforce and skills solutions.
Polls now show the electorate is volatile. Coalition and Labor are 50-50 on a two-party-preferred basis. Mr Turnbull's advantage is his popularity margin over Mr Shorten.
That is an advantage which an unpopular Mr Abbott once proved was not decisive in winning an election.
So unless Mr Morrison's May 3 budget delivers the Coalition to the sensible centre of fairness through budgetary and economic management, the unpopular Mr Shorten can win this from here.
It is by their actions that governments can lose … government.
Source: TBD