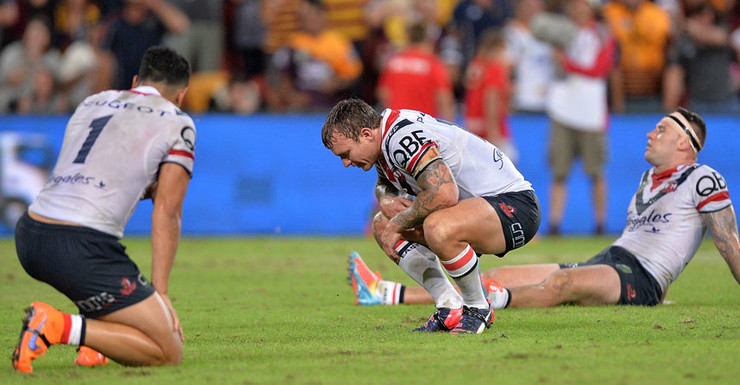 This NRL rule is ruining the game and must go
Fans are being denied classic finishes due to the unfair golden point rule.
The NRL Competition Committee is reportedly set to jettison golden point extra time for finals matches as early as this season – a progressive step towards eradicating one of rugby league's increasingly maligned aspects.
But will it be a precursor to discarding the controversial system from NRL matches altogether, or another frustrating half-measure by the code's establishment?
Introduced in 2003 to 'add more excitement' to games tied after 80 minutes, sudden-death golden point was a misguided attempt at Americanising a part of the game that needed no upgrade. Over time, it largely lost its charm and drama factor.
The average fan has joined the rugby league purists and the majority of coaches and players in imploring the decision-makers to abandon golden point altogether.
The Cowboys claimed an epic 17-16 triumph over the Broncos in last year's grand final via Johnathan Thurston's golden-point field goal. The match is rightly regarded as one of the greatest in the game's history – but it deserved a fairer finish, and it has been widely argued no side deserves for their season to end in the field goal shootout jackpot that is golden point.
A return to the traditional 20 minutes of extra time is one of several alternatives mooted for finals matches that require a result. A return to the humble draw – with each side receiving a competition point – in regular-season matches has to be at the top of the NRL's agenda for 2017.
Golden point has produced some sparkling moments – most recently the long-range try scored by Warriors fullback Roger Tuivasa-Sheck to steal a win from the Roosters in Round 5.
Shaun Kenny-Dowall's intercept try to clinch the inaugural golden point finals match in 2010, Scott Minto's gazelle-leap try in 2003, and a couple of iconic Darren Lockyer one-pointers also carved out a niche in modern rugby league folklore.
But too often the sudden-death extra time installments degenerate into an ugly, tedious field goal lottery; the Storm's win over the Tigers on Sunday mobilised golden point's vast army of critics yet again.
Since the concept's launch 13 years ago, 94 games have finished tied at the end of regulation time. Just 20 golden-point games have been won by a try, 53 have finished via a field goal and nine courtesy of a penalty goal, while 12 have remained a draw.
The reliance on the field goal in golden point has increased dramatically in recent years. Since 2011, only six golden-point tries have been scored, with 31 extra-time games won by a field goal.
It has become as much of a scourge on the game as diving and wrestling, chipping away at the ethos rugby league has been built on for over a century.
The NRL has made an art form of putting its head in the sand over dud rules, while an inclination to admit its innovations have failed is not part of the top brass' modus operandi – as the bumbling Bunker has emphatically proved in 2016.
There's no need for the NRL to eat humble pie in regards to golden point, however. It was introduced in a bygone era, by a long-gone administration.
The current head honchos should have no reservations in consigning golden point to the rugby league history's garbage bin, where it can nestle in next to other despised relics of the code such as the McIntyre System, unlimited interchange and the four-tackle rule.
But recent history tells us we're set to endure more mind-numbing extra time drudgery before the NRL bows to overwhelming popular opinion.
Source: TND