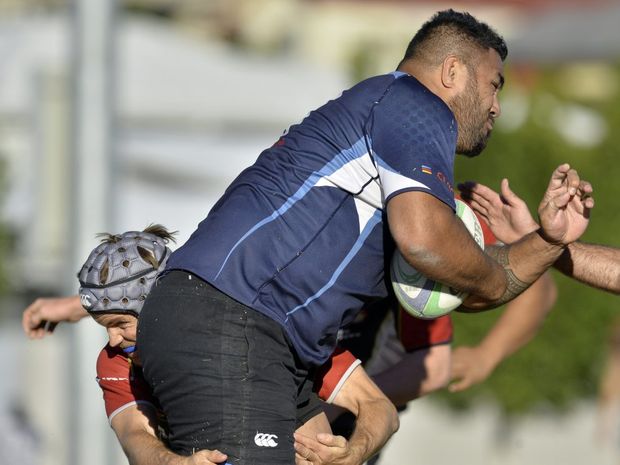 Springfield run red hot in second Barber Cup rout
Springfield have put their rivals on notcie with another blow-out win in round two of the Barber Cup.
Following on from a 78-5 first round whitewash over Beenleigh, the defending premiers showcased their impressive defence in a 82-0 win over Redcliffe on Saturday.
It was the third week in a row the Hawks have handed out a punishing scoreline with a big win over the Ipswich Rangers in their final trial game.
Springfield have shown they can find the try line but it was their defence against Redcliffe which impressed coach Jeremy Clark.
"it was very patchy
didn't put a complete
it was messy, credit to red they gave it to us at times
they had some good players
our defence was solid, its a confidence thing
being relentless is our goal, finish how we start
if we put a complete performance it's going to be scary
can't get too excited its only two good performaces teams will improve, got plans in place to change style
every team offers different things,
gives us confidence
all our goal is to keep gradualling improve and play consistent
Ipswich Double
THE Ipswich Rangers posted their first win in the Barber Cup on Saturday with a 43-20 win over Southern Bay.
The Rangers right side was on fire in attack with flanker George Samia and centre Cameron Potini each picking up a double.
Fullback and captain Tom Dwyer and scrum half Blake Tessier added a try apeice with fly half Jarred Lacey finding form with the boot.
Lacey kicked five conversions and one penalty goal to bring up the final 43-20 scoreline.
It was a consistent display from the Rangers, scoring 22-10 in the first half before returning to post a 21-10 scoreline in the second half.
The Rangers Colts produced their best result in three rounbds to go narrowly go down 27-19 against Colleges at the Gold Coast.
Colts coach Jeff Austin was happy with the steady improvement from the Ipswich players.
"I'm happy with where the team is," he said.
"Considering the age of the players, and the experience they have it was a great effort today despite injuries taking their toll."
Two Rangers players failed to finish the contest, with one taken away by ambulance having suffered a dislocated knee cap.
Warren Tupai was awarded man of the match with a two-try performance for the Rangers.
Barber Cup:
Springfield Hawks 82 (Taai Faanoi, Faofua Tuala 2, Nevin Fatu 2, Simon Rowe, Luke Hurunui, Paula Katoa, Shannon Turner, Vea Komiti tries; Lorenzo Clarke 10, Taai Faanoi goals ) def Redcliffe 0 at Redcliffe.
Ipswich Rangers 43 (Blake Tessier, Thomas Dwyer, Cameron Potini 2 and George Samia 2 tries; Jarred Lacey 5 goals, Jarred Lacey penalty) def Southern Bay 20 (Jason Driver, Brad Williams tries; Andrew McFerran 2 goals; Andrew McFerran 2 penalties) at Redland Bay.
Redlands 47 (Dylan Hills 2, Jason Rogers, Ryan Barrett, Geaorge Habib, Turei Harmer, Tyler Papuni tries; Turei Harmer 6 goals) def Goodna 0 at Redlands.
Source: Queensland Times