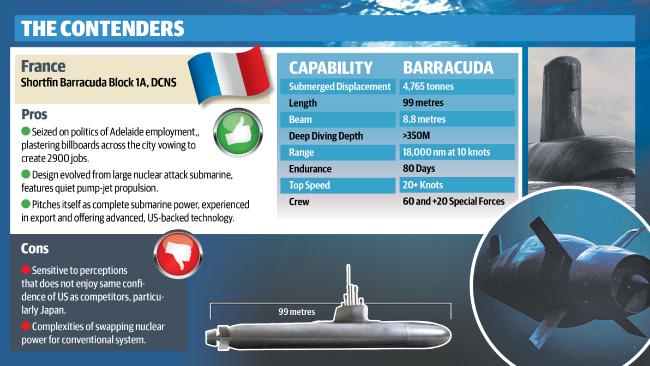 PM Malcolm Turnbull announces France has won submarine contract
French company DCNS has won the contract to build Australia's next fleet of submarines, Prime Minister Malcolm Turnbull says.
Mr Turnbull said the submarines would be built in Adelaide and the project would create 2,800 Australian jobs.
The PM made the announcement during a visit to Adelaide.
The $50 billion contact will see 12 submarines built to replace the Royal Australian Navy's ageing Collins Class fleet.
Japan and Germany also submitted bids for the contract.
The Government's decision comes after a competitive evaluation process and ends months of speculation.
It's reported that Mr Turnbull called France's president Francois Hollande last night to inform him that France had won the bid.
The Prime Minister has called a press conference for 11.30am Adelaide time.
This will be Australia's biggest and most complex defence procurement, costing as much as $150 billion over the life of the project.
The submarine contract is expected to be worth about $50 billion.
Direction des Constructions Navales Services, majority owned by the French government and defence company Thales, is offering the Shortfin Barracuda, a conventionally-powered version of its new Barracuda nuclear attack sub.
Vessel number one would be launched next year. The Aussie Barracuda would be slightly smaller at 4500 tonnes and 97 metres.
DCNS is proposing power by familiar lead-acid batteries, but with propulsion from its advanced top secret pump jet instead of a conventional propeller.
It is the only bidder which builds both conventional and nuclear boats. In its bid it has pointed to its extensive experience building nuclear subs for the French navy and diesel electric subs for Malaysia, India, Chile and Brazil.
THREE-WAY RACE
There were three bidders competing to supply 12 new submarines to replace Australia's six ageing Collins boats.
• French Defence shipbuilder DCNS plans to build the Shortfin Barracuda Block 1A designed specifically for the Australian navy. It uses pump jet propulsion instead of conventional propellers and at 97 metres is longer than a jumbo jet.
• A Japanese consortium, including Mitsubishi Heavy Industries, is bidding to build a version of the Soryu Class submarines currently in service. The Soryu Class is 89 metres long, carries a crew of 65 and has a range of 6100 nautical miles.
• German group ThyssenKrupp Marine Systems (TKMS) has proposed an 89-metre submarine known as the Type 216. It has a range of 10,400 nautical miles and is designed to carry 18 torpedoes or anti-ship missiles.
The government launched the competitive evaluation last year, inviting bidders to quote for constructing in Australia, overseas or a bit of both. However, the new vessels will certainly be built entirely or mostly in Adelaide.
TKMS chairman John White rejected media reports suggesting building new subs in Australia would cost 30 per cent more than overseas.
He said TKMS had undertaken to build in Australia for a price no greater than in Germany and no more than $20 billion.
"We are surprised that there is continuing, almost malicious, lack of confidence in Australian industry capability, given previous successes like the Anzac Frigates," he said in a statement.
Similarly, the Japanese embassy in Canberra rejected media reports claiming their design would have insufficient range, would be too noisy and that proposed lithium-ion batteries were unsafe. "If there was any reliability issue with the batteries, Japan itself would not have decided to use lithium-ion batteries in its own submarines," it said in a statement.
The German and French bids were considered frontrunners, according to separate media reports last week.
The Wall Street Journal report said the final decision would be a choice between the German and French bids, with TKMS a strong contender because of its extensive experience building subs in Germany and in customer shipyards.
Japan's was viewed as having considerable risk given the country's lack of experience exporting complex defence equipment. The Japanese offer of the Soryu class submarine was seen to be favoured by Tony Abbott when he was prime minister.
Meanwhile The Australian said France's bid to build a submarine based on its Barracuda nuclear attack sub was shaping up as frontrunner while the Japanese bid was considered the weakest of the three.
WHY DOES AUSTRALIA NEED NEW SUBMARINES?
The navy's fleet of six Collins Class subs is ageing. The first sub called the Collins came into service 20 years ago with the last, the Rankin, joining the fleet in 2003.
By the time they are replaced, all six will be more than or approaching 30 years old.
BUT WHY SUBMARINES?
Surface ships are increasingly vulnerable to the latest generation of missiles.
Submarines are seen as survivable and deadly with the ability to launch special forces and missiles. Given Australia's location a fleet of long-range submarines is considered paramount to national security.
CRUCIAL FOR OUR DEFENCE
The Prime Minister said last week that building up defence industry capability was critical to Australia's national security and would also mean thousands of jobs for Australians.
"It is my passionate committed belief that we must spend more of our defence dollar in Australia," Mr Turnbull told John Laws on radio 2SM on Friday, when asked whether a pending announcement about a $50 billion contract for a new submarine fleet would be good for the country.
The government has already announced plans for construction of new offshore patrol vessels, Pacific patrol boats and future frigates in South Australia and Western Australia.
Mr Turnbull said building up the domestic ability to construct new ships was critical to Australia's security.
"What we need is a strong Australian indigenous defence industry so that you have continuous construction," he said.
Source: ABC News and Courier-Mail