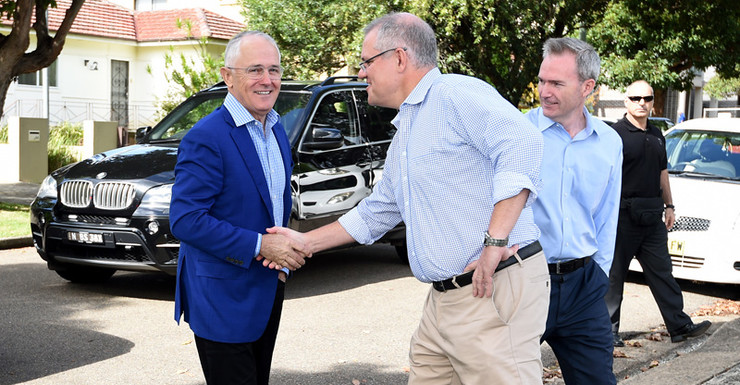 No negative gearing changes in budget: PM Malcolm Turnbull
Turnbull states his final stance on property tax, flags it as a major election issue.
Prime Minister Malcolm Turnbull says there will be no changes to negative gearing in the federal budget and hinted he will use the ALP's policy against it at the looming election.
Mr Turnbull confirmed on Sunday the decision to leave tax on investment properties unchanged, despite Treasurer Scott Morrison admitting in early 2016 there were "excesses" in the current rules.
In February, the Labor party forced the Coalition into a negative gearing debate when it promised to restrict negative gearing on new houses from next year.
The Coalition has heavily criticised Labor's plan, claiming it would impact on investor confidence and lower the value of houses.
"The changes that Labor is proposing to negative gearing will devalue every home in Australia, that is what they are designed to do," Mr Turnbull said on Sunday.
"Labor has got a trifecta: they want to discourage investment, jack up rents and reduce home values."
Mr Turnbull said he did not think the decision would be "a surprise to anybody, given the attacks, the criticisms we've made on Labor's reckless plan".
Mr Morrison said the Labor party's plan would discourage "mum and dad investors", and in turn, confidence in Australia's economy.
"It's not a plan for growth and it's not a plan for jobs and that's why we will not have a bar of it."
Shadow treasurer Chris Bowen argued Labor's plan would help put first home buyers back on a level playing field.
"I think mums and dads around the country will be deeply concerned that the Government of Australia has no plan to help their kids with housing affordability," he said.
Labor's finance spokesman Tony Burke said the Prime Minister was waging a "fear campaign".
"Effectively it's, again, Malcolm Turnbull adopting the policy agenda that Tony Abbott told him to adopt."
Leading Australian economist Saul Eslake described negative gearing as a form of "tax avoidance", in a piece for The New Daily in March 2016.
"They [those for negative gearing] argue that this [negative gearing] simply allows individuals to do what businesses can – offset the costs of 'doing business' (including financing costs) against taxable business income," Mr Eslake wrote.
"However, it ignores a very important difference between the tax treatment of companies and individuals. Companies don't get the 50 per cent tax discount on capital gains which individuals have done since 1999."
Has the PM, Treasurer back-flipped on negative gearing?
Following Labor's policy announcement in February, Mr Morrison was pressed about the Coalition's plans for negative gearing in the Budget. 
Mr Morrison refused to divulge too much information on the government's policy, but admitted "there are excesses" in the current allowances.
But it's wasn't only the Treasurer who once doubted Australia's negative gearing allowances, Mr Eslake wrote in The New Daily in March 2016.
Mr Eslake found that in August 2005 Mr Turnbull co-authored a paper where he wrote: "Australia's rules on negative gearing are very generous compared to many other countries".
Then, in a speech to a conference co-sponsored by The Australian newspaper and the Melbourne Institute of Applied Economic and Social Research in September 2005, he described negative gearing as a form of 'tax avoidance'
Source: TND