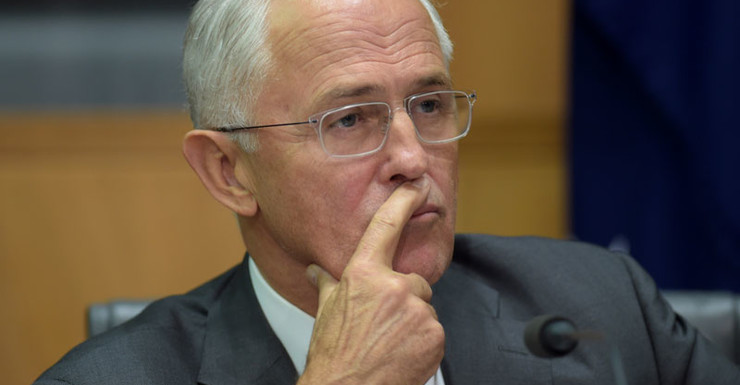 Malcolm Turnbull starting to falter as election race begins
Six months ago, Malcolm Turnbull's popularity as PM was soaring. Now he faces a task to hold on to his leverage.
Winning elections requires momentum.
It's an artful skill requiring the build-up of an expectation of inevitability, sure to be confirmed by voters inside the Australian Electoral Commission's cardboard voting stalls on polling day.
Now in what will be the longest federal election campaign ever – from March 20 when Prime Minister Malcolm Turnbull pressed his double dissolution trigger, to either July 2 when a DD is set to occur, or later this year on a normal schedule, Mr Turnbull's momentum appears to have stalled at the start.
Momentum requires the aggregation of voters to your side. That was what Mr Turnbull enjoyed from the moment he took over from Tony Abbott.
But with backdowns on tax reform (GST, negative gearing), the sniff of scandal (NSW Liberal Party slush funding), last week's big slap down by the states, plus the calculated interventions of the Revenant (Tony Abbott), momentum has dissolved.
He can get it back, of course. There is Treasurer Scott Morrison's first budget on May 3.
Just how he can make an election-winner of this budget and maintain fiscal credibility in the face of this country's entrenching deficit will require deep thought and inspiring leadership.
After the recent electoral redistribution, the Coalition enjoys a notional 21-seat majority in the House of Representatives where executive government is won or lost.
It is a healthy margin for sure. But it can be wiped away with a uniform swing of 4.4 per cent.
The government is supposed to be running a defensive strategy, giving its rivals no opportunity to land political blows, and building excitement about the future.
In this context, Mr Turnbull's recent tactics are inexplicable and seem to confirm the view that he has no political judgment. He gave Labor leader Bill Shorten a monumental free kick over his suggestion that states could fund state schools, leaving the feds to look after private schools.
With no clear resolution of health and Gonski schools future funding and the points of difference this creates, the PM has in fact helped Mr Shorten consolidate Labor's base vote.
Mr Turnbull is PM because of a view within the Liberal Party that he could win votes from 'progressive', usually Labor-voting, electors. The Turnbull progressive leadership quality is considered vital to the defence of the government majority.
Federal Liberal Party director Tony Nutt will have to get into the PM's ear to confront his misjudgments if he wants to exploit Mr Turnbull's more marketable popularity in comparison with Mr Shorten.
While 'vertical fiscal imbalance' is an acknowledged structural deficiency (the Commonwealth holds all the money) the proposed fix to give states their own taxing powers immediately raised the scare of 'double taxation'. The reform is low order. The politics high risk.
Last week on The Conversation with Michelle Grattan, Labor campaign director George Wright was pinned down to an on-the-record response about outcomes. He said: "I think there is a chance Labor could win."
Source: TND
There is an expectation that the Turnbull government will be returned with a reduced majority.
To achieve even this outcome you need … momentum.
Source: ABC News