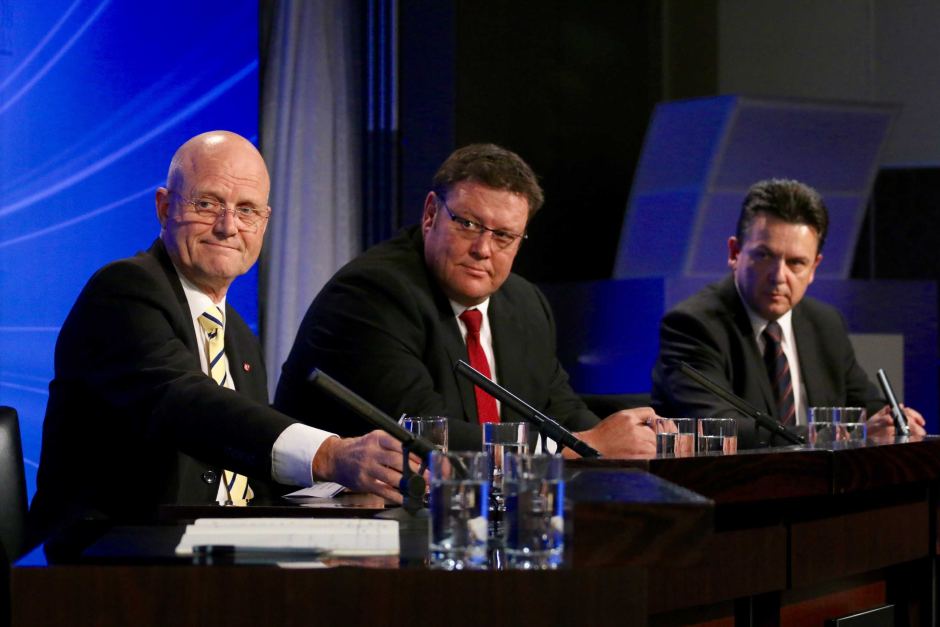 Double dissolution: Malcolm Turnbull showing little interest in ABCC bill, crossbenchers say
A number of key crossbench senators say Prime Minister Malcolm Turnbull has little interest in avoiding a double dissolution trigger and are gearing up for a July 2 election.
Key points:
Leyonhjelm supports second reading of ABCC bill but wants amendments
Lazarus says Coalition "panicking", expects July 2 poll
But Xenophon says Government has been negotiating to get legislation passed
Government yet to decide on MP sitting days
Independent senator Glenn Lazarus and Liberal Democrat David Leyonhjelm made the comments at the National Press Club today, alongside fellow crossbencher Nick Xenophon.
The trio is due to return to Parliament House on April 18 after Mr Turnbull recalled MPs and senators to debate two bills on industrial relations, including legislation to re-establish the Australian Building and Construction Commission (ABCC).
Mr Turnbull said last month if the Senate did not pass the bills — which have already passed the House of Representatives — he would call a double dissolution election.
But Senator Leyonhjelm today said the Prime Minister was yet to approach him on the matter.
He said he would support a second reading of the bill, but had wanted amendments.
"Malcolm Turnbull has shown little interest in the ABCC bill beyond using it as a stick to beat Labor and the crossbench," he said.
"I have never spoken a word to him about it. In my view, he has been looking forward to a double dissolution."
Senator Lazarus said he expected to go to the polls on July 2, saying the Coalition was "panicking".
He is also calling for the bill to be changed, wanting it expanded to act as a federal corruption watchdog across numerous sectors.
But Senator Xenophon said the Government had been negotiating, citing discussions with Employment Minister Michaelia Cash.
He said Senator Cash was doing "all that she reasonably can" to get the legislation passed.
"The Government clearly campaigned on the ABCC in the lead-up to the 2013 election. It has a mandate to bring this legislation on," he said.
Government unsure on MP sitting days
The Government is also yet to decide whether MPs will sit for the full three weeks, Leader of the House Christopher Pyne said.
Christopher Pyne says claims Government running for cover "rubbish".
(ABC News: Nick Haggarty)
Mr Pyne made the point today when pressed on how many days the Lower House would sit over the special, three-week period.
He told the ABC the Government would be introducing legislation regarding the road safety remuneration tribunal on April 18, but a decision on further days was yet to be made.
"The action on those two bills are in the Senate," he said.
"I don't think we've made a decision yet on how many days the House of Reps needs to sit."
Mr Pyne also dismissed claims the Government was running for cover as "absolute rubbish".
His Opposition counterpart, Tony Burke, labelled the lack of decision as "chaos" and called on Mr Turnbull to face questions.
"It is a total abuse of taxpayers' money," he said.
"It's Malcolm Turnbull running and hiding from the questions that the Australian people expect him to be asked, expect him to have to answer.
"It's his job. He's Prime Minister, he's recalled Parliament. Parliament should sit with a Question Time every day beginning the Monday."
Mr Burke said there had been many developments since Parliament last sat, citing the Panama Papers revelations, the NSW Liberal donations saga and the funding arrangements outlined in the Prime Minister's meeting with premiers and chief ministers.
He said it was "completely unprecedented" that the Government should return and not face questions from the Opposition.
Source: ABC News