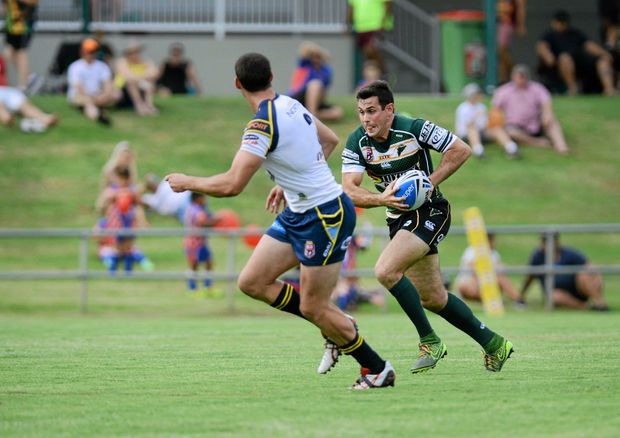 A Jets family affair against Dolphin rival
FAMILY friendships will be tested when the Ipswich Jets take on the Redcliffe Dolphins.
Jets forward Liam Capewell will face his cousin and former Jet, Luke "Rocky'' Capewell when the two sides meet at Brendale this afternoon.
Last year's Dolphins captain and dangerous ball runner made 10 support plays against Sunshine Coast last week.
"He's a pretty talented bloke," he said. "I wouldn't say (being family) gives you too much insight. The only advantage is knowing to watch out for him."
With stints at four NRL clubs, Capewell said his cousin would be a welcome inclusion were he to rejoin the Jets.
"We'd love to have him here," the 28-year-old said.
"He would really suit our playing style. He's got a really good show and go and he's a tough competitor with a lot of experience."
The Jets have scored 70 points to 42 in the first 40 minutes but in the second half the opposition are winning 81-52. Co-coaches Ben and Shane Walker will need to address this imbalance to record the Jets third win of the season.
"As a club we don't see it as an issue," Capewell said.
"We are a new team with a lot of new players and we are still developing what we are as a team."
The Jets strong starts to games could be their undoing in the later stages.
"We have been a little complacent at times because of how well we've started games," he said.
"Even in my own game I am guilty of some complacency. Having said that there hasn't been a game where we haven't been competitive and that's going on us being below our best.
"We've got lots of talent across the field and everyone is positive we can turn it on."
The Jets will play their annual QRL Country Week round at Charleville this year, the hometown of the Capewell family.
A former St Mary's Charleville junior, Capewell said the small Western Queensland town was the perfect training ground for a life of football.
"Being from a small town it is great to have a lot of footballers playing at a high level," he said.
"All we did as kids was play football. There's nothing better than to go out there for country week.
Mum and Dad still live out there and it's good to catch up with the family after the game. They couldn't be prouder."
With new recruit Michael Purcell hailing from the same town, Capewell said it was a testament to the Walker brothers' ability to bring in country talent.
"I think it is reflection on the Ben and Shane's ability to handle all types of people from different backgrounds," he said. "That ability to bring the best from of each individual, from the shy country kid to the city boys."
His brother Kurt helped rebuild the Walker's home after the 2012 floods and the relationship between the two sets of brothers remains strong to this day.
"I've been with the Walkers since they were coaching Burleigh in 2008," he said. "Wherever they go I've gone with them.
"They know how to bring the best football out of me."
A late venue change has seen the round six clash moved from Sunday to Saturday as the usual Dolphin Oval home ground undergoes an upgrade.
Capewell said the Brendale venue would not change the way the Jets approach their latest challenge.
"We would be happy to play them in a backyard somewhere," he said.
"The Redcliffe supporters are renowned for being die-hard fans and you've probably never heard a ref make a right call at Dolphin Oval. If we play the way we know we can play then we will get the job done."
Source: Queensland Times