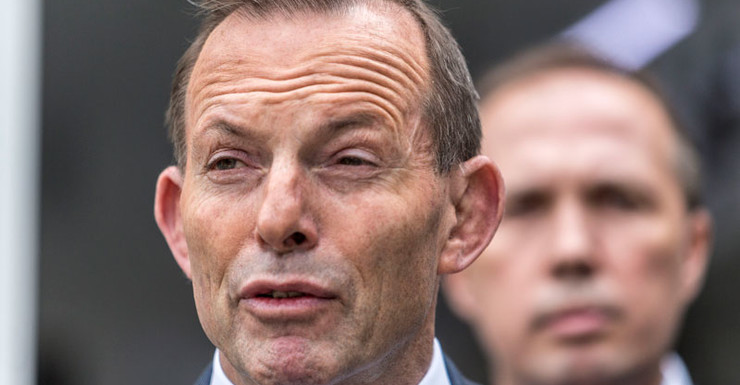 Turnbull rejects Abbott's election claim
Prime Minister Malcolm Turnbull says Tony Abbott could be a hindrance to the government during the election campaign.
Mr Turnbull rejected Tony Abbott's claim he is seeking re-election based on the record of his government.
The former prime minister told Sky News there have only been minor policy changes since Mr Turnbull took office.
'It's very easy for me to campaign for the Turnbull government because the Turnbull government is running on the record of the Abbott government - and that makes me a very enthusiastic supporter
'The Turnbull government is seeking election, fundamentally on the record of the Abbott government - stopping the boats, finalising the free trade agreements, our strong national security policy,' Mr Abbott said.
Mr Turnbull said the former prime minister's comments had the potential to disrupt the coalition campaign.
'It depends what he says, frankly, whether it's a plus or a minus depends entirely on the nature of his contribution,' Mr Turnbull told 3AW.
The prime minister said while there had been some continuity between his government and Mr Abbott's, there were also substantial differences.
'The bottom line is there is continuity and there is change, and there are many policies that have been announced and many initiatives that have been undertaken that were either not policies or not being pursued by Mr Abbott,' he told the ABC.
'Senate voting reform is one. That is now done. Those reforms are part of the law of the land. Media law reform, section 46, that had been kicked into the long grass - we've committed to changing it, to better protect small business. Innovation, there was not a comprehensive innovation agenda under the Abbott Government,' Mr Turnbull said.
Opposition Leader Bill Shorten said Mr Abbott's comments highlighted division within the government.
'Within 24 hours of Mr Turnbull calling the election it is clear that the Liberal Party is at war with itself, he told reporters in Brisbane on Tuesday.
Mr Abbott added Mr Turnbull's threat to go to double-dissolution election if key legislation isn't passed in the Senate was 'intelligent brinkmanship from the Prime Minister.'
The former prime minister, who announced earlier this year that he will recontest his federal seat of Warringah, says there is need for reform within Liberal Party's NSW branch.
Mr Abbott labelled the recent suspensions of a number of Liberal Party members for speaking out about democratic reform, 'crazy.'
'We are a democratic party, you can hardly be a Liberal Party and start suspending people who speak their minds,' he said.
'I dare the state executive to suspend me for saying we need reform inside the New South Wales party.'
Source: Sky News