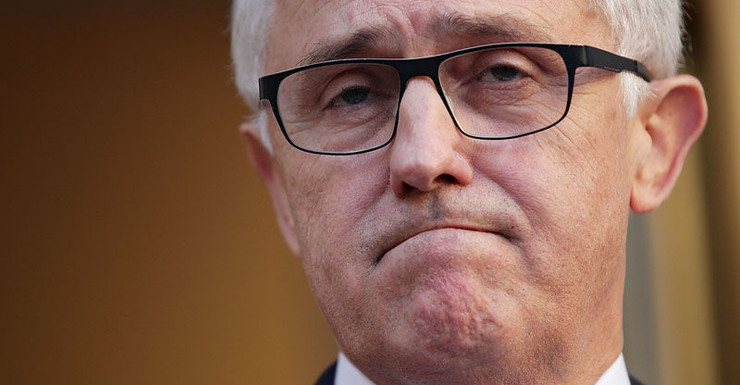 The spar is on Prime Minister Malcolm Turnbull's heated interview with Tony Jones
It was all downhill for Prime Minister Malcolm Turnbull last night.
Australians were treated to a front-row seat of what seemed like a schoolgirl to-and-fro in an extraordinarily heated interview on ABC's Lateline program last night.
Pressed by host Tony Jones on topics including "ghosts of government past", that embarrassing Veep slogan and even political "psychodrama", Prime Minister Turnbull unleashed his inner diva, clearly fatigued by questions that he wasn't particularly pleased to answer, comparing Mr Jones' questions to "barbs".
Amid desperate frustration, Mr Jones explained to Turnbull, "there's tremendous interest in what happens behind the scenes", which didn't exactly help the situation at hand.
The interview got off to a fairly cordial start, with the pair discussing the Prime Minister's recent comments regarding the Brussels bombings, where he linked the terror attacks to Europe's refugee crisis during a speech, offended Belgium's ambassador to Australia and ignoring Belgium Prime Minister Charles Michel's request for solidarity in the process.
But that was about as pleasant as it got, because after probing the Prime Minister about allegations surrounding cabinet secretary Arthur Sinodinos disguising donations by major political donors - some of whom were prohibited - to the NSW Liberal Party, Turnbull turned up the heat, calling out Jones for "devoting much of the interview to the administration of the New South Wales division of the Liberal Party in 2011".
So, Jones fired right back, questioning Mr Turnbull's decision to use the slogan "continuity and change", whose origins were tracked to satirical HBO series Veep, and which the Prime Minister has copped serious flak from both Australia and overseas.
"We needed it to ... say absolutely nothing but seem to have depth and meaning. It couldn't be too daft though," the show's executive producer Simon Blackwell told The Guardian.
The Prime Minister denied using the phrase, despite using it numerous times this week on ABC's 7:30 program on Monday night, and in a 3AW interview with Neil Mitchell on Tuesday.
Tony Jones: "Are you going to change your slogan "continuity and change" now that you've realised how silly it is?
Malcolm Turnbull: "Well it's not, it's not a slogan and I'm not into slogans."
Tony Jones: "Well a slogan is a phrase that is used repeatedly, a short memorable phrase used in political campaigning."
Malcolm Turnbull: "Yes, well ..."
Tony Jones: "So I'd have to say it is a slogan because you've used it repeatedly."
Malcolm Turnbull: "No I've not used that slogan. I've subsequently learned that there was a slogan used in the American sitcom Veep — change with continuity or continuity with change."
Tony Jones: "Which they chose incidentally because it was the most meaningless election slogan they could think of. So does this reflect on your own choices?"
Malcolm Turnbull: "It really reflects on your choices that we've spent so little time on national security and now we're talking about an American sitcom," Turnbull quipped.
Tony Jones: "Actually as a matter of fact you raised the American sitcom."
Mr Turnbull then tried to deflect the awkwardness of the conversation, but instead careered right into another sordid subject: former Prime Minister Tony Abbott.
The interview, it seemed, wasn't looking good.
Not. Happy. Jones.
Lateline host Tony Jones wouldn't let go of issues last night.
"Let me just make this point Tony: the point that I made was in respect of questions about Mr Abbott and myself. And I made the point that when there is a change of Prime Minister, and in fact this applies even when there's a change of government from one party to another, there are policies that continue, so there is continuity and there are policies that change.
"That is a fact. It is not a slogan, it is a fact."
Pressing on, Mr Jones asked if the Prime Minister was forced to use the slogan, and how he planned on dealing with the "ghost of governments past".
"I think Australians are not very interested, other than yourself of course."
Ouch.
"Other than myself and Tony Abbott and Tony Abbott's supporters on your backbench," responded Jones.
And it just kept going.
"But on television when Tony Abbott came forward and said what he said it raised the question whether he's in a sense playing Kevin Rudd to your Julia Gillard, whether you could end up facing that same kind of psychodrama that played out during the 2010 election, whether he could undermine your support over a period of time. Isn't that a concern? Have you got an assurance yet from Tony Abbott that he won't interfere in the campaign since he's already done it on day one," Mr Jones asked.
Finally, Turnbull seemed to get it right.
"Tony, my focus is on leadership, on economic leadership in this context. Obviously, there are many other areas of leadership too — national security has been very much in our minds in the wake of the events in Brussels. But in terms of the election the really big question is who is best able to lead Australia through economic turns? Who is best able to manage that transition?"
When pressed on the issue that Treasurer Scott Morrison was not in the "very small circle" involved in bringing the Budget forward, Mr Turnbull had this diplomatic response: "My relationship with the Treasurer is very, very close. We have been close friends and colleagues for the best part of 20 years. We are in constant dialogue and co-operation and collaboration. Our offices are working together constantly; our bureaucrats are working together constantly. It is a very tight team I can assure you."
The appearance marked the Prime Minister's first on Lateline, and if this interview is anything to go by, we can't wait for the follow-up.
Source: Courier-Mail