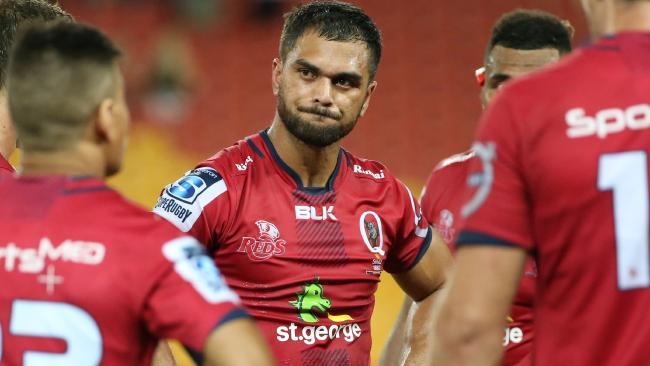 Super Rugby: Western Force beat Queensland Reds 22-6 at Suncorp Stadium
The calls to sack Reds coach Richard Graham are deafening and new Queensland Rugby Union chairman Damien Frawley will be the man who decides when the axe falls.
No try, no idea. That was the dire scoreline last night at Suncorp Stadium when the Reds played as if in a rugby coma when throwing away one of their few golden opportunities to win this season.
Suffering fans headed to the exits with eight minutes to play when the Western Force jumped clear 15-6 in a game that has set a benchmark for ordinary games for the season in just the second round.
The Force were far smarter and more clinical in a 22-6 victory with flyhalf Jono Lance slotting five penalty goals and dabbing the kick ahead that produced the Luke Morahan try on full-time.
Graham's hold on the job is tenuous at best after last night's shabby loss and the QRU will be doing their fans a disservice if they don't revisit the coaching question.
A dejected Karmichael Hunt after the loss.
Graham didn't spill passes, run crossfield from flyhalf, come off second best at the breakdown or give away several dumb penalties in kicking range. They were all crimes of his players but they are his team and are going nowhere fast on last night's evidence.
Only 17,533 fans turned out and there will be fewer again of the diehards when the Reds next play at home against Auckland's Blues on March 19. That is the day of the QRU annual general meeting and Graham's case is certain to be a hot topic among delegates hearing from Frawley for the first time.
Frawley is facing his Caesar moment only weeks into the job. Off with Graham's head...thumbs up or down?
You win games like this against average sides like the Force to take the pressure off yourself.
That would have been a nice script for besieged coach Graham to grab another week of comfort to keep up the hard work that is definitely being done at training.
Instead, an inept display has just cranked up the same old question, "How long can he last?"
Ayumu Goromaru makes a run for the Queensland Reds against the Force on Saturday night.
When you come into a season as Mr 28 Per Cent and lose back-to-back games, the ticking crescendo just grows.
Graham was hollow-eyed post-match but we've heard the same post-mortem too many times: "They controlled field position much better, we gave away too many cheap penalties and we created a lot of opportunities again without capitalising."
Japanese cult hero Ayumu Goromaru was mostly solid.
His early 50m touchfinder was old school skill and he twice flipped neat passes to let winger Eto Nabuli wind up on the left touchline.
Unfortunately, he missed two makeable shots at penalty goal that might have closed the gap and he'll be disappointed with two-from four.
The Reds scrum is bankable quality every week and one shunt was so powerful that Western Force prop Guy Millar was popped airborne by prop Ben Daley.
Earning so much ball at scrum time and from a productive lineout only magnifies the frustration when so little is produced in attack to turn the dominance into points.
Centre Karmichael Hunt had some nice moments and a good interchange with winger Chris Feauai-Sautia gave the Reds a crack late in the game but again a chance fizzled.
Ayumu Goromaru lines up a kick at goal.
When the Reds were on the backfoot, Goromaru stayed on his feet with the ball at one point. It was from this save that the Reds launched one of their few meaningful attacks of the first half when Feauai-Sautia dashed into open space.
Unfortunately, prop Greg Holmes spilt the ball a phase later. He wasn't alone in cursing the slippery ball in sweaty conditions because lock Rob Simmons, centre Samu Kerevi, Daley and Feauai-Sautia all coughed up possession in the opening 40.
As they did a week earlier against the NSW Waratahs, the Reds looked to be searching for their game and dropped ball scuttled any chance of applying consistent pressure.
Western Force skipper Matt Hodgson looked like the warrior he is post-match: "Another day, another stitch.
WESTERN FORCE 22 (L Morahan try; J Lance 5 pen goals, I Prior conv) QUEENSLAND REDS 6 (A Goromaru 2 pen goals)
Source: Courier-Mail