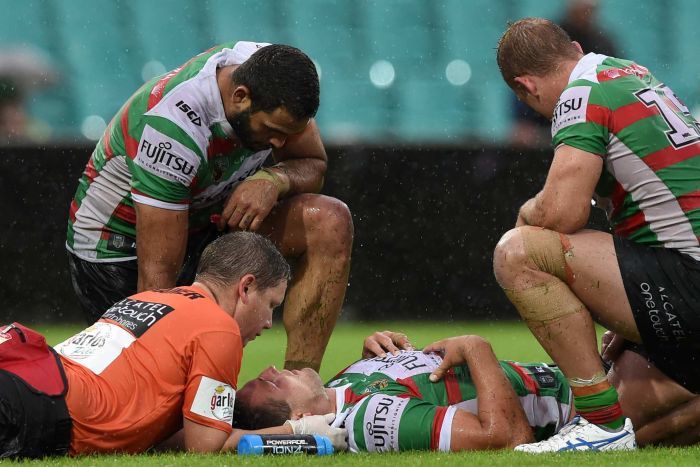 Sam Burgess expected to return for Rabbitohs next week after huge injury scare
South Sydney are expecting Sam Burgess to return from a neck injury against Manly next week, but remain unclear as to what mental scars the incident has left on the English superstar.
Burgess is expected back at Rabbitohs training as early as Thursday after being released from hospital on Tuesday.
Coach Michael Maguire said Burgess was zero chance of lining up in the Good Friday blockbuster against 2014 grand final opponents Canterbury, with Thursday week's clash against the Sea Eagles the target after he was cleared of any damage to his neck.
The 27-year-old was taken from the field on a medicab during Sunday's 8-6 loss to St George Illawarra after awkwardly leading with his head taking a hit-up.
Maguire said his star charge seemed in good spirits when he spoke to him on Tuesday night.
"He's good, he came out of hospital yesterday and I think they kept him in there for a longer period just to make sure he was okay," Maguire said.
"We're looking forward to having him back at training tomorrow or the next day and he can start building towards the next game."
But asked what lingering affect the injury would have on Burgess mentally, Maguire was far less certain.
"It's hard to say, there's a lot of talk about it and we're talking about it now, but Sam will manage it the way he does every other bump that you get in rugby league," Maguire said.
"It's a tough game and the boys are aware that they've got to prepare themselves. That's what we'll be doing when we move onto the next game where he'll be playing."
Maguire said Burgess would have to work on his technique, suggesting his tendency to duck his head as he attacked the line was a bad habit he adopted during his stint in rugby union.
"It might be a bit of a rugby union skill he picked up," Maguire said.
"It's one of those things that happens very quickly and there was an impact you don't see very often in that position. I'm sure Sam will do a lot of work around that."
Source : AAP