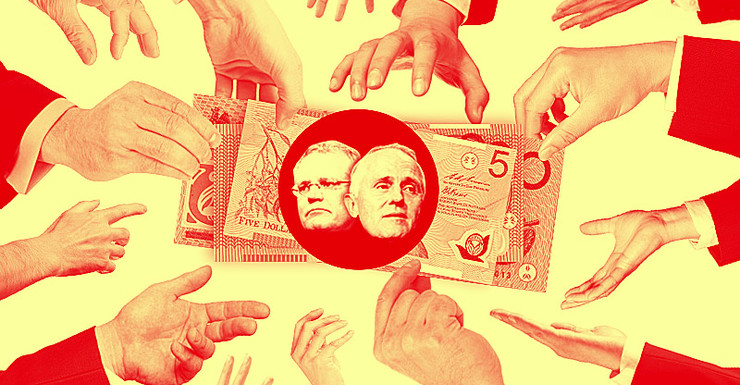 Prime Minister Malcolm Turnbull is either a courageous leader or a political mug
We might have Tony Abbott's legacy to thank for a government plan to allow states to levy their own income tax.
On Friday, Prime Minister Malcolm Turnbull will have his biggest chance at the de-Abbottification of Australia.
The PM is meeting state and territory leaders at COAG – the Council of Australian Governments – to talk about the restoration of some future health funding in the short term.
Following his major announcement of a plan to give the states their own designated income tax powers, the PM's vision for Australia's battered federation is starting to take shape.
But with most of the states now resistant to being invited or coerced to reverse decades of blame game politics over federal funding, the PM's bright idea looks like going nowhere.
Its only political utility could be to allow Turnbull to say that if the states and territories want more money for schools and hospitals they need to negotiate their own access to personal income tax. Its on the table.
The PM confusingly says personal income taxes will not increase by allowing the states and territories direct proportionate access to and responsibility for Commonwealth-collected income tax.
However, in all likelihood the states and territories will have the power to increase their income tax takes in future years to meet service demands, particularly in health and education. The prospect of eight state/territory income tax regimes appears politically unsaleable.
The challenge ahead for Mr Turnbull is to win the politics of the federation debate, against resurgent Opposition Leader Bill Shorten, who asserts: "Labor will not give income tax powers to the states."
Also in play is the potential for Treasurer Scott Morrison to be wedged into an untenable position if Mr Turnbull keeps him out of the loop on his grand plans.
How did we get here?
Former Prime Minister Tony Abbott abolished the COAG Reform Council which had been trying to drive the federal, state and territory governments to an intelligent policy and funding fix to build a "seamless national economy".
The former head of Prime Minister and Cabinet Terry Moran called the axing of the COAG Reform Council "a very retrograde step".
Under inherited deficit distress in their first Budget in 2014, then PM Tony Abbott and then Treasurer Joe Hockey, without prior consultation, wiped off $80 billion once designated for the states to fund health ($57 billion) and education ($27 billion) beyond 2018.
Now, even those states in budget surplus due to the recent boom in property revenues could face insolvency on current settings given this level of health and education demand in future years due to increasing requirements from a growing population, creating the potential for a breakdown of the federation.
This is why PM Turnbull pre-emptively buckled on health funding, while his office backgrounded journalists that he was favourably considering the states' request for a four-year hospital funding agreement to 2020 based on the original formula devised by the Gillard government.
The plan will reportedly cost Mr Morrison's May 3 Budget $5 billion, unless there is structural reform in Australia's revenue-raising and expenditure saving strategies.
But as premiers and chief ministers say, a mere $5 billion will not fix the huge and growing demand problem. They need an escalating increase in revenues if they are to maintain first-world health and education standards.
Giving the states a designated share of income tax and forcing them to take the political heat for this  could  be a game changer, if accepted.
But Victorian Premier Daniel Andrews called the power play an attempt by the Commonwealth to shift responsibility for future funding to the states to cover up its 2014 decision to walk away from its previously agreed future funding for health and education.  He cited Tony Abbott's pre-election hand-on-heart commitment (lie) that there would be no cuts to health or education.
Death of the GST
The states have been desperate to secure future revenues since the Abbott/Hockey 2014 unilateral defunding decision.
Last year, in an unusual unity ticket, South Australian Premier Jay Weatherill and New South Wales Premier Mike Baird both supported an increase in the GST to 15 per cent to help the states find new revenues for health and education.
The idea had political momentum until Mr Shorten barnstormed supermarkets, once holding up a lettuce to denounce any GST increase. The scare campaign bit.
Ill-disciplined marginal seat Coalition MPs caved at Mr Shorten's lettuce (and Newspoll) and a hyper-responsive Mr Turnbull killed the GST speculation outright. So the federation's funding levers have been determined by a wet lettuce and Mr Abbott's sideline sloganeering decrying any tax increase.
Another indicator of Mr Turnbull's de-Abbottification came with last week's moves to reverse the Coalition's bias against climate change mitigation by retaining the CEFC (Clean Energy Finance Corporation). This won him supportive headlines, encouraging to those investors in renewable energy.
But the gloss came off a little when it was pointed out that the CEFC reprieve also came with a plan to defund ARENA (Australian Renewable Energy Agency) and replace it with a new Clean Energy Innovation Fund.
Leadership requires courage.
Mr Turnbull has that courage.
But does he have political judgement?
Judging by this week's tactic, without prior consultation, to shift some designated income tax powers back to the states the answer seems to be … he doesn't.
Source: TND