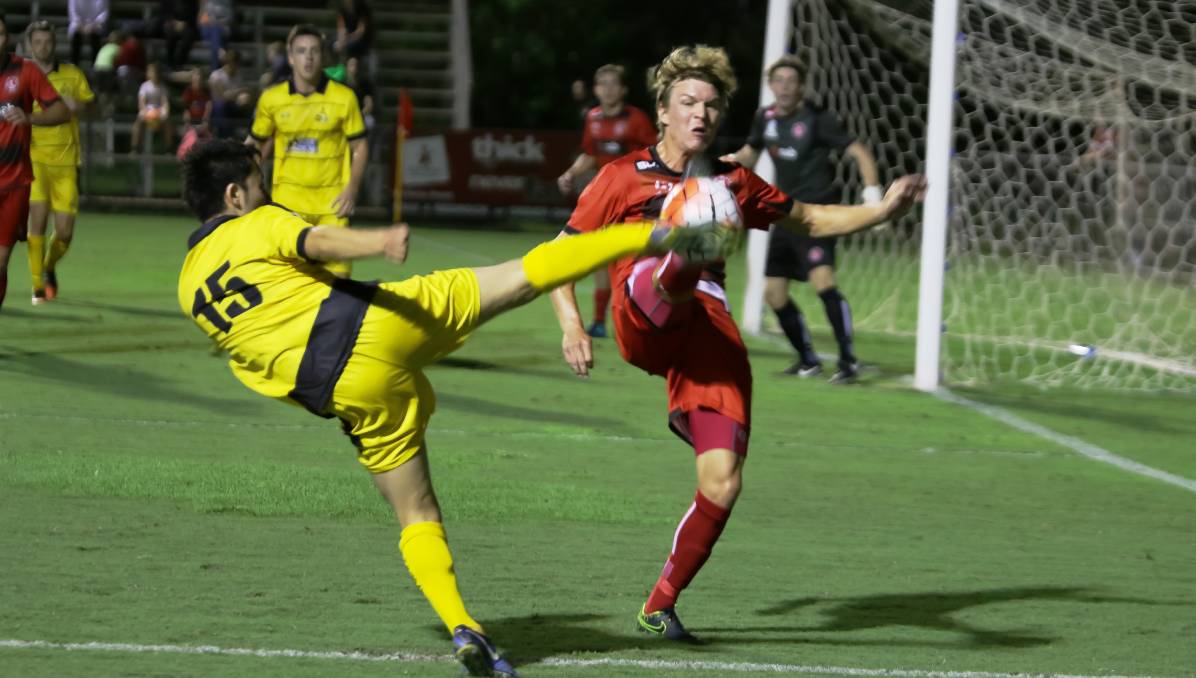 Moreton Bay edge Red Devils for first loss
Moreton Bay United returned to the top of the table on Friday night after edging Redlands United 1-0 at Cleveland Showgrounds.
An early goal from Jordan Farina proved decisive for Jets as they recorded their third successive win to open their campaign.
However, the points proved hard-fought as Jets goalkeeper Matthew Stein remained firm against sustained late pressure from the hosts to record his first clean sheet of the season.
Redlands talisman Graham Fyfe lamented his side's inability to find the back of the net considering their dominance.
"Football is a funny game. It's an old cliché but you've got to stick your chances away," he said. "We didn't tonight and that's what cost us in the end. These things are going to happen but we should have got a couple to get the win or at least a draw."
For the visitors, Moreton Bay technical director Adam Piddick was full of praise for his young goalkeeper, whose work between the posts proved the deciding factor in leaving Cleveland Showgrounds with all three points.
"That's the best game I've seen Stein play in a while. When he had to make a save he made it, when he had to come and claim the ball in crowds he claimed it as well," Piddick said. "It's a good confidence boost for him because he's been working hard to up his game and it's good to see him get some rewards."
The result moves Jets ahead of FNQ Heat – who play Western Pride on Saturday night – in the league standings, and marks a first defeat of the campaign for Redlands.
The Redlands Women travelled to USQ Toara Park to tackle a much-improved South West Queensland Thunder outfit. It was not a happy trip, however, as sisters Melanie and Abbie Lloyd each netted hat-tricks for the home side as SWQ stormed to a 6-0 victory.
Melanie Lloyd was the first of the duo to reach the personal milestone after netting thrice in the opening stanza. Abbey Lloyd then converted the sole goal of the second half to match her sister's haul and lift her season's tally to an impressive six goals.
While disappointed with the loss, Redlands player Whitney Howson addressed her side's first season in the competition as a development year and was looking to the positives ahead of next week.
"We're a developing squad where SWQ Thunder have been playing together for a couple of years. They held their own, and have some great players. We need to work on our defence and moving the ball better around our team," she said.
Thunder player Jordan Franke was impressed with how her side have handled themselves to begin the season. "We've been working really hard at training, passed the ball around a lot, and are getting used to playing together," Franke said.
The result marks the second straight home win for Thunder after last week's 5-1 victory over Peninsula Power. It also consigns Redlands to a third straight defeat in their maiden PlayStation 4 National Premier Leagues Women's campaign.
Source: Redland City Bulletin