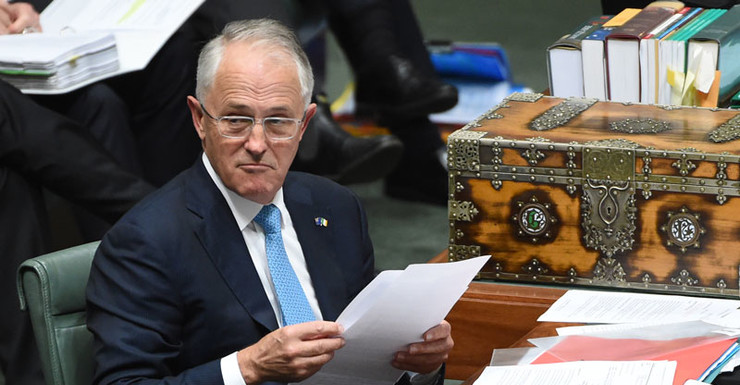 How PM Turnbull finally united the Coalition
The latest polls show the PM's popularity waning but Liberal insiders say it could be a turning point for Malcolm Turnbull.
There's one thing that delights the hearts of Liberals, and Nationals for that matter. It's union bashing.
Prime Minister Malcolm Turnbull has finally achieved something he hasn't been able to do since the coup that toppled Tony Abbott six months ago. He has united his government squarely behind him.
He has done that by making alleged union misbehaviour and the reinstatement of the Australian Building and Construction Commission in all its draconian glory a key plank in his bid for re-election.
On Monday, the PM announced that he had recalled parliament for a special sitting on April 18 to debate two potential triggers for a double dissolution election, that he had brought the budget forward a week, and said a July 2 poll was now possible.
With crossbench senators continuing to resist pressure from the Government to pass its industrial relations legislation, an early election looks increasingly likely. Three of the eight independent senators are opposed to the bills, four are undecided and one is in favour of it.
On cue, one of his severest internal critics Eric Abetz called a news conference in Hobart to fully endorse a Prime Minister he thinks is a lefty usurper who unfairly sacked him.
The Prime Minister is adamant that if six of the eight independents do not pass two bills aimed at curbing unions he will clean them all out at an early poll for both houses.
For that not to happen, the government will need to accept amendments to the construction industry watchdog legislation, rejected once already. And also pass another bill aimed at hog-tying unions, the Registered Organisations bill – already twice rejected.
It is a thinly veiled ploy to engineer an election before policy drift and internal mischief further erode his and the government's standing with voters.
There is a certain risk in advising the Governor-General to call parliament back three weeks early and moving budget day forward by a week.
The wily independent senator Nick Xenophon concedes it is "nifty and nimble" but he says it also looks "underhand".
But if the cost is being perceived as just another tricky politician, Mr Turnbull clearly believes the gamble is worth it.
The latest Newspoll has the Coalition with a tight winning edge but Mr Turnbull himself – for the first time since taking the top job – has more people disapproving of his performance than approving.
The one big thing he has going for him is this: he is still clearly the preferred Prime Minister over Bill Shorten. But even here he has steadily been losing ground.
In the immediate aftermath, the reaction has been what Mr Turnbull and his advisers were hoping: finally an end to the drift. Decisive action from a leader in charge.
At least that's the feedback some Liberals have been getting. One marginal seat holder says a constituent emailed: "Good to see the PM has some balls."
Labor denies he has the 'cajones' for real economic reform. Shadow Treasurer Chris Bowen says the Prime Minister outlined an election strategy without enunciating an economic or tax policy.
He claimed Treasurer Scott Morrison had been "emasculated with no influence on tax policy" — a claim bolstered by the Treasurer appearing to have been left out of the loop on the date he would be delivering his own budget.
May 3 is apparently when we will get to see the plan. The latest positioning from senior ministers is to cut taxes for companies – who successfully pay as little as possible – while at the same time not delivering personal income tax cuts.
Good luck with that.
Maybe the voters, or enough of them, will give Turnbull the chance to show more courage on issues that have over the years established his personal brand of contemporary, inclusive tolerance.
The prospect may be too much for Tony Abbott and his militant conservatives to allow.
It doesn't take too much to derail a Prime Minister in a campaign. Just ask Julia Gillard after her 2010 loss of a majority.
Source: TND