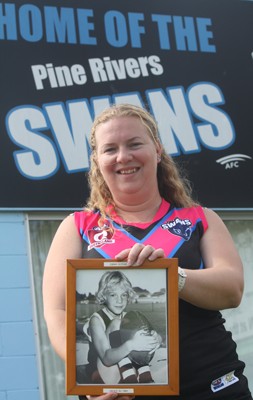 Footy pioneer back to guide the Swans
She made history at the club almost 30 years ago and Pine Rivers Swans player Emma Glenwright is making history again.
Glenwright was the first female to play for the Strathpine-based Australian Rules football club when she pulled on the boots as an under 9s player in 1989.
Now she will captain the club's inaugural senior women's team when it competes in this year's Queensland Women's Australian Football Association (QWAFA) competition.
"It (being named team captain) was nice, it was not expected and it was a shock," said Glenwright, part of a Swans leadership group that also includes Vanessa Page, Jen Barker and Alyce Rogers.
"There's a whole lot of people that make this whole thing work behind the scenes.
"I'm just the captain, just a person on the team."
The 36-year-old has returned to Rob Akers Reserve after a 25-year hiatus from playing footy.
Unwittingly a pioneer for local female football participation in a male-dominated sport in the 1980s, Glenwright is again relishing being a role model for young girls.
"Now being a mum of a daughter… hopefully she'll see that just because you're a girl you're not limited to the things you can do," Glenwright said.
"You can do so much more than what you think you're capable of.
"Hopefully they (my children) will see their mummy trying something new, getting out there and getting involved."
The expanded 13-team QWAFA competition, which starts in April, features two sides from the Moreton Bay area, three from Gold Coast, six from Brisbane, one from Beenleigh and one from Sunshine Coast.
Glenwright said goals for the team's maiden season were to "get everyone down here and have some fun" and promote the Pine Rivers Swans to the wider community.
"The managers and people behind the club is what brought the womens' team here to Pine Rivers with a lot of campaigning," she said.
Pine Rivers Swans played its first practice matches against Kedron and Aspley at Carseldine on 10 March.
Source: the Westerner