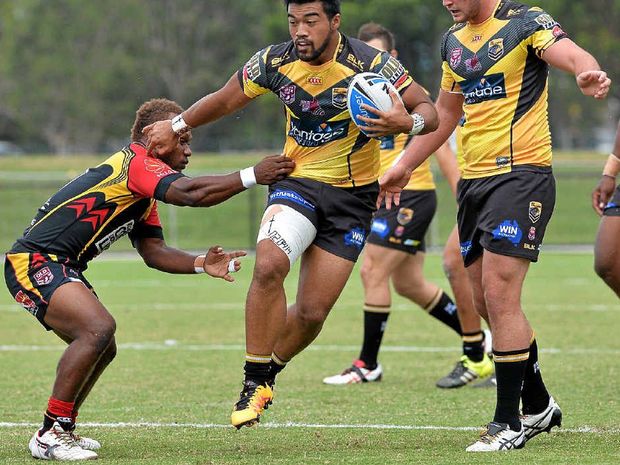 Falcons to face Redcliffe in James Ackerman Cup
A Sunshine Coast Falcons side brimming with confidence and on the cusp of the top four will have yet another reason to add to their winning tally this weekend.
In what is certain to be an emotional clash, the Falcons will face Redcliffe Dolphins- the former club of late Falcons' prop James Ackerman- for the first ever James Ackerman Cup.
Inspirational Ackerman died from injuries sustained during a tackle in a game against Norths on June 20 last year.
Spurred on by the memory of their late mate as well as the injection of a number of fresh faces to the side, including gun coach Craig Ingebrigtsen, the Falcons find themselves in fifth place on the Intrust Super Cup ladder, having toppled the highflying Burleigh Bears and PNG Hunters in successive weeks.
One of the keys to the Falcons' fast start has been the form of halfback Ryley Jacks.
A Canadian representative and former Easts Tigers and Burleigh star, Jacks shifted to the Coast at the start of the season- the lure of working under Ingebrigtsen and the eyes of the Melbourne Storm on the Coast too good an opportunity for the wily playmaker to pass up.
"I think we're surprising a lot of people," Jacks said.
"We all believe we can beat the top sides now."
That belief, coupled with the fact the side boasts a number of well-travelled and highly talented players mean the Falcons could be an irresistible force at home on Saturday night, in front of what should be a strong crowd who come out to remember the popular Ackerman.
"It's definitely going to be a massive occasion... everyone's going to be up for it," Jacks said.
"Ryan (Hansen) and Trig (Ingebrigtsen) will have a few words tonight I'm sure."
A memorial to Ackerman is also set to be unveiled on Saturday.
Source: Gympie Times