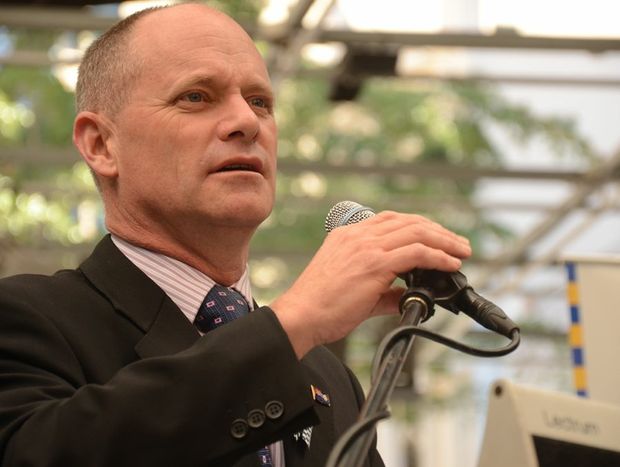 Campbell Newman: Former Queensland premier considers foray into federal politics
Former Queensland premier Campbell Newman is considering a political comeback, with plans to contest the federal seat of Brisbane.
The seat was held by the LNP's Teresa Gambaro who announced on Wednesday that she would not recontest her seat at the next federal election.
Mr Newman's biographer, Gavin King, told 612 ABC he had spoken to the former premier this morning.
"He is indeed weighing it up but there are no major or firm moves," Mr King said.
"Campbell has been contacted by a couple of federal MPs, people from the national and the state executive of the LNP."
He said Ms Gambaro's announcement had opened up an unexpected opportunity.
"People were blindsided and surprised by Ms Gambaro's announcement," Mr King said.
"That certainly sparked the talk and sparked the speculation."
Queensland Opposition Leader Lawrence Springborg said Brisbane would be a tough federal seat to hold.
"It is a seat that's not traditionally the LNP's way and of course it will always involve a significant and hard fought campaign," he said.
"There's no guarantees in those areas and I think anyone who stands for preselection understands that."
Campbell 'would have to discuss comeback with wife'
Mr King said Mr Newman would have to consider his businesses interests and discuss the potential comeback with his wife, Lisa.
He is indeed weighing it up but there are no major or firm moves.

Gavin King
He said Mr Newman could help with the relationship between Queensland and the Federal Government.
"Campbell is a fairly young man and he's got a lot to offer," Mr King said.
"It would certainly give him an opportunity to try and enact some of those thoughts and some of those issues he's addressed over many years.
"It will come down to whether the party wants him or not."
After losing last year's Queensland state election, Mr Newman said his career in politics was over.
Newman has 'plenty to offer', former LNP MP says
Former LNP MP Seath Holswich, who was an assistant minister under Mr Newman, said the ex-premier still had plenty to offer Australian politics.
Mr Holswich has since joined Family First.
"Maybe I'm a little bit biased in this but I think a lot of former politicians still have a lot to offer their community and their country," he said.
"Mr Newman still has plenty to offer as he's showing in the business world at the moment.
"Obviously it's a very important decision that Mr Newman has to make at the moment, but it's not a decision for him alone.
"It will ultimately be a decision for the LNP and they will decide who the best candidate is for them for the seat of Brisbane so I look forward to seeing what unfolds."
Source: ABC News