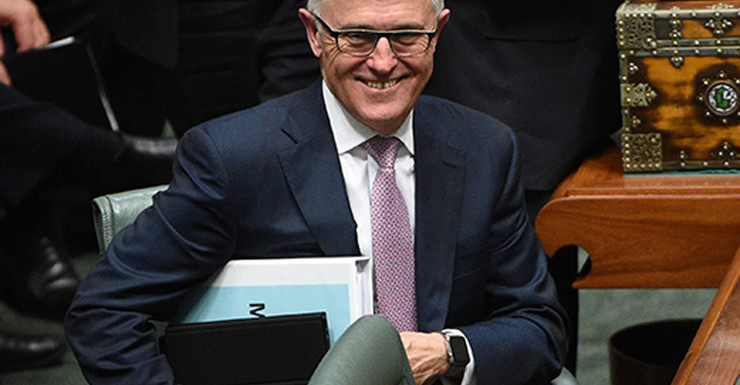 2016 federal election: Ministers confirm Government actively considering early budget ahead of July 2 poll
Federal ministers have confirmed the Government is actively considering bringing the budget forward, ahead of an early election.
Key points:
PM could bring budget forward a week
That would clear path for double dissolution poll on July 2
Bill Shorten says such a move would be a political stunt
Mr Turnbull slammed the idea of a double dissolution in opposition in 2009
Ministers have told ABC the Government is looking at handing down the budget on May 3, instead of May 10.
One minister said it would help clear the path for a double dissolution election on July 2.
The early budget plan would involve all 226 MPs and senators flying to Canberra a week ahead of schedule, which Opposition Leader Bill Shorten said would be a waste of taxpayers' money.
"I don't want Mr Turnbull wasting taxpayer money on political stunts to try and keep Mr Turnbull in power," he said.
"Australians already know that division and dysfunction is at the heart of the Turnbull Government,
"It seems that the only decision which is keeping him up at night is when can he call an election to best suit Malcolm Turnbull. This is a distraction from the real issues."
Prime Minister Malcolm Turnbull has not ruled an early poll out, only saying this morning, "the budget will be in May".
Trade Minister Steve Ciobo made a similar statement.
"The budget is scheduled for the second Tuesday in May and I'm very confident that the budget will still be in May," Mr Ciobo said.
This morning the Assistant Treasurer Kelly O'Dwyer was asked on AM whether the Government would be bringing the budget forward.
"Well look, these are all matters to be considered," She said
"But we are looking at the ordinary timetable in relation to the budget. We're working hard on it at the moment.
"There are a lot of moving parts, as you know, and we have to make sure we get it right for the Australian people."
The ABC has been told key decisions on the budget and tax policy will be made in the next fortnight.
As Opposition Leader in 2009, Mr Turnbull slammed former prime minister Kevin Rudd over the threat of a double dissolution.
In his budget reply speech that year, Mr Turnbull said "an early election process proves to all of us what this budget is really about".
"It is not about protecting the jobs of Australians, least of all the 1 million Australians it says will soon be out of work," he said.
"It is about the job security of one man and one man only.
"A prime minister frightened of the consequences of his mismanagement, now wants to cut and run before he is found out."
Source: ABC News