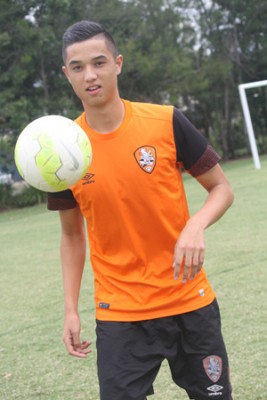 Local football Club champions Roar talent
Continued improvement and an injury-free run are at the top of footballer Joseph Champness' wish list for 2016.
The 18-year-old just completed his debut season with Brisbane Roar in the National Youth League (NYL) – Australia's top youth football competition – and is hoping for more success in an orange jersey this year.
The Joyner local attracted the attention of the A-League club after starring for Moreton Bay United in the National Premier League Queensland competition last year.
He says being in the Roar program this summer has motivated him "to keep improving as a footballer and person".
"This NYL season has allowed me to mature as a player," Champness said.
"The quality of the individuals around me allows me to play my game and we all trust each other to put in a shift."
Champness' debut stint with Roar didn't exactly go to plan, drifting in and out of the team due to injury.
"In saying that, through the frustration you realise how much the game really means to you and become even more driven to make the most out of every opportunity," he said.
Champness said he and his teammates learnt some "really valuable lessons" over what was a bittersweet summer.
The NYL's most potent attacking team, Roar thrashed eventual grand finalists Adelaide 10-0 in December, yet fell short of a finals berth.
"Football can be a funny game like that and looking back some results don't reflect the performance," Champness said.
"It's all about taking our opportunities and that's something we have learnt first hand."
The switch to Roar means Champness will line up against his former Moreton Bay United teammates this season.
The Albany Creek-based club topped last year's NPL Queensland table to claim the Premiership trophy and also won the league grand final, before representing the 'sunshine state' in the national finals.
Despite having great success with his local club, Champness said the goal of playing for an A-League outfit was "always
in the back of my head."
"Obviously the next level is the A-League but nothing is ever just handed to you," he said.
"Week in, week out you have to earn your spot to represent the club and that's something I hope I can achieve consistently looking forward."
Source: The Westerner