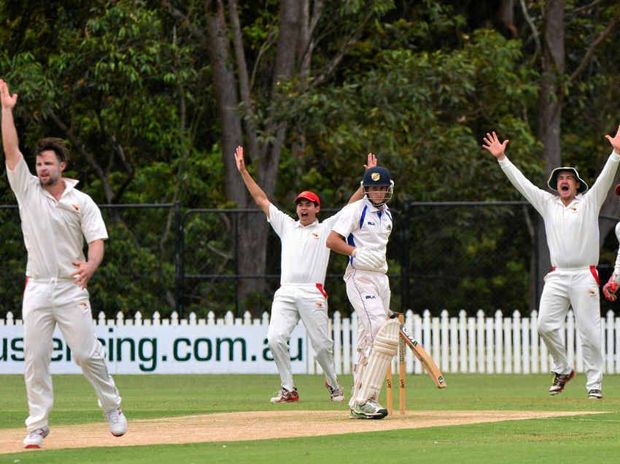 Cricket : Weekend rain throws a spanner ahead of finals
Rain that has already affected the second last round of SCCA fixtures still has the ability to further decide the semi-final rankings that are so vital to the contenders' hopes.
Two of the matches failed to start last Saturday, meaning that the 1 v 4 clash of Maroochydore Blue and Glasshouse will now be played as a one day game.
Points on offer are reduced from 10 to 7 for the win, with no bonus points, although the incentive points for runs and wickets will apply, but obviously for one innings only.
Gympie and Maroochydore Blue follow the same path, with the Gold, currently second, swapping the opportunity of an outright win in fine weather - a possible 20 plus points- for perhaps 10-12 points, depending on who bats first.
The big winner so far is Caboolture, who effectively lost no time at Grant Road against Caloundra, and closed at 5/137 after the Lighthouses made 77.
On form, the Snakes will pick up maximum value if the day is clear, but also already have first innings points if the weather closes in.
Places in the semi-finals are available only to the Blues, Glasshouse, Gympie and Caboolture, and with the first two favoured by playing lower ranked sides to close the fixtures, the Caboolture - Gympie meeting at Albert Park will be the main game in round 14.
Picking a winner in a Tewantin-Noosa v Nambour derby is always fraught with danger, and the tradition continues.
The Thunder went from 2/78 to be all out 141 last Saturday, while the Cutters converted 2/53 into 5/69 by stumps.
Both sides can put in lower wicket stands to frustrate opposition hopes of victory, or capitulate to erase their own.
Either way a decision should be reached by lunch, enabling two sessions for the battle over fifth spot to sort itself out.
A downed Tewantin will seek quick runs for a turnaround outright, while disappointed Cutters, master of the batting blitzkrieg through Ledger and Greig, will attack with the ball to seek any chance of a run chase.
Last season they belted 3/212 in 32 overs against Glasshouse in a similar quest, and there's no reason to think they would go down quietly here.
Source: Sunshine Coast daily