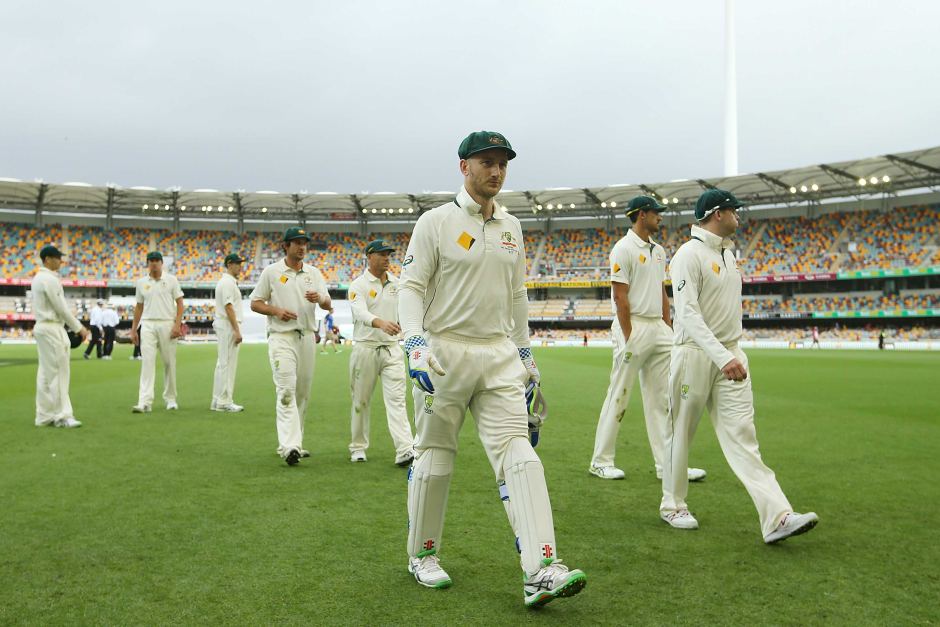 Cricket Australia to conduct review into dwindling Test crowds after international season
Cricket Australia (CA) chief executive James Sutherland has responded to ticket price criticism by announcing there will be a review conducted at the end of this international season that considers creative options to get more people through the gate for less.
Speaking with ABC Grandstand, Sutherland acknowledged that ticket pricing is a factor in attracting a packed house, but said there is "not naturally" a clear link between lowering entry and upping attendances.
We'll be definitely reviewing that in greater detail when it comes to the end of this season; pricing considerations are always very important.

James Sutherland
He argued there were more factors at play than that alone in underwhelming crowd numbers so far in this series.
"Whenever you talk about a product that you are selling price is an absolute factor in that and it is something that we are certainly not blind to," the Cricket Australia boss said to Gerard Whateley.
"We'll be definitely reviewing that in greater detail when it comes to the end of this season; pricing considerations are always very important.
"I've read Geoff's article, I think it is very interesting. I think he makes some good points, but it is not a 'silver bullet' solution and any marketer or economist would tell you that it is not all about price, there's lot more to it.
"Which is not to say I am comfortable with the fact that there were some empty seats here; we're not. As long as there are empty seats, we want to do a better job at trying to sell that, and that will be what this review is about."
Sutherland specifically cited live coverage going into the city of origin, which he says is a "significant step" but also one that can work as a disincentive to attending games.
"In very recent times we have committed to show all matches (live) into the city of origin, so that's where the match is being played," he said.
"That changes the dynamics of the whole equation, not just on price but on other factors as well.
"Spectator comfort is another factor that we need to continue to do; if we're showing matches live into the city of origin we also need to make sure there is a compelling case for people to be here."
Sutherland also noted that matches are invariably played during traditional work hours, which he said could be addressed in part by the day-night innovation set for launch in Adelaide later this month in the inaugural pink-ball Test.
Asked if he believed admission prices ranging from $35 to $112 are consistent with CA's ambition to be a sport for all Australians, Sutherland said that he thinks that it is "at the moment".
However, he pledged that the pricing review will "think deeply" about flexible options in future seasons that may include multiple day entry for the price of one.
"In Adelaide we are doing some things with pricing in the evening where people can come in for the evening session. I think the prices if you buy at the gate are something like $20 for adults and $10 for kids," he said.
"There is a lot of flexibility in our pricing already. For example, the pricing for day three and four of a Test match is a lot lower than day one and two, which are traditionally the days that are in most demand."
"Admittedly, we haven't done a really detailed study on that for maybe five years and it is something that we are absolutely focussed on."
Sutherland said he would "challenge anyone" who believed Test cricket wasn't what it once was. However, the ongoing challenge of generating interest this summer isn't lost upon him either, reinforced by the naming of a lacklustre West Indies outfit touring for three Tests that include Melbourne and Sydney's traditional money-spinners.
He agreed that he would like to see a stronger opposition from the Caribbean, jesting that Malcolm Marshall and Michael Holding would be handy additions, but believes competition between Test cricket and domestic T20 leagues is a "sign of the times".
But Sutherland cautioned against writing off the interest in the series, saying that the Australians will still "put on a great show" that will continue to be attractive, regardless of the results.
"I think we can forget sometimes that it is not always about the contest, it is about seeing great cricketers put on a show, and we certainly saw that yesterday at the WACA," he said.
Source: ABC News