The Morayfield Community and Health Expo St Eugene's College Saturday November 12
November 12, 2016 @ 11:00 am

-

3:00 pm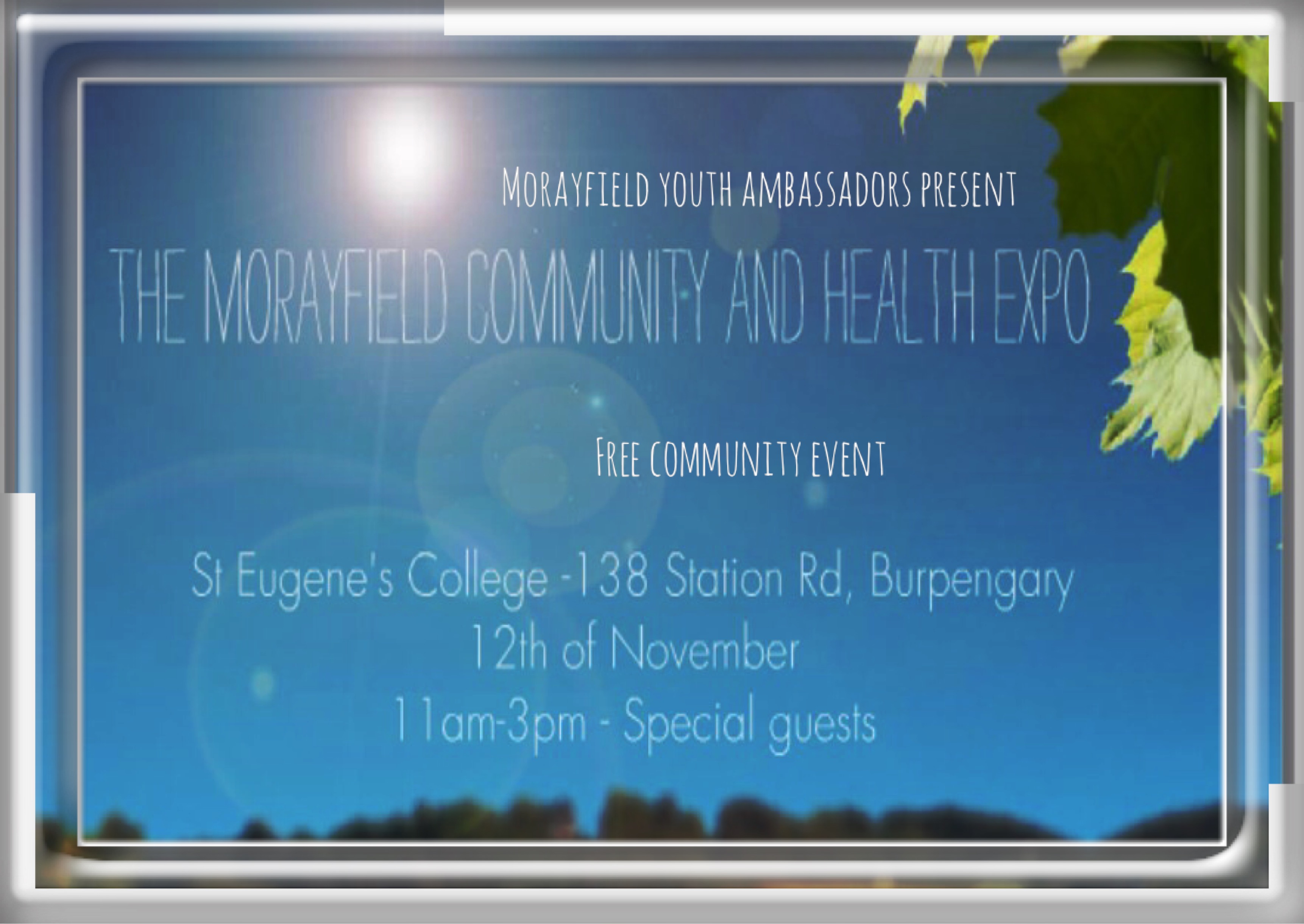 Our names are Jordan and Ben, and we are the Morayfield Youth Ambassadors in 2016.
We are a pair of Year Eleven students from Morayfield State High School (Jordan) and St Eugene Catholic College (Ben) and we have been working really hard in preparing an event to improve our community.
Jordan works part time while she getting through school who sees time management and employment preparation as need in the community for youth and recognizes the issues of mental health and how additional pressures can affect mental health and community engagement and participation can assist with some of the issues surrounding mental health.
Ben, on the other hand, is a sports-mad sixteen year old that was born and raised in the local area and has worked with a focus on building community engagement and participation.
We undertook the Morayfield Youth ambassador program which was an opportunity for us to find an area of interest and where we could work to make a difference.
Between us we believe that community involvement and engagement of youth in sport alongside the correlation of sport and health and the fact that sport participation can assist mental health as well as physical health.
Life balance between schooling and social aspects and part time employment and time management are other issues youth face in the community that also have some link mental health of youth.
We have worked on many things this year as part of the program.  The reason for this email is we would like to formally invite you to our event which is one of the many things we have worked hard on this year during the program.
The Morayfield Community and health Day is an exciting new event run by locals for locals. The event is taking place on Saturday the 12th of November from 11:00 at St Eugene College and features an array of local sporting and community groups, as well as health and well-being groups for the Morayfield community to get involved with.
We'd love to see you there, so come down and get involved in the community because healthy locals build strong and healthy communities.
RSVP November 5   For Community and Sporting Groups stalls contact Eddie Fraser on 0468617799 or email MYAP2016@gmail.com as this is a community event,  no costs are associated with the event.