Redcliffe Country Music Club 17th Annual Palms of Honour Sunday May 15
May 15, 2016 @ 10:00 am

-

5:00 pm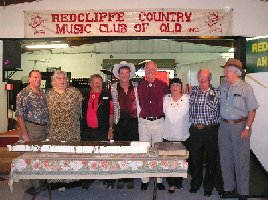 Palms of Honour event.
We held our first Palms in 2000 in conjunction with the Redcliffe First Settlement Festival.
The event was held at the open-air theatre near the Settlement Cove Lagoon and our first recipients were Colin Gould (our president at the time and a man instrumental in the development of our club), Desreee Illona Crawford(well-known performer in the Country Music community) and the Mayor of Redcliffe at the time Alan Bolton.
The event has continued on from there to honour people who have supported, promoted, and performed in the Country Music industry and also those who work in the background to support Country Music clubs and organisations.
We call it Palms of Honour because each recipient has placed their palm print in cement and these are placed in the grounds surrounding our clubhouse.
Some of our recipients over the years have included:
Barry Thornton – renowned guitarist for Slim Dusty and popular performer in his own right.
Top Australian Country Music artists – Evelyn Bury, Johnny Greenwood, The Blanche Family, Reg Poole and Owen Blundell just to name a few.
Local club performers – Bob Mildren, Michael King and Steve Sparrow
Local media personalities – Richard Landcaster, Lorraine Pfitzner and Pat Smith
Our 2016 recipients include Karen Parkin – a lady who has taught many up and coming Country Music artists who are making it big in the industry; Jim Van Fleet – local singer/songwriter who is constantly winning awards for his songwriting; Lindsay Scott (Scotty) – popular emcee in the Moreton Bay Region; and Margaret Palmer and Noelle Wardle – both ladies are great supporters and workers in the Country Music Club community.
This event is open to everyone and it would great to have people come along and help us honour these amazing people in our community.