International Youth Day Saturday August 12
August 12, 2017 @ 12:00 pm

-

9:00 pm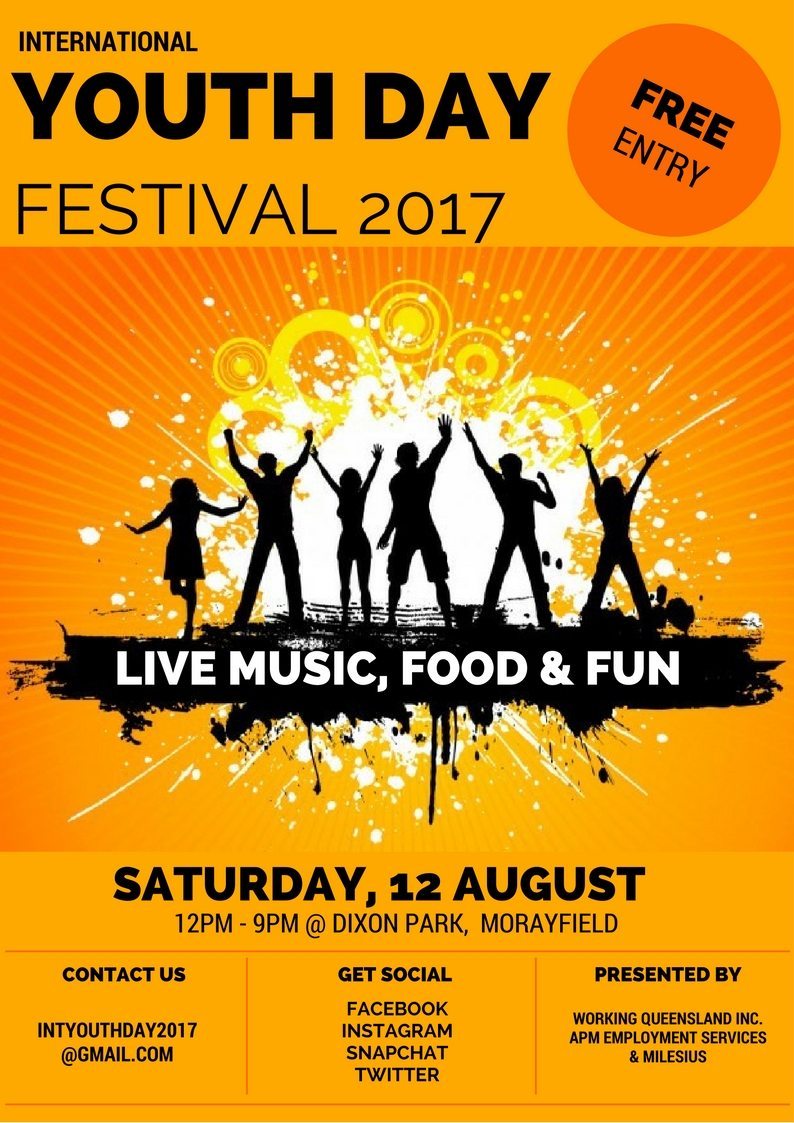 Working Queensland Inc. are a not for profit organisation who promote and provide Work for the Dole and other activities, with the mission of reducing unemployment across Queensland.
With a plan to identify preventative measures for some of the roadblocks to long term employment, our current project is to organise and host the 2017 "International Youth Day" Festival to be held on Saturday 12th August.
These United Nations festivities in Caboolture will be part of the global celebration taking place across the world on this day. Our International Youth Day event will be a day youth can support a global cause while participating on a local level.
With a focus on mental wellness, this years "high energy" festival will focus on creating positive vibes, giving youth the opportunity to identify and access their own kind of natural highs as an alternative to drugs and alcohol.
This year's global theme is Peace with a local theme of Choose Create Change Celebrate.  Being youth driven, this event will offer young people a chance to explore ways of choosing their future, creating their lives, changing the world and celebrating their uniqueness.
The festival will host market and food stalls, live music and performance, youth chosen activities, workshops, a showcase of sport and other young talents, educational forums, talks and "think tanks" as well as indigenous ceremony and more.
We are also inviting community and interest groups who provide support to youth to represent their services at the event, further enhancing their community footprint, providing information and options directly to youth on the day. In this way, our festival may provide a unique opportunity to these groups to access those vulnerable youth, most needing support in this area.
If you would like more information on how to be a part of this event, email us at intyouthday2017@gmail.com
Hope to see you there!
International Youth Day Summary Statement
Working Queensland Inc., in partnership with APM Employment Services and Jobactive – Work for the Dole, proudly present the International Youth Day Festival on 12th August 2017, at Dickson Park, Morayfield, from 12pm to 9pm.  Free entry.