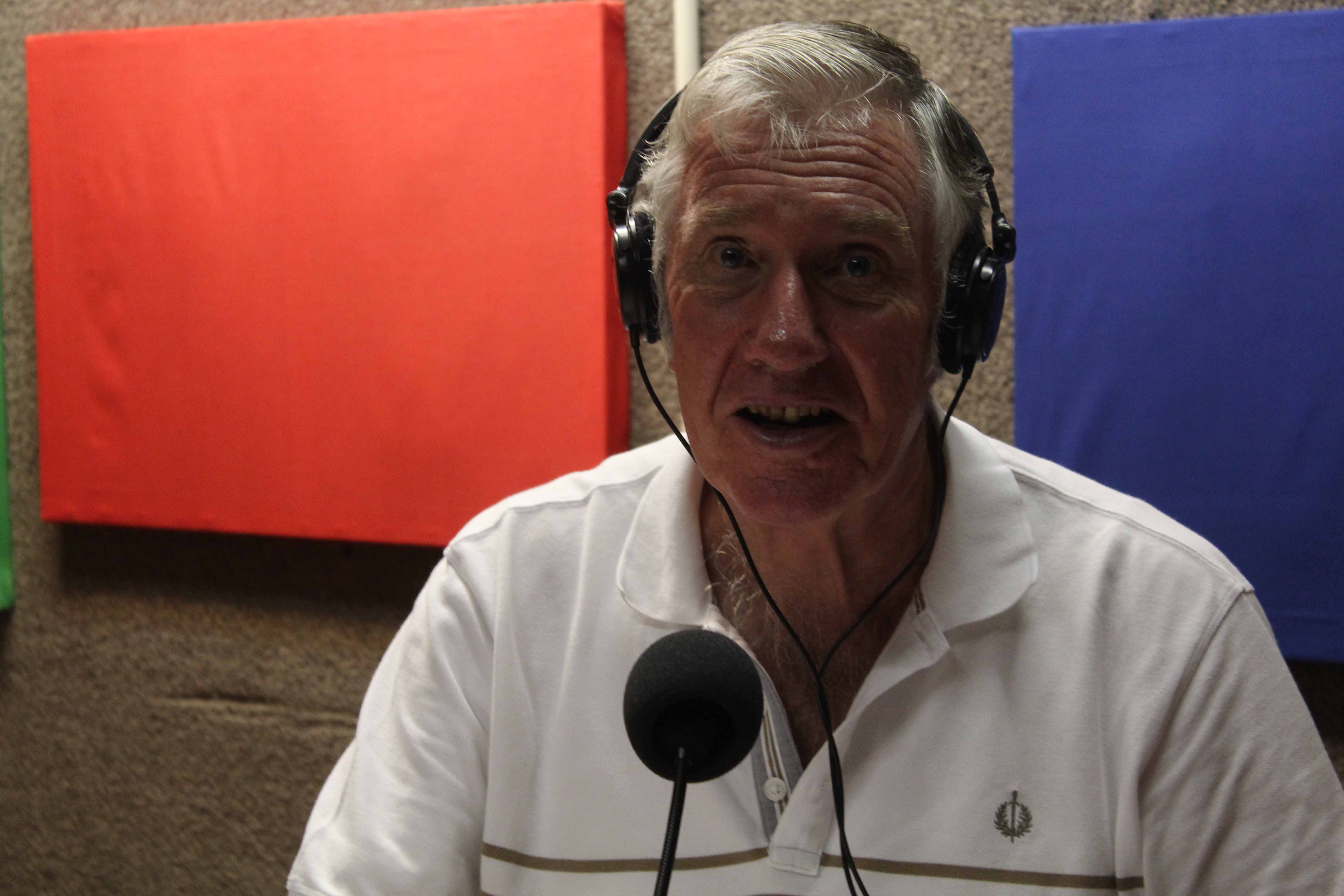 The Grapple EP 01 on Sport 101.5 2021-02-25
The Grapple: Thursday 25 February 2021
| | | |
| --- | --- | --- |
| Time | Segments | Notes |
| 6.00-6.08 | Segment 1: GA and Bocky | |
| | | |
| 6.10-6.18 | Segment 2: Kel Patch phone interview with GA and Bocky | |
| | | |
| 6.22-6.28 | Segment 3: Macca phone interview with GA and Bocky | |
| | | |
| 6.30-6.38 | Segment 3 (continued): Macca etc. | |
| | | |
| 6.42-6.48 | Segment 4: GA and Bocky | |
| | | |
| 6.50-6.59 | Segment 4 (continued): GA and Bocky | |
| 6.59 | Sign-off | |
Segment 1:
Introductions etc.
Topics:

Speculation that Cameron Smith landing at the Broncos has continued to gain momentum after Gold Coast Titans head of performance Mal Meninga confirmed his club wouldn't be chasing the three-time premiership player or could he still run out for the Storm?
The Penrith Panthers re-signed star centre Stephen Crichton to a two-year contract extension. Crichton will now remain in Penrith until at least the end of the 2023 season.
The Gold Coast Titans are facing a salary cap investigation by the NRL following claims that a payment was made to the family involved in David Fifita's trespassing incident at Christmas time. Apparently the NRLwas unaware of the payment, with money reportedly changing hands after Fifita was embroiled in a bizarre controversy in the off-season. It had been expected that Fifita would escape sanction due to the fact that he was not charged by police. However, if the NRL discovers that the family's complaint was dropped due to a financial settlement a sanction may still be handed down. The report alleged that the Titans paid $10,000 to have a security gate and cameras installed at the property where the $3.5 million star was caught trespassing.
The NSWRL announced that former NSW Women's Origin star Kylie Hilder has been appointed coach of the NSW Women's Origin team with former NRL coach and True Blue Geoff Toovey to act as assistant for the 2021 Women's Origin match.
Segment 2: Kel Patch
Where to for Cameron Smith?
Broncos great Corey Parker sacked by Brisbane coach Kevin Walters, saying he was blindsided by the move.
Manly fullback Tom Trbojevic has been ruled out for the first four roundsafter suffering a hamstring injury. Vision of Manly star Tom Trbojevic racing a fan through The Corso nightspot last Saturday night has emerged just hours after he claimed to have suffered a hamstring injury during a bathroom slip.
The injury-cursed fullback apologised to fans for the off-field injury as the 24-year-old repeatedly denied he suffered the injury during a night out with teammates where players were reportedly spotted at several Manly bars and night clubs. "I was having a few drinks and I was being an idiot on The Corso," Trbojevic said. According to a spectator seen in the video, Trbojevic lost the race to the other man.
If I was Manly I'd be signing the other man right away!!
The State of Origin Series will kick off in Melbourne on Wednesday, June 9, before Suncorp Stadium gets its turn on Sunday, June 27. Stadium Australia will be the venue for the third match on Wednesday, July 14.
Segment 3: Macca
Topics:
Double celebration for the Maori's on Saturday night in Townsville with the Maori women's team delivering an emphatic 24-0 win over the Indigenous All Stars in a thoroughly one-sided contest while in the men's, the Indigenous duo of Latrell Mitchell and Alex Johnston combined in a brilliant piece of play to cut the deficit late in the NRL All Stars clash, but the Rabbitohs pair couldn't do enough to clinch victory in the exhibition match which ended in a 10-all draw, meaning the Maori retained the silverware having won last year's battle.

James Fisher-Harris from the Maori side was fittingly awarded the Preston Campbell Medal as man of the match
Golden point??
In the women's Raecene McGregor won the player of the match award with her two-try effort while sister Page McGregor chimed in with a try of her own for a family treble.
·       NRL trial results:

·       Emerging halfback Ronald Volkman starred with two tries as the Roosters beat Wests Tigers in a tight contest at Kirkham Oval in Camden. Naufahu Whtye crossed for the match-winner with a handful of minutes left to play as the Roosters secured a 28-22 win.

·       Jack Bird has got through his rugby league return unscathed, navigating safely through his first game in 12 months in St George Illawarra's 28-6 trial loss to Parramatta.

·       Broncos fullback Reece Walsh showed why many have compared him to Billy Slater as he stared for the Broncos during their opening trial 22-all result against Wynnum Manly at Wynnum.

·        A hat-trick from centre Greg Marzhew wasn't enough for the Titans to avoid a 36-34 loss to the Burleigh Bears in their opening trial match. In front of a crowd that included ex-Storm skipper Cameron Smith, Holbrook's charges built a 34-16 lead after 52 minutes. Having already rested most of his stars, the second-year Titans boss injected more youth in the final half-hour. The Bears took advantage, piling on four unanswered tries to defeat the Titans for the second-straight pre-season.
New rules for 2021- designed to make the game "faster, more free-flowing, entertaining and unpredictable". The changes are:

the introduction of a two-point field goal for kicks taken from more than 40 metres out;
six-again to be called for 10-metre infringements;
penalties for teams if they leave a scrum before a referee calls "break";
a play-the-ball restart if the ball or player with the ball goes over the sideline;
The Bunker will now review replays after an on-field referee awards a try but a conversion attempt will not be allowed until it gets the green light;
injured players will be interchanged if a trainer ask for play to be stopped;
when a captain's challenge is inconclusive a team will not be docked for an unsuccessful attempt
and a handover will be ordered when a player does not make a genuine attempt to play the ball correctly with their foot.

Expansion:
Nick Livermore is the bid lead for the Jets franchise after his previous venture – the Brisbane Bombers – and the Western Corridor side amalgamated earlier this month.
Papua NG Prime Minister saying yesterday he is aiming to have an NRL team by 2025. "We are preparing for possibility of PNG owning a team in the NRL in 2025," Marape said after revealing visa rules had been relaxed to permit the Hunters to a longer stay. He also said this would remove red tape which has previously dissuaded NRL clubs from signing Papua New Guineans.
Closer to home though is that 'take two' of the Fiji Kaiviti Silktails entrée into Australian rugby league is about to begin. It's now been a seven-year wait for the talent of the Pacific island nation to show their wares. There was a brief glimpse last year – in their supposed debut season last year in the Ron Massey Cup – when the Silktails soundly beat the Windsor Wolves 40-16 at Churchill Park in Lautoka in the opening round. But then the COVID-19 pandemic shut down the NSWRL lower tier competitions for the rest of 2020. Fast forward to the pending 2021 season and the Silktails are back. They have been in quarantine for the past fortnight in a Sydney CBD hotel and will emerge this week to take up residence in suburban Mascot. The Silktails' chairman, 51-Test match veteran for both Australia and Fiji, Petero Civoniceva, said the journey had been long but would be worth it. That season kicks off on March 13 with a bye – to extend the Silktails' wait and anticipation a smidge further. A squad of 35 players will be under the direction of coach Wes Naiqama, who played 14 Tests for Fiji along with more than 120 NRL games for the Dragons, Knights and Panthers. NRL Fijian stars like Api Korisau, Viliame Kikau and Waqa Blake have really started to inspire boys and girls to take up the game of rugby league. There is also an emerging NRL future for Silktails players. Civoniceva said discussions were underway with a NRL club to forge that link with a Canterbury Cup and first-grade side. The rest of this week the players will resume field training sessions ahead of their first 2021 season 'home' game at Mascot Oval against the Blacktown Workers on Saturday March 20 at 3pm. The Silktails receive funding and support under the 'PacificAus Sports' program run by the Australian Government and designed to expand partnerships with Pacific sports teams and organisations in netball, rugby union, football and rugby league. The NSW Cup competition in 2021 will be a 10 team comp and conducted in line with the NRL competition.
·       This weekend:
o   Rabbitohs v Dragons (Charity Shield): 6.30pm (AEDT) at Mudgee
o   Raiders tar hooker Josh Hodgson (ACL rupture) is also slated for his first game since last July.
Pay our respects to former Balmain and NSW lock John Spencer, who passed away on 18 February 2021 and former Penrith and NSW fullback, Kevin Dann, who passed away aged 62. A Blacktown junior, Dann made his first grade debut in Round Two of the 1977 season and marked the occasion with a try to prove he could handle the step up in class. It was Dann's misfortune to play in an era of outstanding fullbacks – Graham Eadie, Greg Brentnall, Garry Dowling and Phil Sigsworth for starters – but Penrith wouldn't have swapped him for any
Segment 4:
Sad news from last weekend following the tragic passing of Sunshine Coast player Dale Best. Best, 34, was playing for Maroochydore in a reserve grade match against Kawana at Kawana on the weekend when he made an effective tackle during the normal course of play. Best was immediately treated on the field by multiple Level 2 sports trainers who performed CPR before an ambulance arrived. Paramedics attempted to stabilise the player, who was subsequently taken to hospital, where sadly he was later reported as deceased. The QRL and rugby league community send their most sincere condolences to Best's family and friends, as well the Maroochydore club. The QRL will continue to assist the club through this difficult time and is providing wellbeing support. The family offer their deepest thanks to all those who assisted, including sports trainers, paramedics and hospital staff.
Sunshine Coast Gympie RL:
Super 9's at SC Stadium on Sat 6 March- open men's, women's men u/18 and master's-around 30 teams entered, tickets on sale shortly-COVID restrictions in place so limited numbers-get in asap-go to SCGRL web site for details
Div 1 Men commence on the 13/03/2021 and last round played on the 25/07/2021. This competition plays a 4 week – 5 team final series. There are 9 teams entered.
Round 1 sees Beerwah/Maroochydore, Gympie/Caboolture and Noosa Stanley River while on Sunday 14 Nambour/Kawana.
Div 2A Men commence on the 13/03/2021 and last round played on the 25/07/2021. This competition plays a 4 week – 5 team final series. There are 11 teams entered
U18 boys commence on the 13/03/2021 and last round played on the 25/07/2021. This competition plays a 4 week – 5 team final series. There are 12 teams entered
Open Women commence on the 27/03/2021 and last round played on the 31/07/2021. This competition plays a 3 week – 4 team finals series. There are 8 teams entered.
Div 2B Men commence on the 17/04/2021 last round played on the 31/07/2021. This competition plays a 3 week – 4 team finals series. There are 5 teams entered.
Coming up:
NRL: Saturday:
Roosters v Raiders: 4:00 pm (AEDT) at Seiffert Oval Roosters fans will get their first glimpse of rising stars Sam Walker and Joseph Suaalii who will play in the reserve grade side
Storm v Knights: 5.30pm (AEDT) at Casey Fields, Melbourne
Sharks v Bulldogs: 6pm (AEDT) at Netstrata Jubilee Stadium
Titans v Warriors: 6pm (AEDT) at Oaks Oval, Lismore
Rabbitohs v Dragons (Charity Shield): 6.30pm (AEDT) at Mudgee
Eels v Panthers: 7.30pm (AEDT) at Panthers Stadium
Broncos v Cowboys:  7pm (AEST) at Dolphin Stadium, Redcliffe
Broncos:
Hopes are high Tesi Niu can nail down the right-centre spot, but he had his defensive issues last week against Wynnum-Manly and this is his last crack before the season starts proper.
Halves Tom Dearden and Brodie Croft are effectively gunning for the same No.7 gig as Anthony Milford pushes to be fit for round one, while boom youngster Jordan Riki appears set to claim starting edge role after impressing for the Maori All Stars.
Corey Oates begins his transition to the back-row having recovered from a broken hand while Tevita Pangai jnr also prepares for a shift into the middle.
Cowboys:
Valentine Holmes is slated to start on the wing, just as he has in several internal scrimmages, again against the Broncos as Scott Drinkwater gets a crack at fullback.
Meanwhile, the coach has flagged a "less minutes, more impact" approach for Tongan powerhouse Jason Taumalolo in 2021 – a plan tailor-made for trial footy that we see for the first time at Redcliffe.
And finally, expectations are quietly growing around Coen Hess up north after a couple of underwhelming seasons. Hess has slimmed down since Payten's arrival and been given the simplest of game plans – get one-on-one with the opposition's playmakers.
Sunday:
Wests Tigers v Sea Eagles: 5pm (AEDT) at Leichhardt Oval
NSW Junior Reps coming into round 4 this weekend-SG Ball, Tarsha Gale Cup, Laurie Daley Cup, Harold Matthews and Andrew John Cup. All 10 regional games in the Andrew Johns Cup and Laurie Daley Cup will be live streamed via NSWRL TVand select metropolitan games will also be streamed. This week's metropolitan games in the SG Ball, Tarsha Gale and SG Ball will feature the Parramatta Eels and Illawarra Steelers.
QRL:
Mal Meninga (6 rounds) and u/16 (3 rounds) commence 6 March
Under 19 women commence 13 March- 3 rounds
Qld Cup: Round 1

Saturday 20 March: Hunters/Wynnum Manly, Falcons/Pride, Tweed/Capras, Jets/Blackhawks, Cutters/Dolphins and Tigers/Devils
Sunday 21 March: Magpies/Bears

Colts and women's comps commence 10 April
Pathways- chat