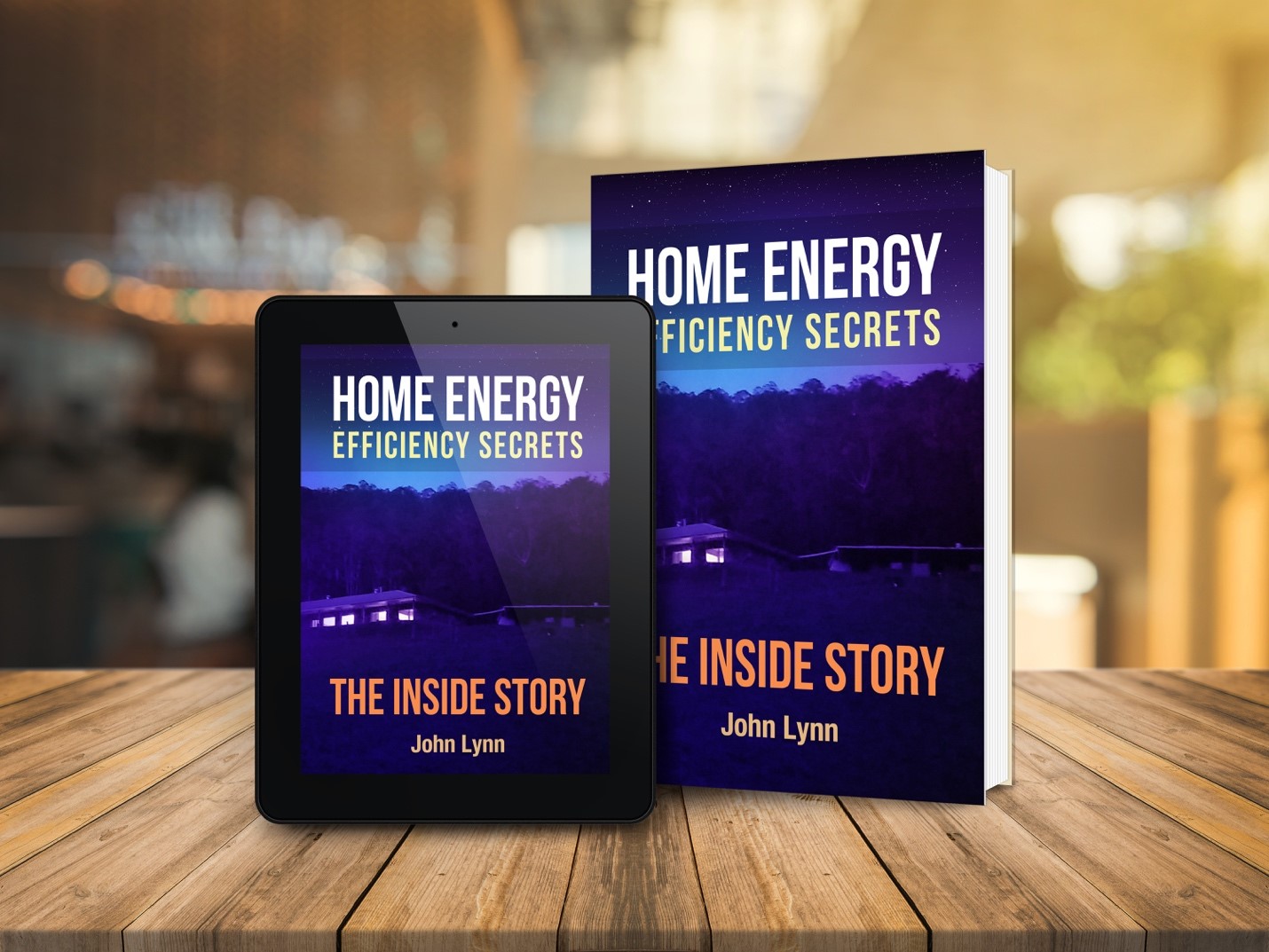 John Lynn 101.5's Energy expert launches new book Home Energy Efficiency Secrets, get it for free limited time
John Lynn 101.5 Energy Expert has a new book published on Amazon, called "Home Energy Efficiency Secrets – The Inside Story" which you can get a copy for free, directly from Amazon on 8th 9th and 10th of December, we have the opportunity to chat with John on his new book and his passion for home energy efficiency that everyone can use on their own home.
Scroll down on How to obtain your Free Book "Home Energy Efficiency Secrets"
We discuss with John on just how w long have you been with 101.5, ? and his tips broadcast on Friday mornings at 10:10 am
We then highlight the chapters for you.  
Chapter 1- Our Story …………………………………...
What we did and why we did it.
Chapter 2 - Simplifying the Mumbo-Jumbo
What you need to know to be functional in easy English.
What you don't need to know we don't cover.
Chapter 3- Energy-Efficient Building Design ……............
Where ancient knowledge and modern science complement each other for your financial and lifestyle benefit
Chapter 4 - Retrofitting Fitting ……..............…..............
Turning what you have into what you want.
Chapter 5 -Energy-Efficient Appliances and Practices ......
Why having new and better electronic devises may well be more enjoyable and less expensive than older options. .. and … your habits are your life.
Chapter 6- Energy Collection and Energy Storage ...........
The dream and salesman speak versus reality. Reality is more practical.
Chapter 7- The Coming Revolution ……..............…........
Too late, it's already here
Chapter 8 - The Investment and Real Estate Perspective ..
Homes with high EER's have a higher resale value, rent for more, cost less to operate and are more comfortable to live in.
Also discussed is John's online course, what is that about and who and how would people benefit from doing the course.
Naturally it was brought up the book is free for a limited time as well as how to get the free book and choose other books available.
How to obtain your Free Book "Home Energy Efficiency Secrets"
NEW BOOK release – "Home Energy Efficiency Secrets"     FREE download
If you are thinking of investing in Real Estate then you need to know what's in this book.
It's packed with simple, yet effective ways for all households to slash electricity bills.
Discover how to 1. reduce electricity bills and 2. cleverly increase your real estate profits
Home Energy Efficiency Secrets - The Inside Story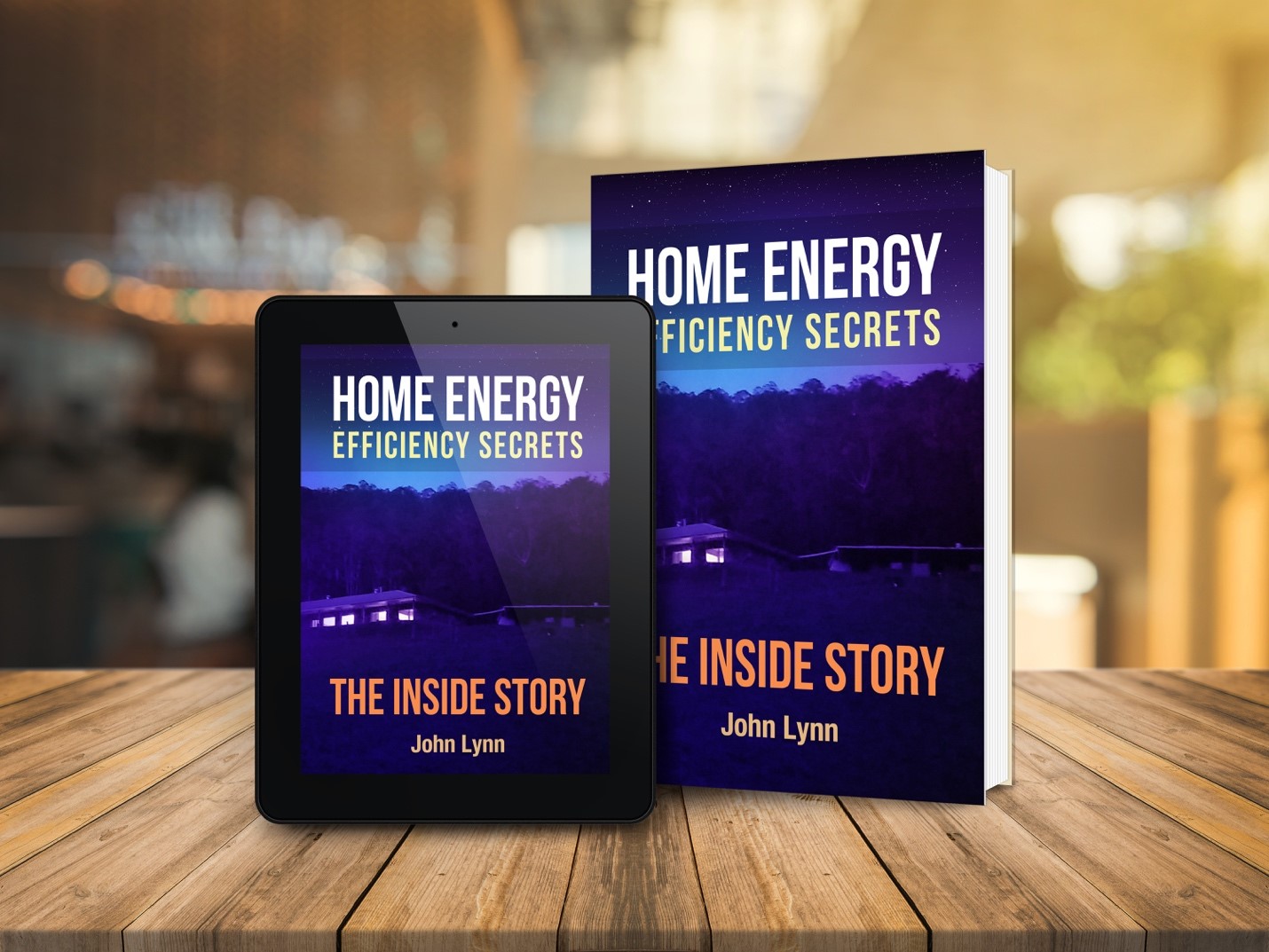 The author John Lynn is an expert in energy efficiency. He regularly shares his methods in the printed media, provides weekly tips on a regular radio program and speaks at conferences within the greater community.
And the good news is, the book is FREE on Kindle but for 3 days only.
December 8th, 9th and 10th, 2020   AEDT (Sydney)
Here is how to grab your complimentary copy
on Kindle:
Click here to secure your copy from Amazon.com
https://www.amazon.com/Home-Energy-Efficiency-Secrets-Inside-ebook/dp/B08B53VTDC
Click here to secure your copy from Amazon.co.uk [UNITED KINGDOM]
https://www.amazon.co.uk/Home-Energy-Efficiency-Secrets-Inside-ebook/dp/B08B53VTDC
Click the button "Buy Now" or "Buy Now w/ 1 Click" (ignore the Kindle Unlimited offer - YOU DO NOT NEED TO SIGN UP FOR A FREE TRIAL)
Feel free to forward this email to anyone who would benefit from this information.
The book is complimentary if downloaded on December 8th, December 9th, or December 10th, (Sydney Australia Time)
After that, the book goes back to its original price.
So grab your copy of 'Home Energy Efficiency Secrets'
Just follow these simple instructions to secure your copy:
Click here to secure your copy from Amazon.com
https://www.amazon.com/Home-Energy-Efficiency-Secrets-Inside-ebook/dp/B08B53VTDC
Click here to secure your copy from Amazon.co.uk [UNITED KINGDOM]
https://www.amazon.co.uk/Home-Energy-Efficiency-Secrets-Inside-ebook/dp/B08B53VTDC
Click the button "Buy Now" or "Buy Now w/ 1 Click"
Please note you do NOT have to join Kindle Unlimited to secure your free copy on 8th , 9th and 10th of December.
Ask your library if they have a hard copy for your community and share the information.
John Lynn General Background.
More information is available at http://homeenergysecrets.com/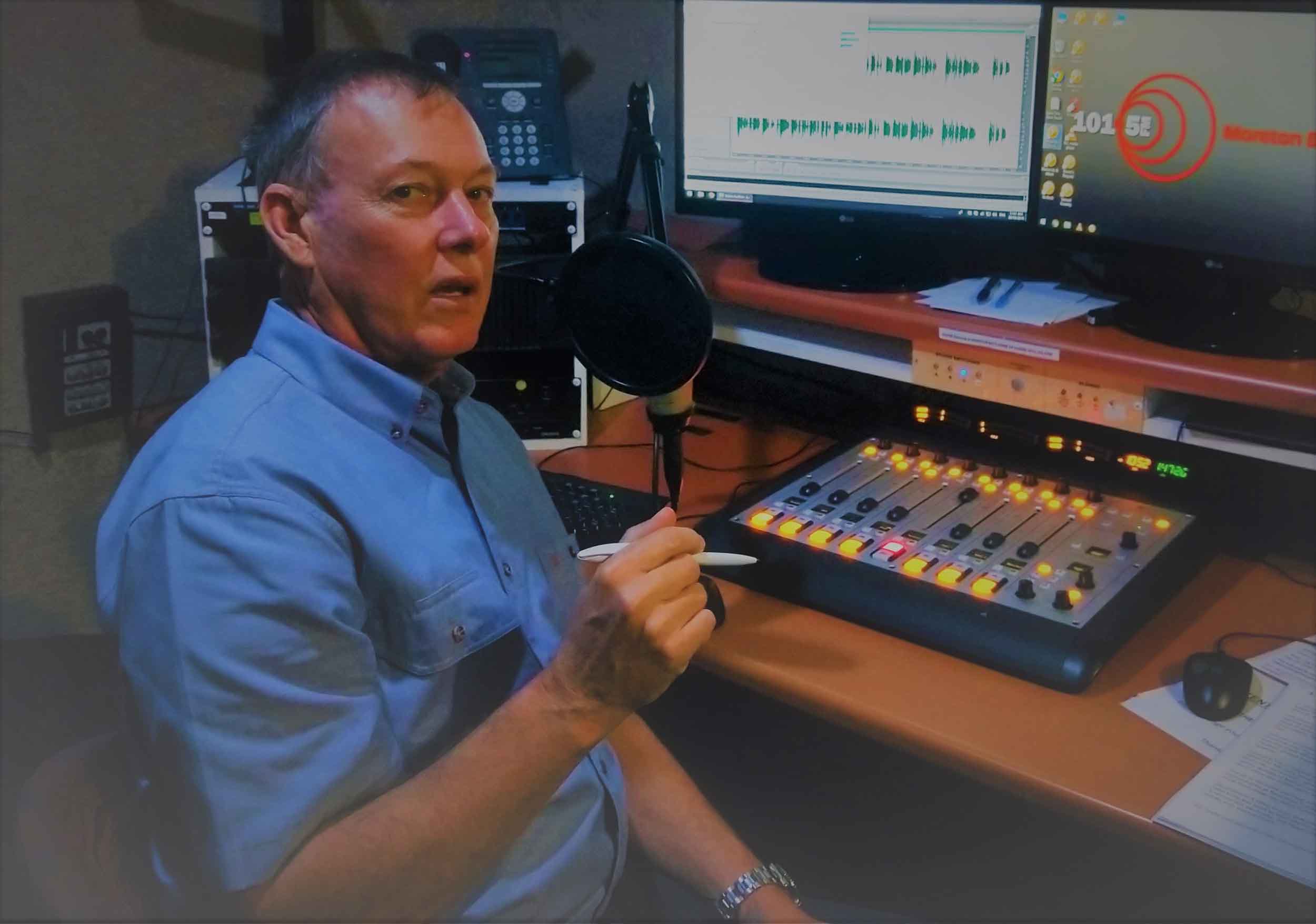 My background is in education. I was a registered teacher for 37 years having had a fairly eclectic background including teaching experience in preschool, primary school, high school, and adult education including TAFE. I started out as a primary school classroom teacher and then became a district and later on a local reliever, which of course is a young man's job. I've had an assortment of other educational adventures including some administration. I've done contract work for both the state and the federal government and in 1991 my wife and I were seconded to do post graduate studies in Special Education at Griffith University.
I've got a keen interest in music. I have three daughters and they all play musical instruments. My eldest one teaches piano in Canberra.
I was a High School Music teacher for some time.
I've organised and run numerous open mic events. The last one I organised was at the Woodford Bowls Club which ran weekly for five and a half years. I retired that to do what I'm doing now.
You can pretty much do anything you want, but you can't do everything you want because there are only 24 hours in a day.
Not long after my wife and I were married in the early 90's we moved into a home on the northside of Brisbane.
The home was like most other little boxes on the hillside. It was a standard 3 bedroom brick veneer home with characteristics that made it a little less liveable than some of the other mass produced homes that looked very similar. My main beef at the time was that it was significantly hotter inside the home than it was outside during a Brisbane summer. I had been in other people's homes and wondered why their places were more thermally comfortable than ours.
Knowing the value of education I got busy educating myself. The internet was not what it is now where you can do courses online so I read a lot of books, undertook other studies including enrolling in a Renewable Energy Technologies course at Ithica TAFE in Brisbane in 1999.
We had bought the property that we live on now back in 1996 but I didn't want to build a house on it that the performed as poorly as the one we were living in. We set up a shed that we weekended in with some solar panels and a small 12 volt system. We had enough stored energy to last the weekend and then later, we built a bigger block shed that we spent more time in. The second shed was a lot more comfortable and we had more solar panels and a bigger battery bank with a 24 volt system.
By the time we were ready to build our new home I had learnt quite a lot about home design and living off the grid.
I made a few mistakes with the sheds so I made sure they weren't repeat with the house.
I ended up making different ones instead.
We moved into our new home 2001. The home wasn't quite completed but we didn't want to do another winter in the shed when we had an empty nice home that was warm and cosy.
In contrast to other houses, our new home was 10 degrees 44 minutes east of magnetic north, giving it the ideal orientation for it to perform at its thermal peak.
The direction in which your home faces is very important if you want it to be warm in the winter and cool in the summer.
The temperature inside our home naturally limits to being about 23 degrees all year round.
I say, let mother nature warm and cool your home because she doesn't put her prices up every year.
Since 2012 we have had an interactive solar system very similar to the systems that ¼  of the Australian population now has and we export our excess energy back into the grid.
We can access the high feed in tariff which is about 54 cents  a kilowatt hour and because we learnt as a family to be very energy efficient, we export about $4,000 of electricity each year.
From 2001 until 2012 our home operated on a stand-alone system. A stand-alone system is a system that collects and stores electrical energy separate from the grid.
We had a 48 volt system with 42 kilowatt hours of storage.  Those batteries used by other people we would have failed before 2012 but ours are still functioning. We use them to supply electricity to two of our sheds. They generally have a life expectancy of around 7 years. Maybe you'll get 10 years if you are lucky. Ours are ready to commence their 19th year and are still working quite well.
As you can see, I've learnt a few tricks in the last 25 years.
Our household uses a third to sometimes even a quarter of the electricity of a family the size of ours.
We match our energy requirements with the most efficient source.
We use very little energy for heating or cooling because mother nature does that for us.
Our biggest electrical energy consumer is our refrigerator which is not only energy-efficient but it is located in an environment where it doesn't have to work too hard because of the stable temperatures inside the home.
Since 2003 for a home to get building approval throughout Australia it must reach a minimum standard of a six star rating. Our home exceeded the BERS standard in 1999 so it's much better than that but even a 7 star home sells for 9.4% more and rents for 7% more than a 3 star rated home.
Even a 7 star home is more comfortable to live in, is worth more to sell, is worth more to rent and uses a lot less electricity so it's cheaper to live in.
Why wouldn't everybody want one.
But a home's design is only part of the puzzle. A number of older homes can be improved significantly with very little effort and whether you rent or buy there are appliances that you can use and habits that you can adopt that will help you start slashing your electricity bill starting tonight if you want to.
I guess I'm back involved in adult education again because I'm showing people what we do, letting these little secrets out of the bag, on how they can reduce their electricity consumption without compromising their lifestyles.
The price of electricity is becoming a problem for some people and that situation looks as though it's only going to get worse.
I have run a few seminars on how people can reduce their electricity bills.
I write and publish three blogs each month on a Facebook site.
I have an online course for people who want to go to the next level and now I'm here on the radio to give your listeners a few tips and tricks on how they can discover the secrets on how they can reduce their electricity bill.