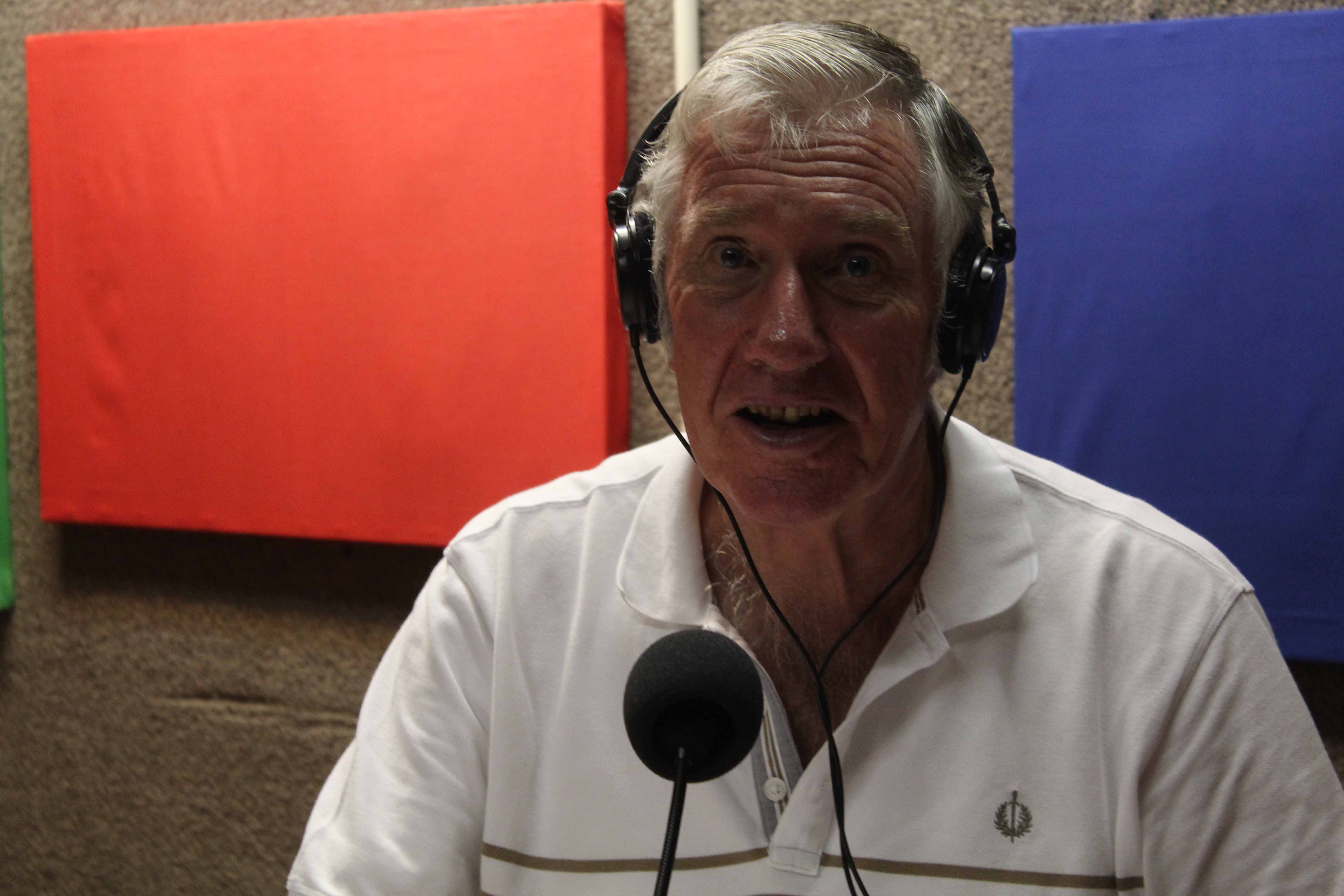 The Final Grapple for 2020 on Sport 101.5 2020-11-19
Grapple: 19 November 2020
6.05-6.20: Segment 1: GA and Patchy-last program for 2020
Saved the best until last: Macca at 6.20 to review SOO game 3 and select our best ever SOO teams during the last 40 years while Patchy and I will look at the 1-game wonders in the last segment– those players who have only played 1 game for their state - how good is that so let's get started but not with rl but golf where the other Cameron Smith split $1.1m US after he tied for 2nd at the US Masters in Augusta 5 shots behind winner American Dustin Johnson but what I liked was Tiger Woods who recorded his highest score ever on a single hole at Augusta National with the defending champion scoring an embarrassing 10 at the famous par-three 12th hole in his final round. Only human-golf is a great leveller.
Men's SOO series 2020: As a proud supporter of the worst Qld soo team in 40 years wonder what that makes the NSW team??-certainly had its moments- ironic losing JT just like CM in game 2
Women's SOO series 2020:
Last Friday night on the SC the Queensland Maroons outclassed NSW 24-18 to claim the Women's State of Origin title for the first time. While the Maroons once held a 17-year dynasty in the interstate challenge, Friday night's victory marked the first time Queensland came home victorious since the Women's State of Origin was officially instated two-years ago.
NSW had held a stranglehold on that title and had hoped to make it a hat-trick at Sunshine Coast Stadium. But the locals dominated from the front and never looked back as they wreaked havoc through the combination of Tamika Upton and Tarryn Aiken.
Coming up after the break we'll be joined by our resident NRL expert Greg 'Macca' McCallum– dissect SOO 3 and we'll select our best ever SOO teams - all that and more here on the Grapple 101.5fm sports
6.22-6.38: Segment 2: GA, Patchy and Macca  - 3-way turf talk
SOO 3:
·       Queensland celebrated a series win with Cameron Munster leading Wayne Bennett's babes to a stunning 20-14 win over a brave NSW on a night where a future star, Harry Grant, was born.
·       The match went right down to the wire with NSW attacking Queensland's line late and calling for a captain's challenge after the siren when Junior Paulo knocked-on, such was the closeness of the final stages. Man of the match and Wally Lewis Medal winner Munster was enormous at five-eighth for Queensland while the Maroons forwards – led by Tino Fa'asuamaleaui and Lindsay Collins – defended with intensity.
·       Penalty try to Addo-Carr?
QLD PLAYER RATINGS GAME III
COREY ALLAN 6: 1. VALENTINE HOLMES 8: 21. BRENKO LEE 6: 4. DANE GAGAI 8: 19. EDRICK LEE 6: 6. CAMERON MUNSTER 10: 7. DALY CHERRY-EVANS 8:
CHRISTIAN WELCH 7: 9. JAKE FRIEND 7: 10. JOSH PAPALII 8: 11. FELISE KAUFUSI 7: 3. KURT CAPEWELL 7: 13. TINO FAASUAMALEAUI 9: 12. JAYDN SU'A 5: 14. HARRY GRANT 9:
LINDSAY COLLINS9: 16. JAI ARROW 7:
NSW PLAYER RATINGS GAME III
JAMES TEDESCO (c) 4: 2. DANIEL TUPOU 5.5: 3. CLINT GUTHERSON 5.5: 4. JACK WIGHTON 4: 5. JOSH ADDO-CARR 5: 6. CODY WALKER 4: 7. NATHAN CLEARY 7.5:
DANIEL SAIFITI 6.5        9. DAMIEN COOK 5.5: 10. PAYNE HAAS 6.5: 11. ANGUS CRICHTON 6.5: 12. TYSON FRIZELL4.5: 13. JAKE TRBOJEVIC 6: 14. DALE FINUCANE 6: 15. JUNIOR PAULO 5:
NATHAN BROWN 3: 17. ISAAH YEO 6:
Immortal Arthur Beetson and modern-day greats Cooper Cronk, Paul Gallen and Darren Lockyer are among a host of unlucky players after fans chose their all-time Maroons and Blues teams.
After more than 20,000 votes were cast on NRL.com and Wide World of Sports in conjunction with the Sydney Morning Herald, two teams have been chosen, stacked with all-time greats.
Lockyer and Beetson - largely considered the father of State of Origin - missed out on the run-on team but still secured spots on the bench.
Cronk was left out of the Maroons 17 altogether despite enjoying a 72 per cent winning rate in the 22 Origin matches he played.
With Origin legends Wally Lewis and Johnathan Thurston commanding places as Queensland's starting halves, Cronk was the unlucky man to miss out.
Immortal Mal Meninga was chosen in the centres for Queensland alongside Greg Inglis and was also named the Maroons' greatest coach after overseeing their golden era of successive series wins from 2006-13.
The fan-voted NSW team has also been chosen, with long-time skipper Paul Gallen failing to win a spot in the starting side. He did land a spot on the bench.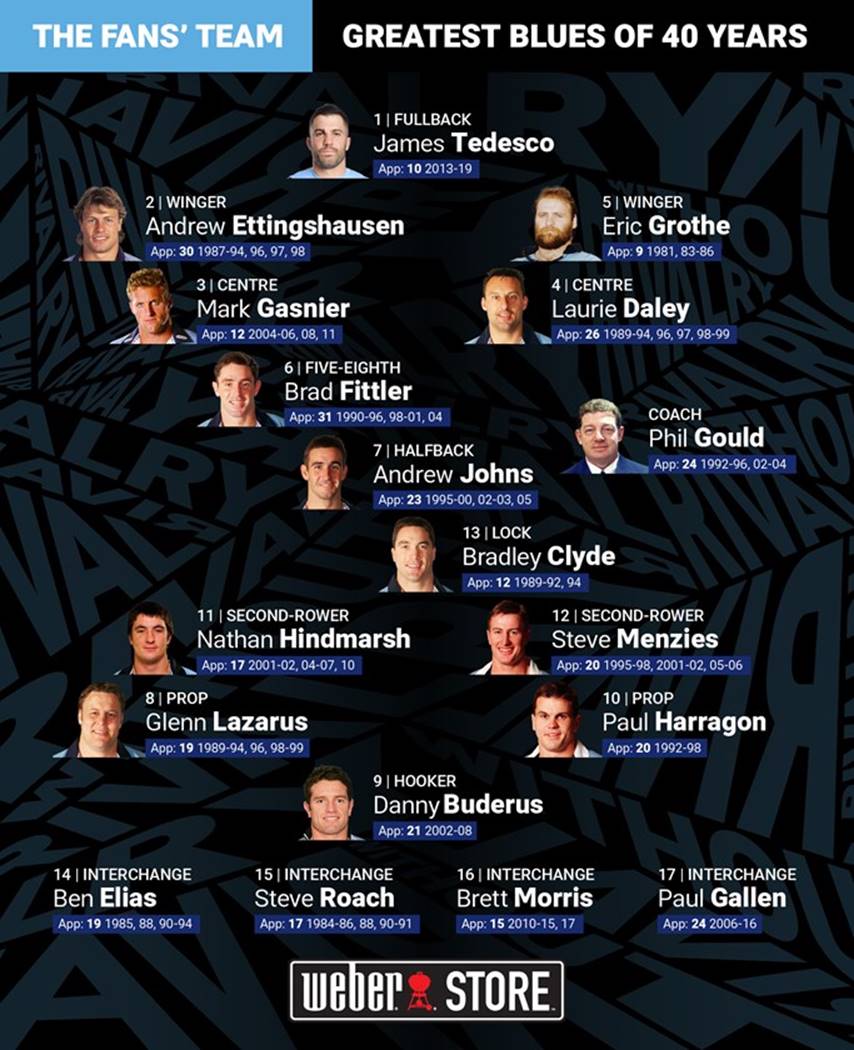 Coming up after the break more rugby league here on the Grapple on 101.5fm sports
6.42-6.58: Segment 3: GA and Patchy –final segment for 2020
1 game wonders in SOO
There have been 213 Queenslanders capped in State of Origin football and of those 26 entered rugby league's most hallowed arena just once. For NSW it's 293 with 52 who have played just once. This includes those selected for the 1st time this year.
The reasons are many but for most, it ultimately boiled down to either bad luck, bad timing or a bad day at the office.
Queensland Maroons
Greg Holben: (11-7 Game 2 win in 1982). Utility back and goal-kicker Holben played for Easts and Brothers in the Brisbane competition, scoring a last-minute winner in the 1978 grand final.
Terry Butler: 10-6 Game 2 loss in 1983), a Wynnum winger who went on to play four try-less games for the North Sydney Bears in 1986
Graham Quinn: Graham Quinn (who lined up alongside Holben in Game 2, 1982), one of Bath's Babes and a two-time premiership winner for the Dragons
Adrian Vowles: (14-0 Game 2 loss in 1994), who played three Tests for Scotland and was sent off in the North Queensland Cowboys' inaugural game.
Bruce Astill: (43-22 Game 3 win in 1983), whose Origin story makes for a great trivia question. Astill is Queensland Origin player No.15 because he was selected as a reserve in the inaugural clash but neither he nor fellow reserve Norm Carr took the field. Carr went on to play three games but Astill's only official appearance came in '83.
Corey Norman: (26-20 Game 3 loss in 2019).
Greg Oliphant: a great rival of Blues One-Gamers skipper Tommy Raudonikis, who played two Tests and had two seasons with the Balmain Tigers in Sydney.
Arthur Beetson (c): Rugby league Immortal Beetson had played 17 times for NSW and was in the final season of a club career that kicked off with Balmain in 1966 when he set the 1980 one-off game alight by putting one on the jaw of Eels team-mate Mick Cronin.
John Lang: another 1980 original who appeared in eight Tests and played his one season of Sydney first grade that year with Eastern Suburbs
Danny Nutley: (32-10 Game 3 loss in 2005), played 152 games for the Crushers, Sharks and Roosters but that was his only representative appearance.
Rod Reddy: First picked in the back row is 1980 original "Rocket" Rod Reddy, whose quintessentially '70s mix of exquisite skill and uncompromising brutality earned the '82 Invincible 17 Tests and sustained him through 237 first grade games for the Dragons and Steelers.
Ethan Lowe: (26-20 Game 3 loss, 2019), who kicked four-from-four in his only representative appearance and finished with 143 first grade appearances for North Queensland and South Sydney when a neck injury ended his career.
Scott Sattler: (27-4 Game 2 loss, 2003) - a 203-game journeyman with the Seagulls, Roosters, Crushers, Panthers and Tigers - whose sole Maroons jumper pairs up nicely with the Todd Byrne cover tackle in the two biggest games at Stadium Australia that year.
Interchange:
David Stagg: (17-16 Game 1 loss, 2006), who was 2009 Dally M Lock of the Year and turned out 206 times for the Broncos and Roosters.
Scott Tronc: (26-18 Game 1 win, 1988), who played 92 games for the Magpies, Broncos, Bulldogs and Rabbitohs between 1987 and 1994;
Bruce Walker: (20-16 Game 2 loss in 1982), a rangy back-rower whose premiership win in 1978 was the highlight of a 226-game career with North Sydney and Manly.
Owen Cunningham: (15-14 Game 3 loss, 1996), another journeyman who added three Super League appearances for Queensland to the highlights of his 15-year, 275-game first grade career.
NSW Blues
David Peachey: Sharks icon David Peachey edged out Sea Eagles great Graham Eadie (a 1980 original) on the strength of his match-winning try in Game 1 of the 2000 series, when he was a late injury replacement for Robbie Ross.
Phil Duke: famous for grassing an errant pass from Phil Sigsworth, allowing Wally Lewis to pounce for the match-winning try in the 10-5 series-deciding Game 3 loss in 1982, but few would remember that Duke, who hadn't played Sydney first grade football at the time and was representing Moree Boomerangs, scored NSW's only try.
Jamal Idris: (a try in Game 1 of the 2010 whitewash)
Michael Gordon:
Hazem El Masri: goal-kicking winger Hazem El-Masri (a try and three-from-three in NSW's 18-4 win in the 2007 Game 3 dead rubber),
Terry Campese: (28-18 Game 1 loss in 2009), whose 139-game Raiders career (24 tries, 124 goals, field goal) also earned him a Test for Australia and four for Italy.
Tommy Raudonikis (c)
Steve Hanson: (a try in Game 3 of a 3-0 thrashing in 1988)
Steve Edge: another Origin original for whom 1980 was his only representative appearance. He won five first grade grand finals and is the only man to have captained two teams (the Dragons and Eels) to premiership success.
Steve Bowden: Jets enforcer (22-15 loss in the 1981 Origin stand-alone), whose 80 games for Newtown between 1978 and 1982 included 14 tries and a starring role in the infamous 1981 major semi-final brawl where he dished out a brutal battering to Sea Eagles prop Mark Broadhurst.
David Brooks: (20-6 Game 3 loss, 1985), a Tigers veteran who played 173 first grade games between 1983 and 1992;
Bob Cooper: another '80 original who was suspended for 15 months in 1982 for running in to join a brawl and defeated the tax commissioner in court after being denied a claim for a weekly beer ration that had been ordered by coach Roy Masters.
Jim Leis: (1980), who took out the Dally M Rookie and Lock of the Year awards in 1980 and went on to play a total of 97 first grade games for the Magpies, Bulldogs and Sharks.
Interchange:
Kevin Hastings: (43-22 loss, Game 3 1983), who played 230 games for the Roosters
15: Brett Rodwell: (a try in Game 2 of yet another 3-0 Maroons romp in 1995).
Terry Matterson: (36-16 loss, Game 3 1989), who scored 29 tries and kicked 315 goals in 163 games for the Roosters and Broncos
Robert Stone: one of Bath's Babes who won premierships in all three grades for the Dragons.