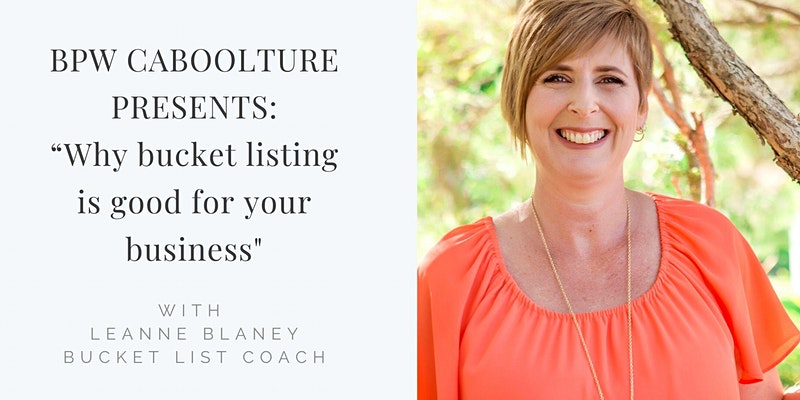 Leanne Blaney BPW Zoom Meeting on 101.5 2020-07-02
It's time to stop sleepwalking through life. Join BPW as we present Leanne Blaney: "Why Bucket Listing Is Good For Your Business".
About this Event
Our daily work makes up a huge part of our lives. We spend almost a third of our entire lifetime at work. Meaning that at the end of the day, there's not much time left to work on our own goals, meet new people or pursue our personal passions.
As a Bucket List Coach, Leanne believes that it's important to do goal setting for work and for life. Fulfillment outside the business translates directly to performance within your business.
Writing down a bucket list is easy. You might not need to have a Bucket List Coach for that, you think. Living it, however, is a major challenge in today's extremely fast-paced society.
5 things you will take away from this presentation are:
1. how actioning your Bucket List can be of benefit to your business;
2. how you can be more creative in your business,
3. how bucket listing to help your brand,
4. how it can help you create more meaningful bonds with people
5. how it can help you to become better at solving problems.
Leanne Blaney is the Award Winning Author of 'Balance', Ignite Your Life podcast host, Certified Bucket List Coach and International Speaker. As a Bucket List Coach she gives insight into your life, wakes you up and helps you live a Bucket List Life. She wants people to live a brave and limitless life and her mission is to inspire individuals to break out of conformity and start designing their own lives now. Leanne does this through workshops, retreats, one on one coaching and group programs. She will help you nurture solutions to develop your creativity, increase personal passion, prioritise self-care and live a purposefully balanced life.
This is sure to be an inspiring presentation.
You can find out more about Leanne and connect with her via any of her social media links below:
Website: www.leanneblaney.com
Email: leanne@leanneblaney.com
Facebook Biz Page: https://www.facebook.com/LeanneBlaneyAdventures/
Facebook Group: https://www.facebook.com/groups/adventureschoolwithleanne/
Instagram: https://www.instagram.com/bucketlistcoach.leanneblaney/