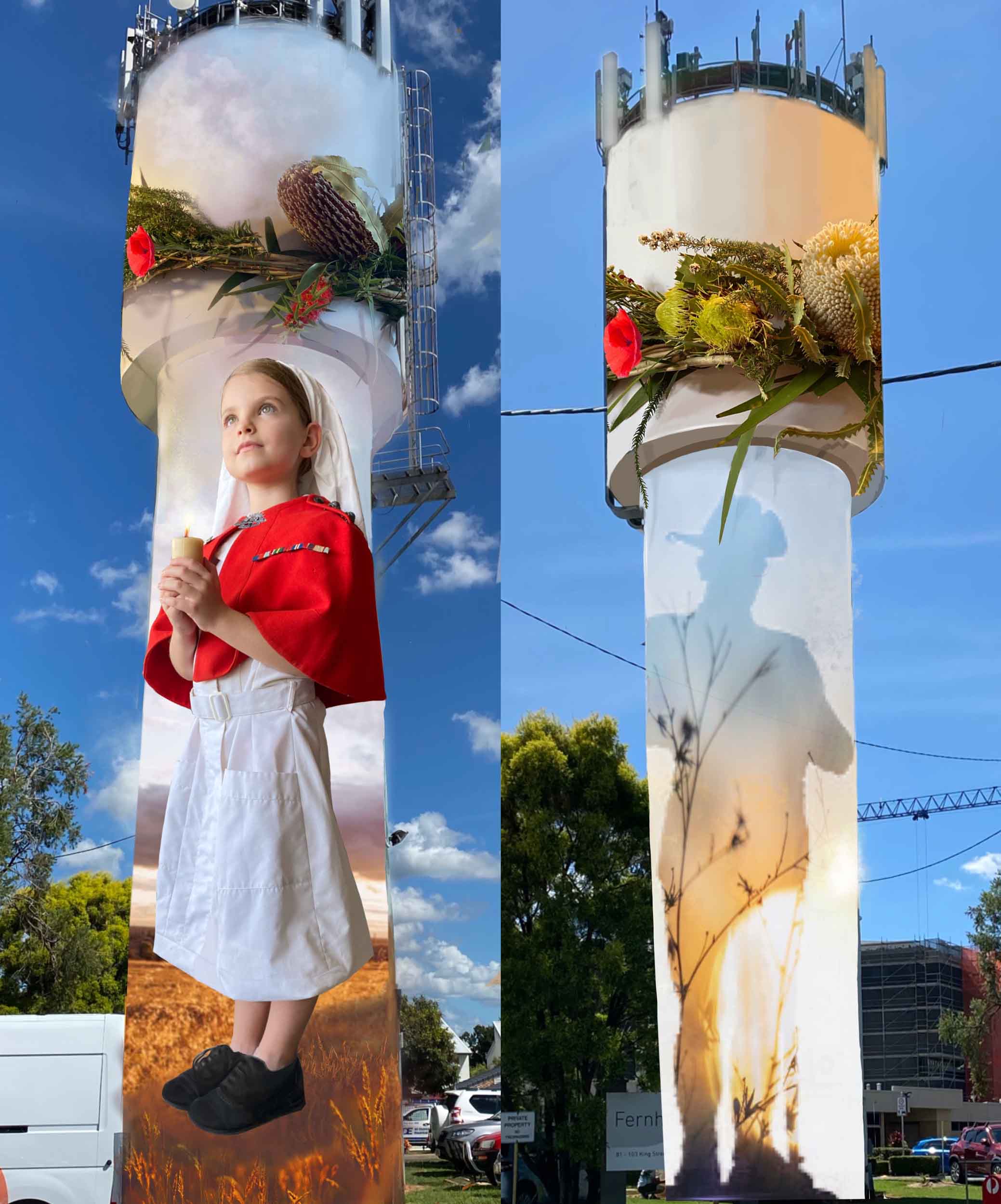 Katherine Gee on the Water Tower Winner on 101.5 2020-05-26
Winning artwork decided for King Street Water Tower
The votes are in for the 25-metre high mural on Caboolture's King Street Water Tower. The community's resounding response saw 75 per cent of the 3,600 voters choosing the ANZAC theme.
The community's initial feedback in April inspired Unitywater and the artists, The Brightsiders, to develop a mural that paid respects to the former Fernhill Village – and current Bolton Clarke Care Home – adjacent to the water tower, which supported and cared for war veterans.
Unitywater Executive Manager Customer and Community Katherine Gee said their team worked closely with the artists, the local RSL and Bolton Clarke Care Home to come up with a thoughtful and inspiring design.
"The community has come together during COVID-19 to make their mark on their community, with an incredible response of more than 3,600 people voting for their favourite design and sharing their feedback," Ms Gee said.
"The 25-metre tower stands tall over Caboolture and we're pleased the artists will be painting a mural that reflects the community spirit.
"It's encouraging that even during challenging times, there is a real sentiment of positive responses and vision for what the region should look like and I think the community will be very proud of this.
"The piece of art is something the entire community can look forward to and in particular, the residents of Bolton Clarke Care Home who have been isolated for an extended period of time during COVID-19."
The Brightsiders designer Jordan Bruce said there were a number of different elements that created the story behind the mural.
"On one side of the mural, we have chosen to paint a young girl in a World War 1 nurse's uniform, paying tribute to the nurses at Fernhill Village, as well as showcasing how the sacrifice of our current serving personnel and veterans has given Australia's next generation an optimistic future," Mr Bruce said.
"On the other side, we will paint a silhouette of an Australian soldier who is illuminated against the rising sun which symbolises the ANZAC spirit shining behind us.
"This is all tied together with a wreath which encompasses the traditional rosemary and red poppy as well as native species found in the Caboolture region which include Bottle Brush, Paperback, Moreton Bay Fig leaves and Banksia."
The Community Artwork Program is designed to prevent graffiti and enhance the appearance of Unitywater assets.
"It can cost up to $5,500 to remove graffiti and our Community Artwork Program is aimed at deterring offenders who often choose not to deface established artwork," Ms Gee said.
"This particular design has a very strong story and we're excited to see it unveiled for the community."
Painting will commence in June with an expected unveiling in early July, weather permitting.
For more information, visit www.unitywater.com/king-st-water-tower.