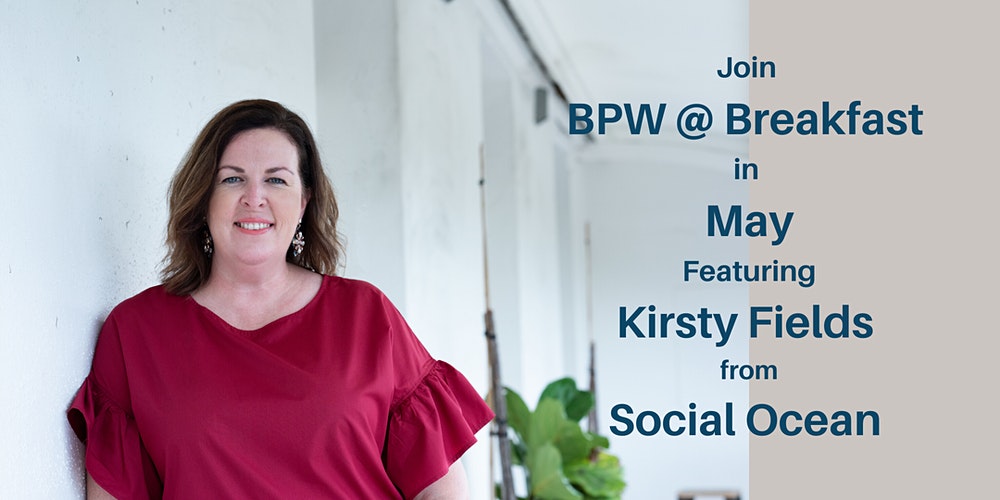 Kirsty Fields BPW Guest Speaker on 101.5 2020-04-30
Join us for a VIRTUAL breakfast in May  Announcing guest speaker: Kirsty Fields - Putting you in your business
Kirsty Fields, Creative Director from Social Ocean will discuss "Putting You In Your Business" and howdoing that with your marketing helps you to grow a unique connection with your clients, community and raving fans.
Using tips Kirsty will discuss and present, guests will be asked to consider being brave in their marketing and to make new actions to attract their audience to engage them online.
Drawing on years of managing multiple digital entities, Kirsty's ethos of working smarter – not harder, will be of interest to those needing to show up in their business - as a micro-business owner, solopreneur and passionate team of 1 in particular – whilst servicing their current clients and needing to attract new ones.
3 points Kirsty will discuss are:
1. Adding your personality
2. Why mundane messages are so important, and
3. How trial and error presents the wins
For more than 21 years, Kirsty's transitional career in libraries, education and rugby league has seen her hold events-based positions, from local to state government, state organisations and governing bodies to not-for-profit practices.
Kirsty has been allowed to be creative and excessive in industries at a time when you'd least expect it.
Coordinating hundreds of fundraisers, NRL games with crowds of over 12,000, gala dinners, interstate tours, conference tours around the state and much more.
Since the revolution of promotion via social media within the workplace, she has learnt to harness digital platforms to assist her in creating customised events from intimate VIP gatherings to product launches to huge charity events.
Describing what it felt like to manage 60 separate social identities including those of celebrities and people of influence as the most stressful period of her career; she now utilises the coping strategies she created to get her through that period, to educate, encourage and motivate micro-business owners to cope with and find success amongst the ever-increasing demands of marketing and promotions in an overcrowded digital environment.
Launching Social Ocean at the beginning of 2017, Kirsty has worked with well over 60 businesses and hundreds of individuals teaching a variety of social media platforms and maintains six corporate consultancy clients at any one time.
She is passionate about education and advancement of women starting businesses later in life.
She currently describes her role in the business community as a chance to uncover opportunities for clients that give them a voice and platform to stand out from their own crowd and it's those moments of excitement that get her out of bed each day.
Join the fun, comraderie and shenenigans at our VIRTUAL breakfast meeting.
We would love to have you with us.
NB: Tickets include raffle tickets for the event.
Get tickets at https://www.eventbrite.com.au/e/bpw-caboolture-breakfast-1-may-2020-tickets-103099619738